Survey Results and Next Steps - March 2023
The SFMTA launched a survey to better understand community priorities for the routing of Muni's 48 Quintara-24th Street's eastern end. Between late January and February 24, we heard from 192 community members. The makeup of the respondents was consistent with the groups most affected by the project: 80.1% of respondents live in the Dogpatch zip code (94107), and 76.5% are 48 Quintara-24th Street riders. These survey results also reflect the efforts the SFMTA made by canvassing nearby residents and merchants and promoting the survey to Muni riders.  
One important survey question addressed a potential change to the bus routing. We asked respondents which route option for the 48 Quintara-24th Street they preferred:  
Option 1 – Current Route: The 48 Quintara-24th Street would remain on Tennessee Street, adjacent to active businesses and homes. The bus would continue to travel on Tennessee Street, 20th Street, Illinois Street and 22nd Street. This routing would not impact any existing on street parking. 
Option 2 – Reroute: Bus route would move to Illinois Street, along a bike lane. The 48 Quintara-24th Street would no longer travel on Tennessee Street and would instead use Illinois Street, 20th Street, Maryland Street and 22nd Street. To accommodate this move, approximately 8 to 12 parking spaces would be removed from the east side of Illinois Street south of 20th Street.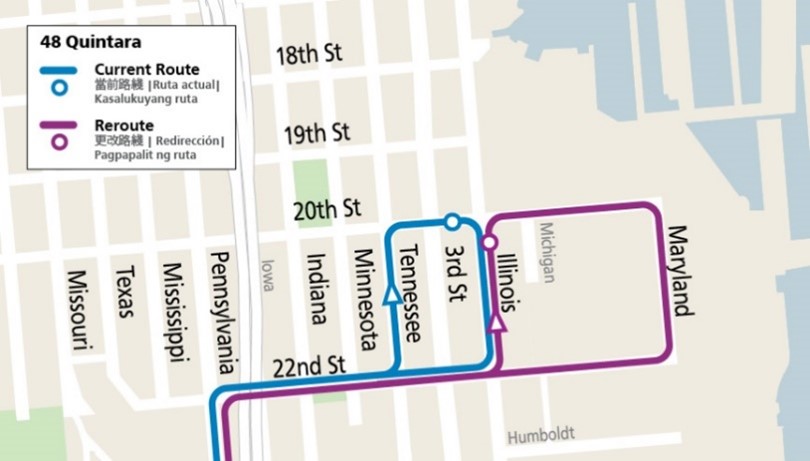 Survey respondents preferred the Reroute option (in purple) to the Current Route (in blue). 
We received a strong signal from respondents: 79% preferred Option 2, which would move the route off Tennessee Street and onto Illinois and Maryland Streets and remove some parking on Illinois Street.  
Next steps: With this better understanding of community feedback, the SFMTA project staff will advance the alternate routing to Illinois and Maryland streets with agency partners like the Port. We expect to share the results of this evaluation and planned next steps by the end of the month. Given that this will include removing some parking, this will require SFMTA Board action, and as we get a timeline confirmed, we will keep stakeholders informed via the project page so they can share their comments with the Board in advance of their decision.