Week of September 25: New cross-street parking and transit lanes
Replacement parking on cross streets is wrapping up, transit lane work beginning
Last week, Quick-Build work on the Geary Boulevard Improvement Project began by installing new angled parking on several cross streets near Geary. These replacement parking spaces are being added to help offset parking loss from transit and safety improvements on Geary. With that work nearing completion, we will now begin preparations to install transit lanes on Geary Boulevard beginning this week.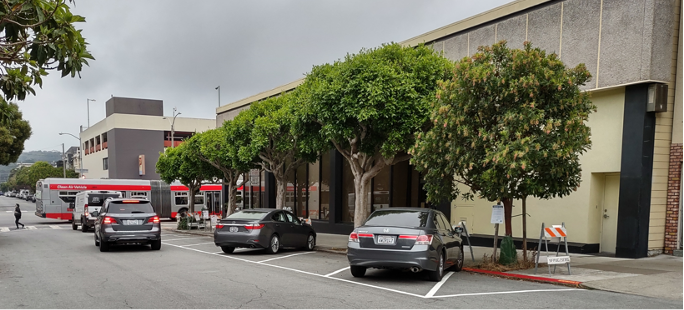 New angled parking spaces on cross streets near Geary were installed last week, including on 17th Avenue south of Geary
Beginning on the north side of Geary Boulevard between 16th and 17th Avenue, SFMTA crews will begin converting angled parking to parallel parking.  Parking meters will be removed and replaced in the new configuration and will take 1-2 days per block to complete. Signs will be posted in advance. After this work is completed, crews will be able to begin installing transit lanes with white stripes and signs.
Transit lanes benefit people who ride and drive. Nearly 350,000 people ride the bus every day in San Francisco. Transit lanes keep buses from getting stuck in traffic, and when more people choose transit because it's fast and reliable, there are fewer cars on the street. Buses also help reduce air pollution because they are more fuel-efficient than driving.
Additional work this week includes:
Installing right-turn pockets
Advanced limit lines to create distance between stopped cars and people crossing at intersections
Bus zones will be extended at the Stanyan Street inbound, Arguello Boulevard inbound, 3rd Avenue inbound, 17th Avenue outbound, 28th Avenue inbound and outbound, and 32nd Avenue inbound bus stops. Where bus zones are lengthened, one to two parking spaces will be removed per location
You may see SFMTA paint crews grinding out old road markings and installing new ones at various locations within the project area while this work is completed.
Additional Quick-Build implementation will continue into the fall. Next steps anticipated in October include continuing installation of transit lanes, bus stop changes and safety improvements. This phase does not include any excavation and will take about three months to complete. Work on any given block will be limited to a few days.