Automated Speed Enforcement
Project Overview
As a county, San Francisco ranks highest in per capita traffic collision fatalities and per capita severe traffic injuries in California. Excessive speeding is largely to blame for this.
Excessive speed accounts for the largest proportion of fatal and severe injury collisions in San Francisco, claiming ten times more lives than drunk drivers. People walking and biking are at a heightened risk of injury in speed-related crashes as the likelihood of survival decreases the faster a vehicle is traveling.
As part of the city's Vision Zero efforts, we are working to address today's "hurry up" culture and stop excessive speeding. We are re-engineering our streets, educating the public on safe driving behaviors, and focusing our traffic enforcement efforts on the most deadly traffic violations. Automated Speed Enforcement is another tool to address excessive speeding.
Automated Speed Enforcement is a safety technique that has been proven in other cities across the United States and abroad to reduce excessive speeding and severe and fatal injury traffic collisions. The National Highway Traffic Safety Administration reports that fixed speed cameras reduce injury crashes by 20 to 25 percent, and mobile speed cameras reduce injury collisions by 21 to 51 percent.
Although 141 communities across the United States have Automated Speed Enforcement programs, this tool is not legal in California currently, and a change to state law is required to use this life-saving technology.
Upcoming meetings
No upcoming meetings have been posted
Latest updates
No updates have been posted for this project
Project Details
Every year, 30 people are killed and 200 more are seriously injured while travelling on San Francisco's streets. San Francisco County ranks among the highest or worst for traffic deaths and injuries in California. These deaths and injuries are unacceptable and preventable, and San Francisco is committed to eliminating them.
By adopting a policy called Vision Zero in 2014, the City and County of San Francisco has committed to building better and safer streets, educating the public on traffic safety, enforcing traffic laws, and prioritizing resources to implement effective initiatives that save lives. Vision Zero aims to eliminate all traffic deaths in San Francisco by 2024.
Nationwide, speeding is a contributing factor in approximately 30% of traffic fatalities. The cost to society for those fatalities amounts to approximately $40.4 billion each year, according to the National Highway Traffic Safety Administration.
Unsafe speed is the leading factor in severe injury and fatal traffic collisions in San Francisco. Speeding is dangerous because a driver's field of vision is narrowed, reducing the amount of potential hazards that can be seen and avoided. Drivers have less time to react and maneuver out of dangerous situations when traveling at higher speeds and their ability to negotiate curves safely is also reduced.
Furthermore, it takes a vehicle a longer distance to stop for a hazard in the road the faster it is traveling. In the event of a collision between a vehicle and a pedestrian or bicyclist, the vehicle's speed will largely determine whether the person hit will survive.  A person hit by a car traveling 20 mph has a 9 in 10 chance of surviving while a person hit by a car traveling at 40 mph only has a 1 in 10 chance of surviving.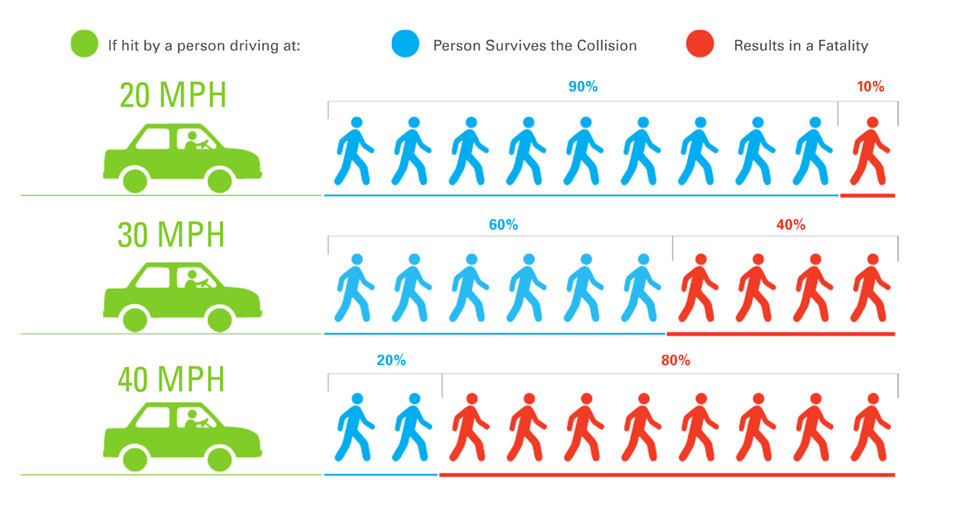 Automated SPeed ENforcement
Automated Speed Enforcement is a safety technique that reduces excessive speeding and improves safety for all road users. Automated Speed Enforcement slows speeds by using fixed or mobile cameras and other equipment to detect and capture images of vehicles traveling at dangerous speeds. Automated Speed Enforcement has been proven to deter illegal speeding and provides consistent and predictable enforcement of the speed limit. 
According to the National Highway Traffic Safety Administration, Automated Speed Enforcement has many traffic safety benefits that augment traditional police enforcement, including:
Increasing enforcement to change driver behavior and reduce speed
Operating in locations that may be otherwise dangerous for law enforcement personnel to be stationed
Impartially and consistently enforcing the speed limit
Enhancing enforcement without significant additional staff and resources
EFFectiveness
141 communities across the United States have implemented Automated Speed Enforcement. Many of these cities have experienced reductions in excessive speeding and a decrease in severe and fatal traffic injury collisions. Examples of these successful programs include: 
Washington, D.C. experienced a 73% reduction in traffic fatalities, a decrease from 71 deaths in 2001 to 19 deaths in 2012 and a 34% decrease in traffic related injuries
Portland, OR reported a 46% reduction in traffic fatalities from an average of 56.8 annual traffic deaths before the program's implementation to an average of 30.5 traffic related deaths as the program has grown
Seattle, WA had an overall calming effect on the city reporting a 4% reduction in the average speed of a speeding violation in miles per hour above the posted speed limit
A New York City, NY public organization found a 13.4% decline in collisions with injuries that were near the camera sites
Chicago, IL reported a 31% decrease in speeding vehicles. Within the first year of their program, the number of speeding events recorded by each camera reduced by an average of 43%
Montgomery, MD experienced a 59% decrease in the likelihood of a driver exceeding the speed limit by more than 10 mph and reported a reduction in fatal or incapacitating injuries by 39% on residential roads with speed limits of 25-35 mph
Frequently Asked Questions
How would the revenue be used?
The purpose of enhancing our traditional speed enforcement efforts is to reduce the occurrences of excessive speeding and save lives. Revenue would first be used to offset the cost of the program and any remaining revenue would be dedicated to pedestrian safety or other roadway traffic safety improvements. Similar to New York City's Automated Speed Enforcement program, the fine amount would likely be less than the amount of a speeding ticket issued by a police officer. Issuing small fines has demonstrated a change in driver behavior.
 Will pictures of the driver be taken? 
Automated Speed Enforcement cameras are not general surveillance cameras. They are designed only to capture photographic evidence of traffic law violations. The cameras record images only when a vehicle is traveling a dangerous speed. Cameras would be programmed to only capture the rear of the vehicle and license plate data, not images of the driver. Information captured by the cameras can only be used for the purposes in which they authorized.
Will drivers know where the cameras are located?
The purpose is to inform people that they must obey the speed limit. Signs would be posted notifying drivers when they are approaching an area enforced by Automated Speed Enforcement. The notification signs provide drivers with the knowledge and opportunity to obey the law.
Where will speed cameras be located?
Cameras would be located on corridors in which a high number of traffic collisions have occurred that resulted in a fatality or severe injury, or areas where there is a concentrated presence of vulnerable road users such as school zones, construction zones, or near senior centers.
Supporters
Mayor Ed Lee
San Francisco Board of Supervisors 
San Francisco Municipal Transportation Agency Board of Directors
San Francisco County Transportation Authority
San Francisco Police Commission
San Francisco's Democratic County Central Committee
Walk San Francisco
San Francisco Bicycle Coalition 
The City & County of San Francisco Bicycle Advisory Committee
San Francisco Health Commission, Department of Public Health
San Francisco General Hospital Trauma Center
San Francisco Medical Society
San Francisco Health Improvement Partnership
California Walks
Traffic Safety Coalition 
North of Panhandle Neighborhood Association
South Beach / Rincon / Mission Bay Neighborhood Association
Tenants and Owners Development Corporation 
Livable City
FDR Democratic Club of San Francisco
Central City SRO Collaborative
The Friends of Monterey Boulevard
CC Puede
National Federation of Filipino American Associations
Chinatown Transportation Research and Improvement Project
New Avenues Democratic Club
Richmond Democratic Club
Duboce Triangle Neighbohood Association
Balboa Park Station Community Advisory Committee 
California Alliance for Retired Americans
Recent News
Half of Injuries at SF General Hospital are from Traffic Collisions November 2, 2016
SF Could be First in California to Use Speed Enforcement Cameras October 13, 2016
What's Driving the Rise in Traffic Deaths October 7, 2016
Streets Where Two Cyclists Were Killed to Net Safety Overhaul August 5, 2016
Fixed Speed Cameras Coming to Portland Highway August 1, 2016 
Tolerating Dangerous Streets in SF? Not So Fast June 29, 2016
Baltimore, Maryland Begins Using Cameras to Enforce Speed in Workzones June 29, 2016
NYC Students Rally for Speed Cameras at Every School June 9, 2016
Unsafe at Many Speeds May 25, 2016
Families Call for More Speed Cameras Outside Schools May 9, 2016 
IIHS Study: Higher Speed Limits Lead to More Deaths April 12, 2016
We Can Stop Speeders and Save Lives December 4, 2015
Contacts
Government Affairs Director