Muni Subway Expansion Project
Project Overview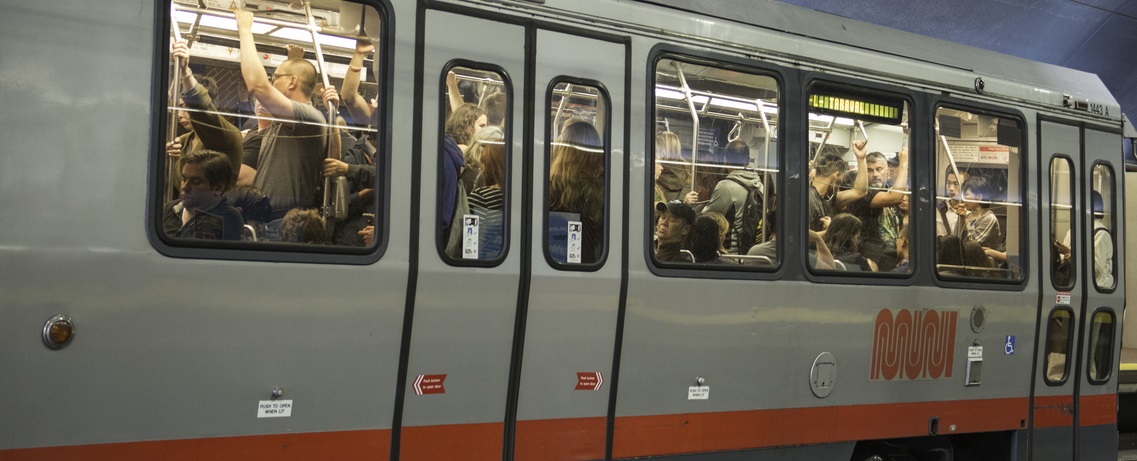 The Muni Subway Expansion project is based on a simple idea: make the best use of the resources we have. That means our subway tunnel and our train cars. We should make one of Muni's rail lines a full subway line, providing a backbone of fast, reliable, high-capacity transit that runs across the whole city – from the very southwest corner of San Francisco to the Embarcadero on the northeast. Introducing a full subway would unlock the ability to utilize the existing subway tunnel to its fullest capacity. The line selected as the spine, the M Ocean View, connects the major job centers and dense planned housing in eastern San Francisco with the densest and fastest-growing node in Southwest San Francisco. This is about making the Metro system work better for everyone.
This big idea is still in very early stages of planning. As a part of the planning phase, we have been focused on defining the project's conceptual design. The next step is for it to be considered for prioritization as a part of a citywide effort called ConnectSF that will identify the full universe of major transit investments that we need to provide a world class transit system.
Upcoming meetings
No upcoming meetings have been posted
Latest updates
Monday, April 25, 2016, 3:30 pm

Thursday, February 11, 2016, 2:06 pm

Friday, February 5, 2016, 2:02 pm
Project Details
Look at Muni Metro during the commute and you see the packed train cars.  What if we told you there is already extra capacity in the system to move thousands more people, we just need to unlock it?
That's what the Muni Subway Expansion does.
We have to understand a little history first. Muni's Metro rail system is a mash-up of a rail system designed in two different eras. In the 1800s and early 1900s, San Francisco built a robust streetcar network across the city. Several decades later, the BART system was built in the 1970s, including the Muni subway under Market Street that all our rail lines feed into. Once Muni rail started using the new subway, Muni began operating as a hybrid subway-streetcar system. The Market Street subway—a modern subway tunnel under the densest employment center west of the Mississippi! – is an incredibly valuable asset. But we aren't able to make use of its full value because of the Metro's hybrid subway-surface design.
The subway stations are long enough to serve trains more than twice as long as the current two-car trains. The problem is running trains longer than two cars on surface streets creates collision risks and blocks intersections. That's the inherit flaw of the hybrid system.
Running trains at the surface also results in a slower and more variable travel time. This limits the number of passengers per hour that can travel under Market Street to much less than what the subway was designed to accommodate.
Partner Agencies
Caltrans
SFCTA
San Francisco Planning Department
Funders
Metropolitan Transportation Commission (Priority Development Area Planning Grant)
Parkmerced
SFCTA (Prop K)
San Francisco State University
Stonestown Galleria
Outreach
We hosted a series of public meetings in February 2016 where we shared refined project alternatives and received input from the community. Review the materials from our recent public meetings.
Please contact Liz Brisson, Project Manager (liz.brisson@sfmta.com or 415.701.4791) or Kelley McCoy, Public Relations Officer (kelley.mccoy@sfmta.com or 415.701.5428) with questions or to request a meeting or presentation to your group. 
Schedule
Major milestones before project approval and finalizing a schedule include:
•    A multi-year environmental review effort (not expected to begin until 2018)
•    Ongoing community outreach and involvement
•    Identification of a full funding strategy
Learn More
Upcoming Meetings
No upcoming meetings have been posted.
Past Meetings
Thursday, February 25, 2016,

Thursday, February 18, 2016,

Tuesday, February 16, 2016,

Thursday, February 4, 2016,

Monday, January 12, 2015,

Saturday, November 1, 2014,
Contacts
Public Information Officer
Receive Updates
We will send you e-mail or SMS updates whenever the following are posted for the Muni Subway Expansion Project:
Upcoming meetings
Project updates