28 19th Avenue Rapid Project
Project Introduction
Prior to the COVID-19 pandemic, the 28 19th Avenue and 28R 19th Avenue Rapid lines carried over 18,000 riders every weekday. As part of the Muni Core Service Plan enacted in response to the COVID-19 pandemic, the 28 19th Avenue is a critical north-south route on the west side of the City that provides connections to food resources, parks, hospitals and regional transit. 19th Avenue is also one of the city's high-injury corridors that have some of the most severe and fatal traffic injuries in San Francisco. As part of Muni Forward, SFMTA is proposing transit priority and pedestrian safety improvements along the route that will make it safer to walk, increase the frequency and reliability of service, and enhance the customer experience—on and off the bus. This includes optimizing bus stop locations, increasing bus stop spacing, and adding pedestrian and transit bulbs along 19th Ave. 
Bus Routes and Rail Lines
By the Numbers:
Expanding 28R service to all day service means a
less crowded and more reliable ride.
San Francisco's Vision Zero policy seeks to eliminate all
traffic-related fatalities by 2024.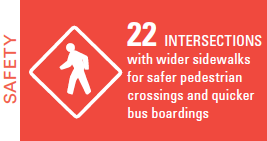 Muni Forward will play a big part in this effort by enhancing
pedestrian safety at intersections with engineering measures
like sidewalk bulbouts which increase visibility of people walking
and shorten crossing distances. 
Project Details, History or Features
What's included in the 28 19th Avenue Rapid Proposal?
| | |
| --- | --- |
| New transit bulbs at 13 intersections | 19th Ave at Lincoln, Judah, Lawton, Noriega, Ortega, Quintara, Rivera, Taraval, Vicente, Sloat, Eucalyptus, Winston, Holloway  |
| New pedestrian bulbs at 19 intersections | 19th Ave at Irving, Kirkham, Lawton, Moraga, Noriega, Ortega, Pacheco, Quintara, Rivera, Santiago, Taraval, Ulloa, Vicente, Wawona, Sloat, Ocean, Eucalyptus, Winston, Holloway |
| Stop relocation at eight intersections | 19th Ave at Judah, Lawton, Noriega, Rivera, Taraval, Vincente, Eucalyptus, Winston |
| Stop removal at eight intersections | 19th Ave at Irving, Kikham, Moraga, Pacheco, Santiago, Ulloa, Wawona, Ocean |
| Local stop only at two intersections | 19th Ave at Lincoln, Sloat |
| Bus zone extension at one intersection | 19th Ave at Quintara  |