28 19th Avenue Rapid Project
Project Introduction
Prior to the COVID-19 pandemic, the 28 19th Avenue and 28R 19th Avenue Rapid lines carried over 20,000 riders every weekday. The 28 19th Avenue remains a critical north-south route on the west side of the city during the pandemic that provides connections to schools, employment, regional transit, retail services, hospitals, and parks. 19th Avenue is also a high-injury corridor with one of the highest rates of severe and fatal traffic injuries in San Francisco. 
As part of Muni Forward, the SFMTA will implement transit priority and pedestrian safety improvements along the route that will make it safer to walk, increase the reliability of transit service, and enhance the customer experience—on and off the bus. This project includes sidewalk widening at bus stops ("transit bulbs") as well as optimizing and consolidating bus stops to make stop spacing more even, which will help make Muni service more reliable. The project will also widen the sidewalk at corners (a treatment known as "pedestrian bulbs") along 19th Avenue to support pedestrian safety. 
The project is being delivered as part of the 19th Avenue Combined City Project, a collaboration between four city agencies and community partners, led by the San Francisco Public Works Department. The combined project include water main and sewer replacement and rehabilitation, AWSS (Auxiliary Water Supply Service) and concrete transit bulbs, and traffic signal work. Construction began October 2020. Click the button below for more details.
19th Avenue (CA Route 1) Combined City Project Website
Transit and Pedestrian Safety Project Elements
The project aims to improve reliability on the 28 19th Avenue and 28R Avenue Rapid lines by implementing the following elements:
Installing transit bulbs at 12 intersections

Relocating transit stops at eight intersections to take advantage of transit signal priority

Removing closely spaced stops at eight intersections

Implementing transit signal priority to give buses a green light for longer
In support of Vizion Zero SF and to make 19th Avenue safer for people walking, the SFMTA is installing pedestrian bulbs at 19 intersections and modifying traffic and pedestrian signs to give people who walk more time to cross the street.
Outreach
The SFMTA Board approved the 19th Avenue Rapid Project in 2015. Prior to approval, SFMTA staff conducted extensive outreach and received feedback from Muni customers, neighborhood groups, local schools and businesses. Outreach included the following:
Mailed over 1,200 postcards to residents

Distributed over 1,000 project information flyers to Muni customers

Engaged 24 local neighborhood groups

Contacted 11 local schools

Met with 17 local businesses

Issued a survey with over 150 respondents
The project team are continuing to engage with the community with construction updates in coordination with Public Works. Muni customers and residents near the 28 19th Avenue and 28R 19th Avenue Rapid lines have received notification in the mail with details about the project. 
For updates, please visit 19th Avenue (CA Route 1) Combined City Project | Public Works (sfpublicworks.org).
Bus Routes and Rail Lines
By the Numbers:
Expanding 28R service to all day service means a
less crowded and more reliable ride.
San Francisco's Vision Zero policy seeks to eliminate all
traffic-related fatalities by 2024.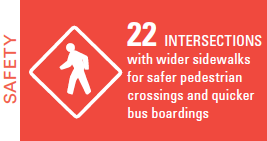 Muni Forward will play a big part in this effort by enhancing
pedestrian safety at intersections with engineering measures
like sidewalk bulbouts which increase the visibility of people walking
and shorten crossing distances. 
Project Details, History or Features
What's included in the 28 19th Avenue Rapid Proposal?
| | |
| --- | --- |
| New transit bulbs at 13 intersections | 19th Ave at Lincoln, Judah, Lawton, Noriega, Ortega, Quintara, Rivera, Taraval, Vicente, Sloat, Eucalyptus, Winston, Holloway  |
| New pedestrian bulbs at 19 intersections | 19th Ave at Irving, Kirkham, Lawton, Moraga, Noriega, Ortega, Pacheco, Quintara, Rivera, Santiago, Taraval, Ulloa, Vicente, Wawona, Sloat, Ocean, Eucalyptus, Winston, Holloway |
| Stop relocation at eight intersections | 19th Ave at Judah, Lawton, Noriega, Rivera, Taraval, Vincente, Eucalyptus, Winston |
| Stop removal at eight intersections | 19th Ave at Irving, Kikham, Moraga, Pacheco, Santiago, Ulloa, Wawona, Ocean |
| Local stop only at two intersections | 19th Ave at Lincoln, Sloat |
| Bus zone extension at one intersection | 19th Ave at Quintara  |