Park Presidio Lombard Temporary HOV Lanes
Project Introduction
Along with other key locations across the city that serve Muni routes, the SFMTA approved to install temporary emergency transit improvements on portions of Muni's 28 19th Avenue, including along Lombard Street, Richardson Avenue, Park Presidio Boulevard, Park Presidio Bypass. Since these streets are also state highways, we have an opportunity for the lanes to also function as high-occupancy vehicle (HOV) lanes, which would also allow private vehicles with two or more occupants to use them along with transit at all times of the day. As traffic congestion returns and, installing the HOV lanes would allow Muni and regional transit vehicles to move more quickly through San Francisco without getting stuck in traffic. This means that Muni can provide more frequent service on the 28 19th Avenue and greater capacity with the same number of vehicles.
If just a fraction of the people riding transit before the health crisis begin driving alone, traffic congestion will be so severe that it could paralyze the city's economic recovery. Without action, transit-dependent San Franciscans will bear the costs of traffic congestion with longer travel times leading to an increased risk of exposure to COVID-19 on slower, more crowded buses.
Locations of proposed temporary lanes were chosen based on current ridership and travel time data. Providing service improvements to customers on Muni routes that serve neighborhoods with high percentages of people of color and low-income households is a top priority.
Bus Routes and Rail Lines
Park Presidio Lombard Temporary HOV Lanes 
To support San Francisco's COVID-19 response and economic recovery, and to improve the frequency and reliability of Muni service by reducing running time, the SFMTA will install HOV lanes that allow vehicles with two or more occupants along sections of State Route 1 and U.S. Highway 101. The HOV lanes are in effect from 5 a.m. to 8 p.m. Monday through Friday. On Park Presidio Bypass, and Park Presidio Boulevard from Lincoln Way to Lake Street, the approved project installed one HOV lane in each direction, utilizing the existing curb lane with no other proposed changes to traffic and no changes to parking. Similar changes are installed on Lombard Street and Richardson Avenue from Van Ness Avenue to Lyon Street. Travel time savings were seen along the entirety of Muni's 28 19th Avenue route within San Francisco compared to pre-COVID-19 travel times during the early days of the city's Shelter in Place order in March 2020. Park Presidio Bypass and Park Presidio Boulevard from Lincoln Way to Lake Street were identified for installation of HOV lanes based on an assessment of technical feasibility and timing with other planned roadway projects. If the initial HOV lanes prove successful, additional segments such as Presidio Parkway and 19th Avenue may be considered for future expansion of HOV lanes on the 28 19th Avenue route.
Unlike transit lanes elsewhere in the city, these HOV lanes would allow vehicles with two or more occupants to encourage carpooling. This also recognizes the important role these streets play in the regional roadway network, and ensures that they still maintain enough capacity to keep traffic moving.
The SFMTA has been collaborating with Caltrans to review the feasibility, design and development of these improvements. The SFMTA is also coordinating closely with the San Francisco County Transportation Authority and has consulted with the Metropolitan Transportation Commission and the Golden Gate Bridge, Highway and Transportation District.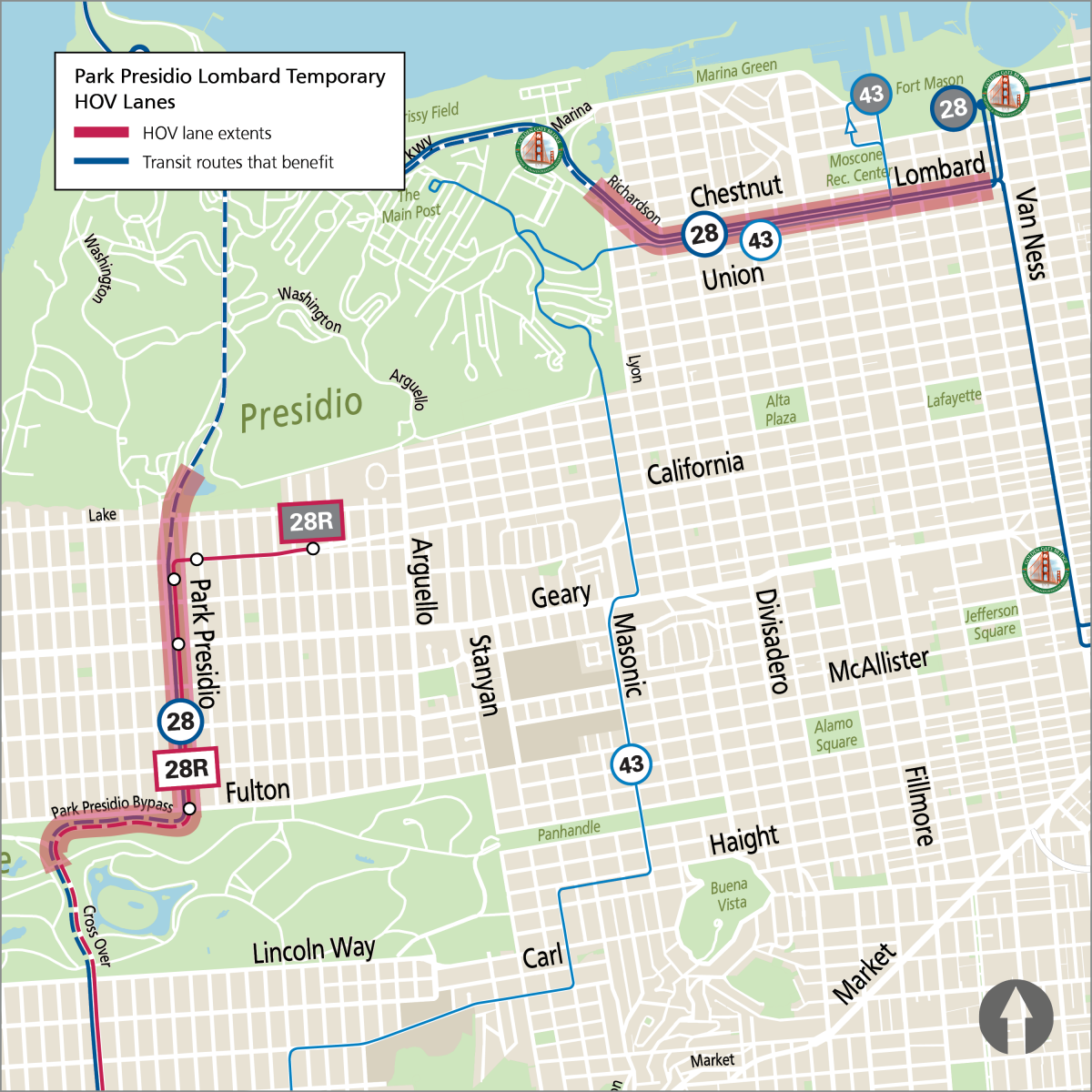 Project Timeline
On Tuesday, September 6, 2022, the SFMTA Board of Directors approved a three-year extension of the pilot project to allow for further study of its benefits and impacts. The temporary project was approved by the SFMTA Board of Directors on April 20, 2021. Implementation on Lombard was complete in fall 2021 and the Park Presidio segment was completed in spring 2022. 
The temporary emergency HOV lanes are striped with white paint, HOV stenciling and signage, making it easily reversible if necessary. 
Outreach and Evaluation
The urgent nature of this emergency calls for putting temporary measures into place, directly on the street. This accelerated approach allows the city to respond quickly to protect public health and support economic recovery while we work with the community to evaluate and make adjustments to the temporary HOV lanes as needed.
Areas of evaluation will include, but are not limited to:
Health and safety benefits
Economic health
Neighborhood impacts and equity
Transit performance
Traffic safety
Community-based organizations, stakeholders and neighbors will be involved in shaping the framework and process for evaluating and adjusting the emergency HOV lanes in real time. 
Based on public feedback and ongoing, on-the-ground data monitoring of the temporary HOV lanes, we can tweak—or even remove—lanes to meet the needs of the community and Muni customers. Both qualitative and quantitative data will be collected after implementation and will inform any changes needed to the transit lanes and whether permanent approval of the lanes should be pursued.
Community Feedback 
A community survey was launched in the summer of 2023 to collect the community's feedback on the impacts and success of the HOV lanes. 
To receive updates on the progress of the project, sign up for project updates. Learn more about the original temporary emergency transit lanes program.