Automated Speed Enforcement
Project Introduction
As part of the city's Vision Zero efforts, we are working to address today's "hurry up" culture and stop excessive speeding. People walking and biking are at a heightened risk of injury in speed-related crashes as the likelihood of survival decreases the faster a vehicle is traveling. We are re-engineering our streets, educating the public on safe driving behaviors, and focusing our traffic enforcement efforts on the most deadly traffic violations. Automated Speed Enforcement is another tool to address excessive speeding. Automated Speed Enforcement is a safety technique that has been proven in other cities across the United States and abroad to reduce excessive speeding and severe and fatal injury traffic collisions. The National Highway Traffic Safety Administration reports that fixed speed cameras reduce injury crashes by 20 to 25 percent, and mobile speed cameras reduce injury collisions by 21 to 51 percent.
Although 142 communities across the United States have Automated Speed Enforcement programs, this tool is not legal in California currently, and a change to state law is required to use this life-saving technology.
PROJECT DETAILS
Every year, 30 people are killed and 200 more are seriously injured while travelling on San Francisco's streets. San Francisco County ranks among the highest or worst for traffic deaths and injuries in California. These deaths and injuries are unacceptable and preventable, and San Francisco is committed to eliminating them.
By adopting a policy called Vision Zero in 2014, the City and County of San Francisco has committed to building better and safer streets, educating the public on traffic safety, enforcing traffic laws, and prioritizing resources to implement effective initiatives that save lives. Vision Zero aims to eliminate all traffic deaths in San Francisco.
Nationwide, speeding is a contributing factor in approximately 30% of traffic fatalities. The cost to society for those fatalities amounts to approximately $40.4 billion each year, according to the National Highway Traffic Safety Administration.
In San Francisco, unsafe speed is the highest primary collision factor in collisions resulting in injuries. Speeding is dangerous because a driver's field of vision is narrowed, reducing the amount of potential hazards that can be seen and avoided. Drivers have less time to react and maneuver out of dangerous situations when traveling at higher speeds and their ability to negotiate curves safely is also reduced.
Furthermore, it takes a vehicle a longer distance to stop for a hazard in the road the faster it is traveling. In the event of a collision between a vehicle and a pedestrian or bicyclist, the vehicle's speed will largely determine whether the person hit will survive.  A person hit by a car traveling 20 mph has a 9 in 10 chance of surviving while a person hit by a car traveling at 40 mph only has a 1 in 10 chance of surviving.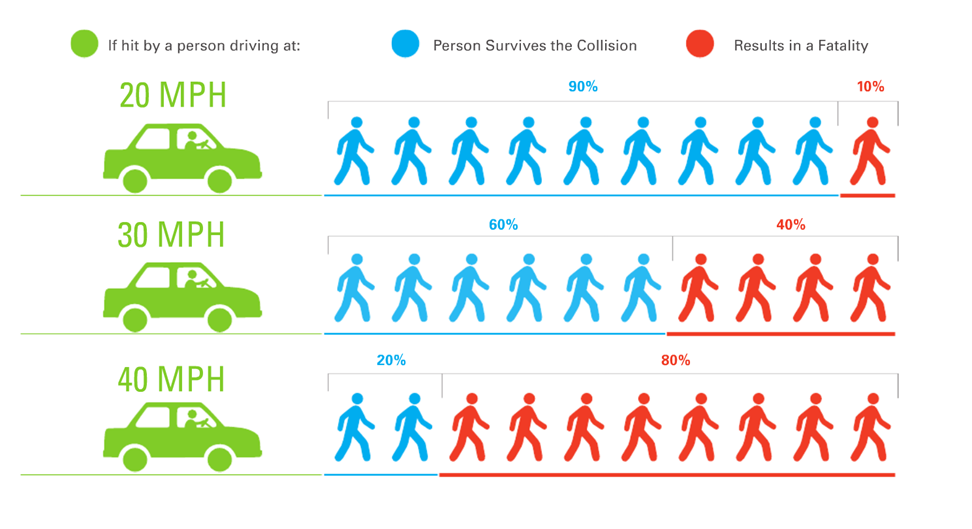 AUTOMATED SPEED ENFORCEMENT
Automated Speed Enforcement is a safety technique that reduces excessive speeding and improves safety for all road users. automated speed enforcement slows speeds by using fixed or mobile cameras and other equipment to detect and capture images of vehicles traveling at dangerous speeds. Automated Speed Enforcement has been proven to deter illegal speeding and provides consistent and predictable enforcement of the speed limit. 
According to the National Highway Traffic Safety Administration, automated speed enforcement has many traffic safety benefits that augment traditional police enforcement, including:
Increasing enforcement to change driver behavior and reduce speed
Operating in locations that may be otherwise dangerous for law enforcement personnel to be stationed
Impartially and consistently enforcing the speed limit
Enhancing enforcement without significant additional staff and resources
EFFECTIVENESS
The National Transportation Safety Board (NTSB) released a new report in July 2017, Reducing Speeding-Related Crashes Involving Passenger Vehicles, which specifically recommends that all states remove barriers to implementing automated speed enforcement programs based on their finding that automated speed enforcement is an effective but underused countermeasure. The report found that speeding increases crash risk both in terms of the likelihood of being involved in a crash and in terms of the severity of injuries sustained by those involved in speeding-related crashes. The NTSB finds that the relationship between speed and injury severity is consistent and direct, which is especially critical when pedestrians or bicyclists are involved, due to their lack of protection.
The NTSB determined that between 2005-2014, 31% of all traffic fatalities nation-wide cited speed as a factor. However, the authors also note that the involvement of speeding passenger related vehicles in fatal crashes is underestimated, suggesting this percentage is likely even higher. These findings are consistent with what we see in San Francisco, demonstrating our city is not an outlier, but rather part of the broader narrative of the impact of speed on streets across the nation.
142 communities across the United States have implemented automated speed enforcement. Many of these cities have experienced reductions in excessive speeding and a decrease in severe and fatal traffic injury collisions. Examples of these successful programs include: 
Washington, D.C. experienced a 73% reduction in traffic fatalities, a decrease from 71 deaths in 2001 to 19 deaths in 2012 and a 34% decrease in traffic related injuries
Portland, OR reported a 46% reduction in traffic fatalities from an average of 56.8 annual traffic deaths before the program's implementation to an average of 30.5 traffic related deaths as the program has grown
Seattle, WA had an overall calming effect on the city reporting a 4% reduction in the average speed of a speeding violation in miles per hour above the posted speed limit
A New York City, NY public organization found a 13.4% decline in collisions with injuries that were near the camera sites
Chicago, IL reported a 31% decrease in speeding vehicles. Within the first year of their program, the number of speeding events recorded by each camera reduced by an average of 43%
Montgomery, MD experienced a 59% decrease in the likelihood of a driver exceeding the speed limit by more than 10 mph and reported a reduction in fatal or incapacitating injuries by 39% on residential roads with speed limits of 25-35 mph
FREQUENTLY ASKED QUESTIONS
Is speeding really a problem?
Yes. In San Francisco, approximately 30 people are killed and 200+ are severely injured each year in traffic collisions. Unsafe speed is a primary collision factor in many fatal and severe injury collisions. The faster a car is traveling, the greater the risk of serious injury or death to those in and outside a car in a collision. If hit by a vehicle traveling at 20mph, there is a 90% chance of survival and at 40mph, 80% of people will die compared to only 10% at 20mph; seniors and children are more vulnerable to serious injury than adults.
How will the revenues be used?
This is not about money. The purpose of enhancing our traditional speed enforcement efforts is to reduce the occurrences of excessive speeding and save lives. Issuing small fines is demonstrated to change driver behavior. However, any revenue generated would be invested into street safety projects and programs.
What if I cannot afford to pay the fine?
An automated speed enforcement program would provide low-income drivers the option to enroll in a payment plan to spread the payment out overtime, as well as the option to perform community service in-lieu of payment. Lessening the burden of fines and fees on low-income populations is a priority for SanFrancisco.
Will drivers know where the cameras are located?
Yes. The purpose is to inform people that they must obey the speed limit. Signs notifying drivers would be posted when they are approaching an area enforced by automated speed enforcement. The notification signs provide drivers with the knowledge and opportunity to obey the law.
What about privacy? Will the cameras take pictures of the driver?
An automated speed enforcement program would incorporate best practices in surveillance technology as set forth by the Electronic Frontier Foundation. The cameras used as part of an automated speed enforcement program would not be general surveillance cameras, and would be designed to only capture photographic evidence of excessive speed traffic violations. Speed camera images including personally identifiable information would be redacted or blurred. Information captured by the camera scan would only be used for the purposes for which they were authorized.
Will citations issued by automated enforcement systems be the same as citations given by police officers?
No. A violation from a speed camera would be an administrative penalty, similar to a parking ticket, with a lower fine amount, rather than a criminal penalty. Many other cities have also decriminalized speed camera violations.
If a camera captures me speeding, will I receive a citation right away? Will I keep receiving citations?
An automated speed enforcement program would require real-time notification (e.g. a flash) when the violation occurs. Citations would then be promptly mailed to the registered owner of the vehicle. An automated speed enforcement program would give drivers several chances to obey the law, including a robust public notification process, a 90-day warning period at the start of the program, and a 30-day warning period on streets new to the program. Drivers would only be able to receive one citation per 24 hours. Cities such as Chicago, Seattle, and Washington, DC have experienced a decline in repeat offenders and violations, proving that the cameras change driver behavior.
SUPPORTERS
Office of the Mayor, City and County of San Francisco
Mayor Sam Liccardo, City of San Jose
Police Chief William Scott, City and County of San Francisco
Police Chief Eddie Garcia, City of San Jose
California Walks
California Alliance for Retired Americans (CARA)
CC Puede
Chinatown Community Development Center
Department of Transportation, City of Los Angeles
Duboce Triangle Neighborhood Association
FDR Democratic Club
Friends of Monterey Boulevard
Golden Gate Bridge, Highway and Transportation District
Greater Rincon Hill Community Benefit District
Independent Living Resource Center San Francisco
Livable City
Los Angeles Walks
Lower Polk Community Benefit District
Metropolitan Transportation Commission
Portola Neighborhood Association
Safe Routes to School National Partnership
San Francisco Bay Area Families for Safe Streets
San Francisco Bicycle Coalition
San Francisco County Board of Supervisors
San Francisco County Transportation Authority
San Francisco Health Commission
San Francisco Health Improvement Partnership
San Francisco Medical Society
San Francisco Municipal Transportation Agency
San Jose Bicycle/Pedestrian Advisory Committee
San Jose City Council
San Jose Senior Citizens Commission
Santa Clara Valley Transportation Authority
Senior & Disability Action
sf.citi
Shape Up San Francisco Coalition
Silicon Valley Bicycle Coalition
Silicon Valley Independent Living Center
Silicon Valley Leadership Group
South Beach/Rincon/Mission Bay Neighborhood Association
SPUR
Stop4Aiden
Tenants and Owners Development Corporation
Tenants and Owners Development Corporation
TransForm
UCSF Department of Surgery
Walk & Bike Mendocino
Walk San Francisco
Washington, DC Metropolitan Police Department
RECENT NEWS
A Day to Remember Victims of Traffic Violence- November 20, 2017
National Transportation Safety Board Study Supports Automated Speed Enforcement- August 17, 2017
Let Cities Save Lives With Automated Speed Enforcement, Says National Safety Board- August 9, 2017
SF Moves Closer To Automated Speed Enforcement Via Safety Cameras- April 21, 2017
Moving Forward on Automatic Speed Enforcement Cameras- February 13, 2017
San Francisco, San Jose may use Automated Speed Enforcement Cameras- February 8, 2017
Assemblymember David Chiu Announces Safe Streets Act of 2017- February 8, 2017