Lake Merced Bikeway Feasibility Project
Bus Routes and Rail Lines
Project Overview
Existing Bike Facilities Around Lake Merced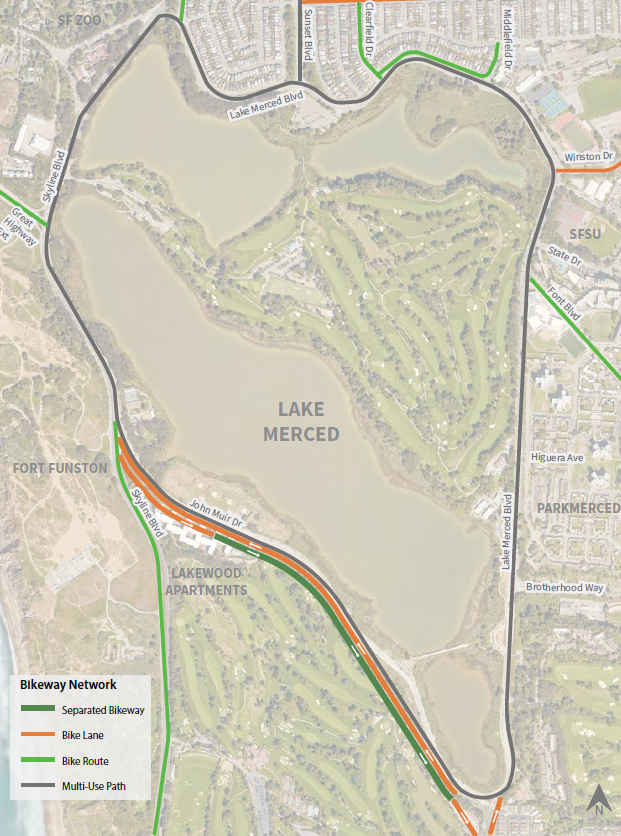 The existing bike facilities around Lake Merced are as follows:
A multi-use path (pedestrians and bicyclists share the same space) around the entire lake on the lake side of Lake Merced Boulevard, John Muir Drive, and Skyline Boulevard

Bike lanes along John Muir Drive, between Skyline Boulevard and Lake Merced Boulevard; the southbound bike lane is separated by soft-hit posts south of the Lakewood Apartments
Numerous bike facilities currently connect to Lake Merced:
A multi-use path on Sunset Boulevard

Bike lanes on Winston Drive (both directions)

Bike lanes along Lake Merced Boulevard (both directions), south of the John Muir Drive intersection

Bike routes on Skyline Boulevard south of John Muir Drive and north of Lake Merced Boulevard, on the Great Highway Extension, on Font Boulevard, and on Clearfield Drive and Middlefield Drive.
The highest activity on the multi-use path in the vicinity of the lake is observed around the Winston Drive intersection, near the SFSU campus, and along John Muir Drive near the Lakewood Apartments. Additionally, Lake Merced Boulevard between Sunset Boulevard and Font Boulevard is part of San Francisco's High Injury Network. Therefore, this section should be prioritized for both increasing capacity and enhancing safety for bicyclists and pedestrians.
Lake Merced Park is a major recreational destination in the southwestern corner of San Francisco, encompassing natural open space, the lake with boating activities, golf courses, and a multiuse path for jogging and bicycling. Three major roadways - Lake Merced Boulevard, John Muir Drive and Skyline Drive – circle Lake Merced Park, providing vehicular access to the park, residential neighborhoods, schools (Lowell High School, SF State University, Lakeshore Elementary School), nearby beaches and to other parts of San Francisco and Daly City. 
SFMTA is overseeing two planning projects that explore potential areas of improvement for pedestrians and bicyclists on the roadways and paths that encircle the park. The Lake Merced Pedestrian Safety Project will identify safety improvements at pedestrian crossings along Lake Merced Boulevard between Skyline Boulevard and John Muir Drive. The Lake Merced Bikeway Feasibility Project, which is now complete, produced a study to determine the feasibility of installing bike facilities around Lake Merced Park.
Lake Merced Bikeway Feasibility Project
At the request of District 7 Supervisor Norman Yee, the SFMTA conducted a planning study to assess the feasibility of installing a bikeway around Lake Merced Park. The completed study explored two bikeway options: 1) Extending or rerouting the existing multiuse pathway on property owned by San Francisco Public Utilities Commission (SFPUC) and managed by San Francisco Recreation and Park (RPD) to provide additional space for cyclists; 2) Installing a bike facility on Lake Merced Boulevard to connect with existing bikeway on John Muir Drive.
The Lake Merced Bikeway Feasibility Study was completed in January 2021. The final report presents near-term options for adding bikeways at road-level on streets adjacent to the lake and long-term options for widening the multi-use pathway around the lake.
If you would like to download a copy of the full Lake Merced Bikeway Feasibility Study, you may do so by visiting the links to the right.
Preparation of the report was made possible by the San Francisco County Transportation Authority through a grant of Proposition K Local Transportation Sales Tax funds under the Neighborhood Program for District 7.