Asia-Pacific Economic Cooperation (APEC) Service Impacts: Nob Hill
November 13-19, All service hours
Service Affected
Accessibility
Bicycle
Motorcycle
Parking
Taxi
Driving
Transit
Walking
Weekend Traffic and Transit Advisory
Please note that information on this page may be subject to last-minute changes and additions. Updates will be posted below.
UPDATE (11/14): The Outbound 1 California reroute has been slightly modified. Previously, buses were making a left turn from Larkin St. onto Sacramento St. Buses will now turn from Leavenworth St. onto Sacramento. The reroute information has been updated in the table below.
---
UPDATE (11/13): The inbound 1 California will need to reroute until the end of service on 11/13 due to expected intermittent street closures as security fencing is erected near Clay and Powell streets. The reroute info will be available below.
---
UPDATE (11/10): Powell/Mason and Powell/Hyde Cable Car Lines will begin their reroute from the Cable Car Barn to Fisherman's Wharf during all hours of service beginning Sunday, November 12 as detailed in the table below.
---
UPDATE (11/8): California Cable Car 
Line service will be provided by buses during all hours of service beginning 
Sunday, November 12.
The Cal Line reroutes detailed in the table below will begin the following day, Monday, November 13. 
---
UPDATE (11/7):
The 
1 California
 is rerouting in the
outbound direction only
between
November 7-12
in the
Nob Hill
area. For full details on the reroute and the supplemental shuttle service, 
please visit its Travel & Transit Update page.
Event Summary
San Francisco is proud to host the Asia-Pacific Economic Cooperation (APEC) conference in November, the largest conference of global leaders in San Francisco in decades. More than 20,000 people are expected to attend this historic conference, including heads of state and dignitaries from over 20 member economies in Asia, the Pacific, North America and South America. Visit the APEC website (APEC2023SF.org) for further information about the conference. 
Due to security for APEC, areas around events and activities will be closed to vehicles and pedestrians except for event attendees or people who live or work within the security boundaries.
Please continue reading to learn more about the expected impacts of the APEC conference in the Nob Hill and Chinatown neighborhoods. For information on how APEC will impact the South of Market neighborhood, please visit our page about SoMa.
On This Page
Visit the full screen APEC map.
Travel and transit information included in the above map is described in detail below.
Street Closures
Streets and freeway ramps in SoMa will be closed from Monday, Nov. 13 - Sunday, Nov. 19. These closures will result in significant traffic impacts. The following streets in the Nob Hill & Chinatown neighborhoods will be closed to traffic starting as early as Monday evening, November 13 to as late as Sunday, Nov. 19.
California between Taylor & Stockton
Sacramento between Taylor & Powell
Mason between California & Clay
Powell between California & Clay
Powell between Clay & Washington
The following intersections will also be closed:
California at
Sacramento at
Additional APEC-related events will take place in multiple locations. Some events may require a temporary security zone that will restrict traffic and may likewise require Muni reroutes. We will make information available as events are announced.
People Bicycling and Walking
People walking and riding bicycles are encouraged to go around the security zone to avoid security impacts.
People walking and biking may use Stockton, Clay, Pine or Taylor streets.
Muni Service Changes
Multiple Muni lines will need to be rerouted around the main conference security zone in Nob Hill from Nov. 13-19. The SFMTA developed reroutes to maintain as many connections as possible. Riders should be prepared to adjust travel and to allow more travel time. We understand that these changes will present some challenges and we appreciate your support and patience.
Cable Car and Muni Metro service will be significantly impacted during this period as well.
Note: Vehicle predictions and third-party navigation apps may not display information properly during this period. We advise anyone traveling through San Francisco to allow ample extra time for travel and to be prepared for delays.
Note: Be sure to receive real-time Muni service alerts via email or text by signing up through our Email and Text Subscriptions page.
Temporary Service Changes for the INBOUND 1 California on 11/13
Route & Direction
Duration
Route Details
Missed Stops
Alternate Stop Locations
1 California
Inbound to Downtown

11/13 ONLY,
All Hours of Service

From Clay & Taylor via Taylor, Pacific, Powell, Broadway, Stockton, Clay to regular route

Use Outbound 12 Folsom/Pacific stops at:
Temporary Service Changes in Nob Hill & Chinatown during APEC
Route
Duration
Route Details
Missed Stops
Alternate Stop Locations
1 California
Outbound to The Richmond
All Hours of Service

From Sacramento & Stockton via Stockton, Sutter, Leavenworth, Sacramento to regular route

Powell/Mason Cable Car
Inbound to Powell & Market
(Switchback)
All Hours of Service

Switchback will begin at Washington & Mason via Washington, Powell, Jackson, Mason to regular route

Powell/Mason Cable Car
Outbound to Fisherman's Wharf
(Switchback)
All Hours of Service

Regular route from Powell & Jackson

Powell/Hyde Cable Car
Inbound to Powell & Market
(Switchback)
All Hours of Service

Switchback will begin at Washington & Mason via Washington, Powell, Jackson, Mason to regular route

Powell/Hyde Cable Car
Outbound to Fisherman's Wharf
(Switchback)
All Hours of Service

Regular route from Powell & Jackson

Powell Street Bus
Inbound to Ellis & Powell
(Bus Substitution)
All Hours of Service

From Powell & Jackson via Powell, Jackson, Mason, Washington, Powell, Clay, Stockton, Ellis to terminal on Ellis at Powell

Powell Street Bus
Outbound to Powell & Jackson
(Bus Substitution)
All Hours of Service

From Ellis & Powell via Ellis, Powell, Pine, Leavenworth, Clay, Powell to terminal at Powell & Jackson

California Cable Car
Inbound to Embarcadero
(Bus Substitution)
Nov. 13-19,
All Hours of Service

From California & Taylor via Taylor, Clay, Montgomery, California, Davis to terminal at Drumm

Note: The bus substitution will begin at the start of service on Sunday, November 12, but will not utilize a reroute. The bus reroute will begin at the start of service the following day, Monday, November 13.

California Cable Car
Outbound to Van Ness
(Bus Substitution)
Nov. 13-19,
All Hours of Service

From California & Stockton via Stockton, Pine, Leavenworth, California to regular route

Note: The bus substitution will begin at the start of service on Sunday, November 12, but will not utilize a reroute. The bus sub reroute will begin at the start of service the following day, Monday, November 13.

All intersections on Pine St. from Powell to Leavenworth streets
Event Service Map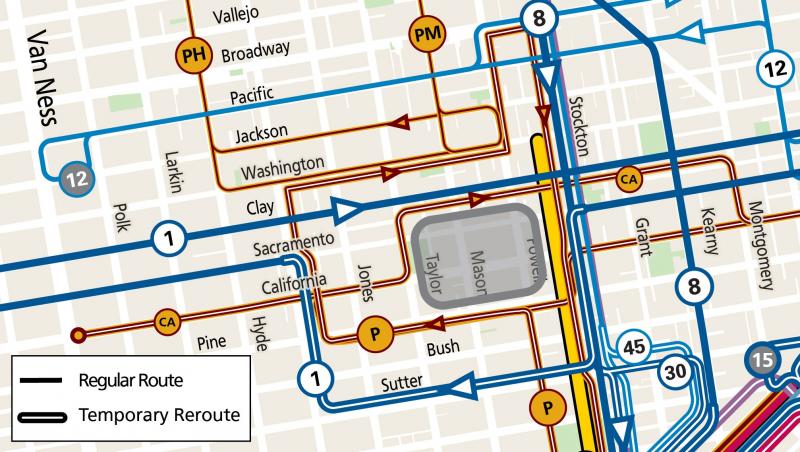 Contact
Call 311 within San Francisco; TTY 415.701.2323