Asia-Pacific Economic Cooperation (APEC) Set-Up: Nob Hill
Temporary, 5 a.m to 11:59 p.m. daily from Tuesday, Nov. 7 to Sunday, Nov. 12
Service Affected
Accessibility
Transit
Weekend Traffic and Transit Advisory
Event Summary
In preparation for the APEC Summit and the related street impacts in the Nob Hill area, Muni will need to de-energize the overhead lines that provide power to the 1 California Route on Sacramento Street between Stockton and Taylor streets beginning Tuesday, November 7, until Sunday, November 12. As a result, the westbound 1 California trolley buses will not be able service the de-energized portion of Sacramento Street and will be rerouted. We will be providing a westbound (outbound) 1 California shuttle bus for the duration of the de-energization. Read below for more details.
For information on the larger impacts to Nob Hill and Chinatown during APEC, beginning November 13, please visit that Travel & Transit Update page.
Muni Service Changes
Note: Be sure to receive real-time Muni service alerts via email or text by signing up through our Email and Text Subscriptions page.
Note: The reroute has been modified to account for a difficult-to-navigate turn in the previous orders. Instead of turning onto Leavenworth from Sutter, outbound 1 California buses will now turn onto Larkin from Sutter, then from Larkin back onto Sacramento where they'll resume the regular outbound route. One additional stop will be missed by the rerouting buses, however, this stop is already being served by the 1 California bus shuttles. If you need to board an outbound (westbound) 1 California bus at Sacramento St & Hyde St, you'll need to use one of the 1 California shuttles, then transfer to a regular 1 California bus at Sacramento & Van Ness to continue travelling west. The table below has been edited to reflect the new reroute, missed stops and alternate stop locations.
Temporary 1 California Reroute Details
Route & Direction
Duration
Route Details
Missed Stops
Alternate Stop Locations
1 California
Outbound to The Richmond
All Service Hours
From Sacramento & Stockton via Stockton, Sutter, Larkin, Sacramento to regular route
Temporary Outbound 1 California Shuttle Bus Details
Route & Direction
Duration
Route Details
Stop Locations
1 California Shuttle
Outbound (between Drumm & Van Ness) 

All Service Hours

Note: This shuttle will only be available from November 7-12.

From temporary terminal at Sacramento & Drumm via Sacramento to regular outbound route to Sacramento & Van Ness. 

Note: For continued travel westbound past Van Ness, please transfer from the 1 California bus shuttle to a regular outbound 1 California bus at Sacramento & Van Ness.
Event Service Map
Note: This map shows the previous reroute before the modification implemented on 11/7. Please see the tables above for the new reroute information.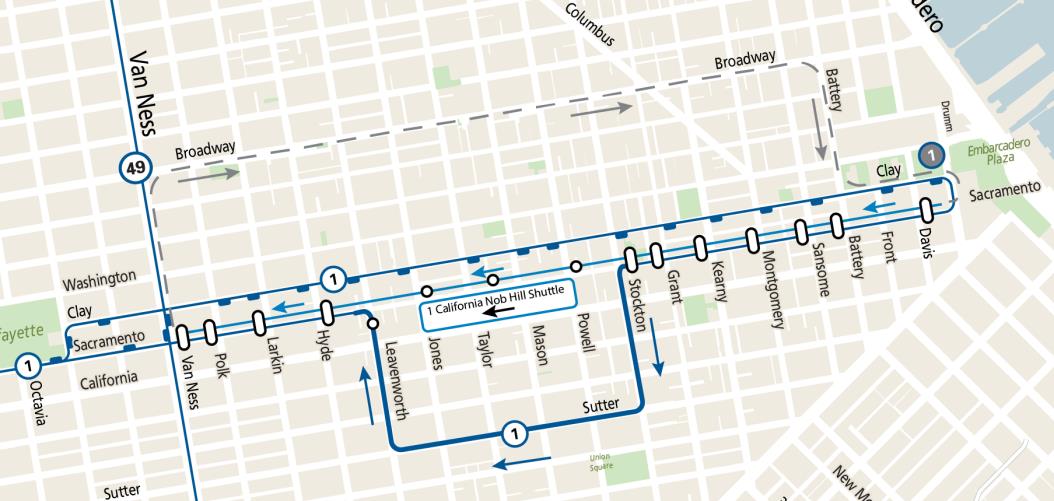 Contact
Call 311 within San Francisco; TTY 415.701.2323