Muni Service Changes: June 15, 2019
Saturday, June 15, 2019 - 5:00am
Service Affected
Transit
Weekend Traffic and Transit Advisory
Starting Saturday, June 15, 2019, Muni will make minor changes to stops, pilot a new routing for an express service and extend an owl route. Read below for more information.
On This Page
---
L Owl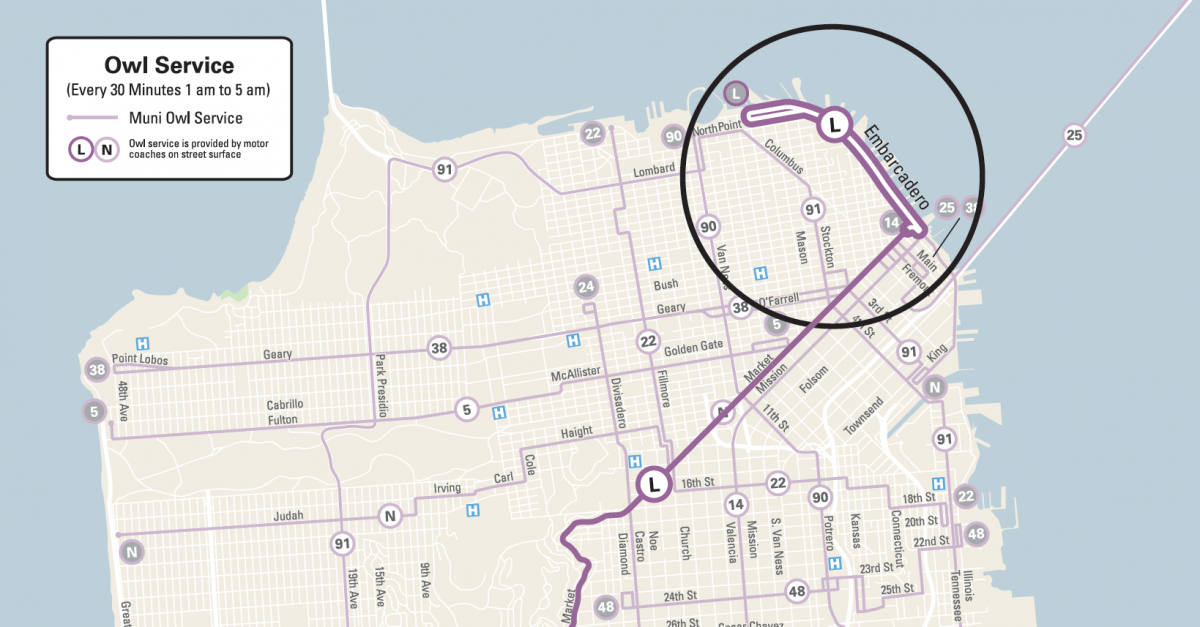 The L Owl route is extended to serve stops along the Embarcadero, terminating at Fisherman's Wharf.
The following stops will not be served:
Market & Beale
Spear & Market
Steuart & Mission
---
25 Treasure Island
The 25 Treasure Island will see some nighttime service improvements.
Service will begin to run every 20 minutes or less until 1 a.m. The Owl bus to Treasure Island will run every 30 minutes.
---
30X Marina Express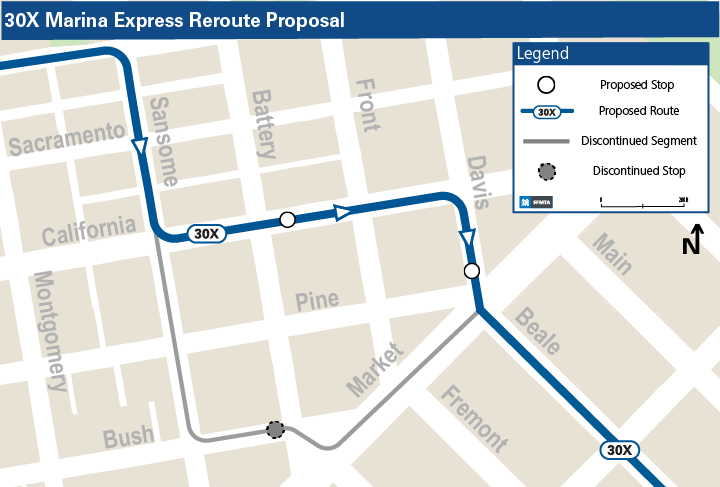 The 30x Marina Express will pilot a new route during summer 2019. This change is to address delays downtown near Bush & Sansome in the mornings. The pilot inbound route will be as follows: from southbound Sansome, left on California, right on Davis, cross Market to Beale and continue along the regular route.
Stop Changes During Pilot Program

| Stop | ID | Summary of Change |
| --- | --- | --- |
| Bush & Battery | 17188 | No 30X service. |
| California & Battery | 13851 | New 30X stop. |
| Davis & Pine | 14347 | New 30X stop. |
---
57 Parkmerced
Minor changes to where the route terminates. No changes to stop locations.
Stop
ID
Summary of Change
Sloat & 37th Ave 
16444
No longer the last outbound stop.
Sloat & 36th Ave
(south side of Sloat)
16443
New last outbound stop.
Drop off only.
Sloat & 36th Ave
(north side of Sloat)
16442
New layover stop.
New first inbound stop.
Note
We will update Route and Stop pages on the SFMTA.com website on Friday, June 14.