Roadworks Steamroller Printing Festival: September 25, 2022
Service Affected
Bicycle
Parking
Driving
Transit
Weekend Traffic and Transit Advisory
The annual event will take place on Rhode Island Street from 11 a.m. to 4 p.m. Streets will be closed and Muni will reroute. Read below for more information.
Street Closure
Rhode Island will be closed between 16th and 17th streets from 6 a.m. to 6 p.m.
Muni Reroutes
The 19 Polk Route will have a minor reroute on Sunday, September 25, from 5 a.m. to 6:30 p.m. 
During this time the outbound 19 Polk will miss the following stop:
Direction
Missed Stop
Alternate Stop

19 Polk

towards Hunter's Point

Rhode Island and 17th, nearside
Rhode Island and 17th, farside
Event Reroute Map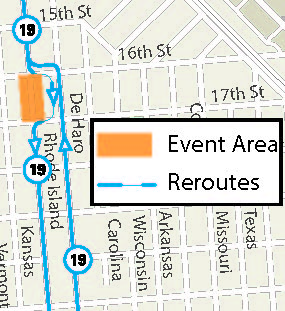 Contact
Call 311 within San Francisco; TTY 415.701.2323