Sii Agua Si Ohlone Memorial and Dance Event: October 1, 2022
Service Affected
Accessibility
Driving
Transit
Weekend Traffic and Transit Advisory
Event Details
The Sii Agua Si festival, organized by the Festival of Latin American Contemporary Choreographers (FLAAC) and Dance Mission Theater, will activate the Native American Heritage Site at Dolores Park and will include water blessings, land acknowledgements, traditional and contemporary dances, public art, live music and more. The event will conclude with a prayer walk from the street closure location on 18th Street between Church and Dolores to Dolores Park.
Street Closure
The event will occur from 6 p.m. to 8:45 p.m. on 18th Street between Church and Dolores streets. 18th Street will be closed from 10 a.m. to 11 p.m. 
Muni will reroute the 33 Ashbury-18th St. during the street closure.
Muni Reroute
Route & Direction
Missed Stop(s)
Alternate Stop Location(s)
33 Ashbury/18th St.
toward The Richmond

33 Ashbury/18th St.
toward SF General
Muni Reroute Map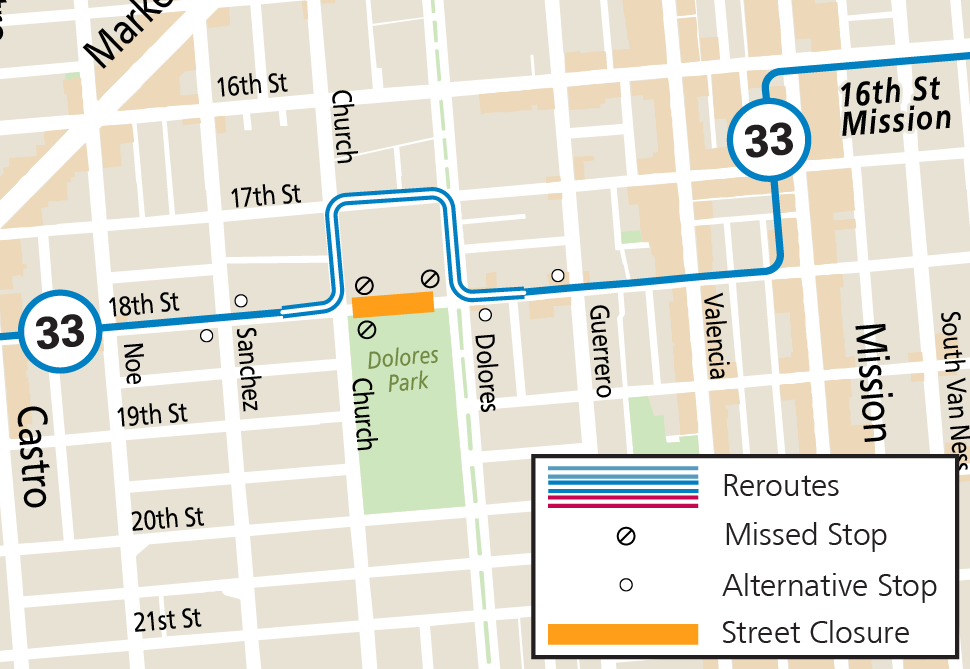 Contact
Call 311 within San Francisco; TTY 415.701.2323