Van Ness at Hayes northbound left turn to be removed July 6
Service Affected
Bicycle
Motorcycle
Taxi
Driving
Transit
The left turn northbound from Van Ness Avenue onto Hayes Street is scheduled to be removed on Friday, July 6, 2018. Left turns have been permanently removed all along Van Ness Avenue, except for northbound at Lombard Avenue and southbound at Broadway, as part of the Van Ness Improvement Project goals to increase safety and improve traffic circulation.
After drivers become comfortable with the new configuration without the left turn at Hayes, traffic lanes on Van Ness and South Van Ness avenues, between Mission and McAllister streets, will be shifted slightly on the morning of July 12 to make room to extend the construction zone. In this area, parking is limited and colored curb zones and bus stops will be relocated.
Drivers who currently make the left turn from Van Ness Avenue at Hayes are advised to test new routes before the left turn is eliminated.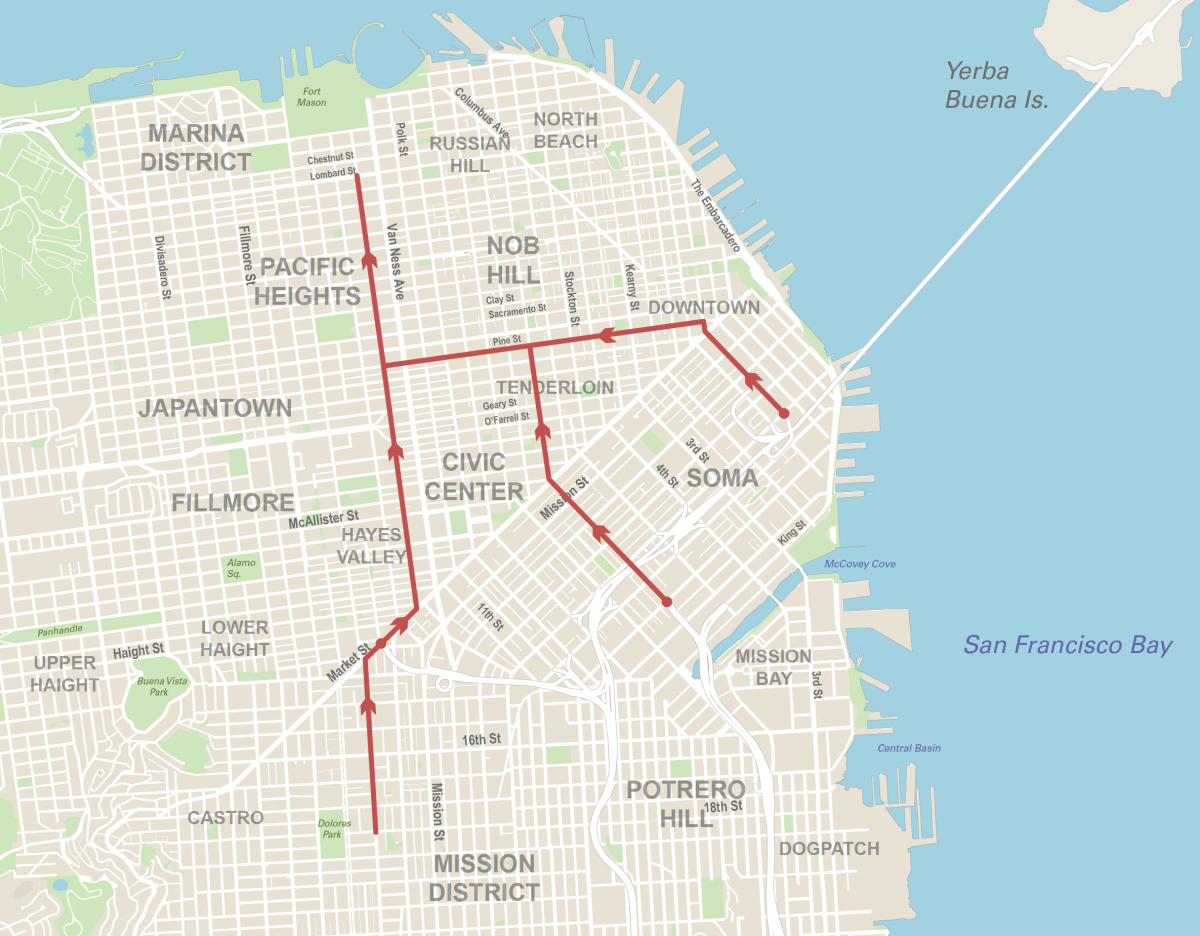 With left turns permanently removed from Van Ness Avenue, here are some driving tips to assist people navigating to destinations west of Van Ness Avenue from the south and east.
From Bay Bridge
Exit Harrison or Fremont. Continue onto Fremont then Front streets. Turn left onto Pine Street and right onto Franklin Street.
From US-101 North
Take the 9th Street exit toward Civic Center. Take a slight right across Market Street onto Larkin Street then take the first left onto Grove Street.
From 280 North
Exit 6th St. Continue onto 6th Street then Taylor Street. Turn left onto Turk Street, right onto Leavenworth, left onto Pine Street, right onto Franklin Street.
From Southeast San Francisco
Use Guerrero Street to get to Market Street. Turn left onto Franklin Street.
To access nearby city-owned parking garages, drivers may need to adjust their routes.
If you have questions or concerns, please call 415.646.2310 or email us at vannessbrt@sfmta.com.