Van Ness Improvement Project
Major upgrades are underway on Van Ness Avenue to rehabilitate our aging infrastructure.
Bus Routes and Rail Lines
Streets
Van Ness Avenue, Lombard Street, Mission Street
This massive civic improvement project is bringing San Francisco its first Bus Rapid Transit system, a much-needed and globally-proven solution to improve transit service and address traffic congestion on Van Ness Avenue, a major north-south arterial. To maximize the benefits of construction impacts, the project also includes extensive utility maintenance, civic improvements and transportation upgrades.
See the videos to find out more!
CONSTRUCTION INFORMATION
Community Drop-In Office Hours
Have a question about construction or the Van Ness Improvement Project? Stop by our Construction Office to get assistance from project staff during our Community Drop-In Office Hours:
Van Ness Improvement Project Field Office
180 Redwood Street, 3rd Floor (near Van Ness and Golden Gate)
Tuesdays 2:00-4:00 p.m
Fridays 10:00 a.m.-12:00 p.m. 
Excluding holidays
 You may also contact project staff directly by emailing vannessbrt@sfmta.com or calling 415.646.2310.
CONSTRUCTION PHASES
The schedule below shows the approved baseline schedule including three construction phases and work you can expect to be conducted in each phase. The actualized schedule is above. Project staff is working to recover the baseline schedule shown below.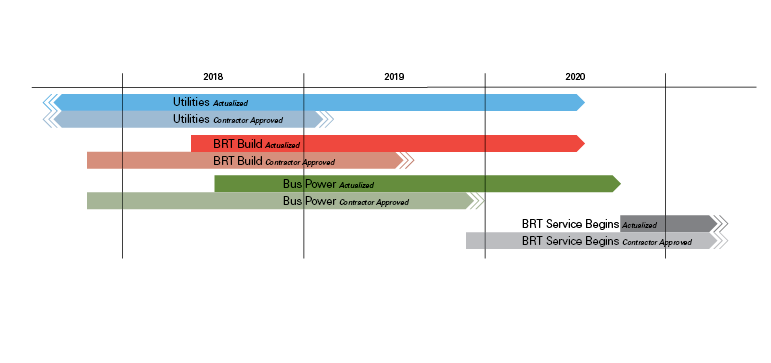 Roadway and Utility Work:
Preparing the roadway for construction
Replacing more than 22,000-feet of 1800's-era water main
Building an underground sewer system to withstand a major earthquake and the impacts of climate change
Overhauling the emergency firefighting system that supplies water to over 1,200 fire hydrants
Updating streetlights with brighter, more efficient lights and adding sidewalk lighting
Installing an electrical duct bank
This first phase will last about 24 months. Once the utility work is completed, the sidewalk and roadway will be restored to begin the next phase of construction.
BRT Build
Building red center-running Bus Rapid Transit lanes (see features of Bus Rapid Transit below)
Building station platforms and new medians
This BRT Build phase will begin as the Roadway and Utility Work phase is wrapping up and will last about six months.
Bus Power
Replacing the aging overhead wire system that powers the buses
Installing new landscaping and rain gardens
Repaving Van Ness Avenue for a smoother ride
Building sidewalk extensions and painting crosswalks
Training Operators
Construction of the Van Ness Improvement Project is underway. The project received final environmental certification from the Federal Transit Administration on December 20, 2013. To learn more about the environmental review process, please visit the SFCTA Van Ness BRT site. The SFMTA Board made the final legislative approval of the transit and safety improvements on November 18, 2014. After construction is completed, Bus Rapid Transit service is expected to begin 2019. 
VAN NESS BUS RAPID TRANSIT FEATURES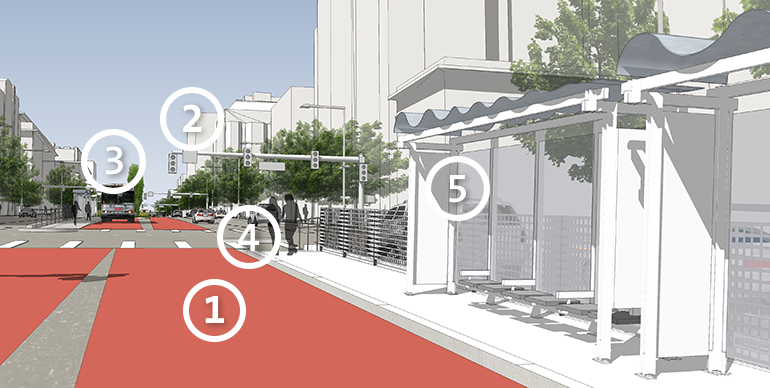 Bus Rapid Transit on Van Ness will be a part of Muni's Rapid Network that prioritizes frequency and reliability for customers. The planned improvements are expected to cut travel times for Golden Gate Transit and the 47, 49 and 90 Muni routes by 32 percent. That means an estimated 1,887 hours of travel time saved every day for Muni riders on Van Ness!
Some features of Bus Rapid Transit on Van Ness will include:
Dedicated transit-only lanes, that are physically separated from the other traffic lanes, for use by Muni and Golden Gate Transit buses only.
Enhanced traffic signals optimized for north-south travel with Transit Signal Priority, which gives buses the green light as they approach an intersection.
Low-floor vehicles and all-door boarding, which will make it quicker and easier for passengers to load and unload at each stop.
Safety enhancements for people walking like sidewalk extensions, median refuges, high visibility crosswalks and audible countdown signals.
Fully furnished boarding platforms that include shelters, seating and NextMuni prediction displays located at key transfer points.
Planning for other Bus Rapid Transit projects on Geary Boulevard and Geneva Avenue is underway.
VAN NESS BUS RAPID TRANSIT STOP LOCATIONS

The new Van Ness Bus Rapid Transit corridor will feature nine northbound and nine southbound boarding islands along the red, center-running transit-only lanes.
Project Details, History or Features
OTHER PROJECTS IMPACTING CORRIDOR
The Polk Streetscape Project and Van Ness Improvement Project team meet regularly to coordinate project work. Please visit the Polk Streetscape Project construction information page for details. For a description of the project, project renderings and past meeting materials, please visit the Polk Streetscape Project page. 
CPMC's Van Ness and Geary Campus is currently under construction. Please visit CPMC's website for a description of the project and to sign up for their project updates.
FUNDING
Funding for the core Van Ness Bus Rapid Transit project comes from a variety of sources including FTA Small Starts, San Francisco Prop K funds, and developer contributions.
Projects associated with the Van Ness Improvement Project including repaving Van Ness Avenue, new traffic signals, hardware and software, new transit vehicles and streetlight/pole replacement are funded by FTA Formula Funds, San Francisco Prop K funds and regional and statewide sources.
VAN NESS AVENUE HISTORY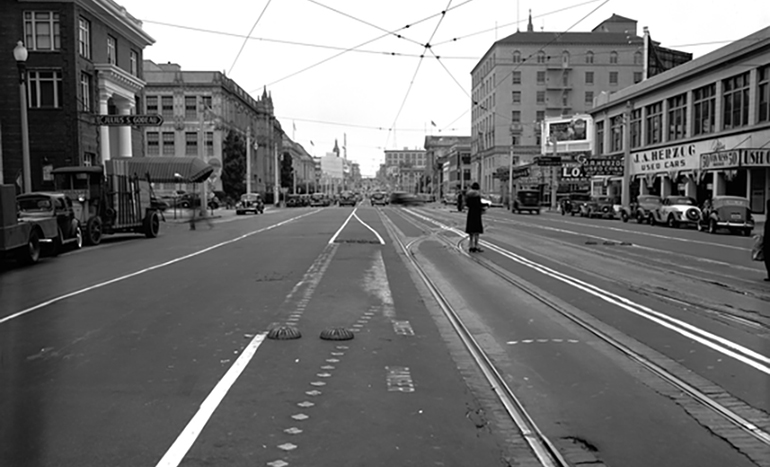 When it was first surveyed in 1856, Van Ness was intended to be the City's spine. Mansions of prominent families populated the northern end while the southern had dense working-class housing. Serving as a firebreak after the 1906 earthquake, Van Ness saved the western part of the city. By the 1920s, grand auto showrooms peppering the corridor made Van Ness the west coast's largest Auto Row. Once the Golden Gate Bridge was built, it shifted toward regional auto travel. Since the '90s, transportation plans prepared by the San Francisco County Transportation Authority and Muni recognized the need to establish rapid transit service on Van Ness Avenue. In 2003, 75 percent of voters approved the sales tax to plan rapid transit service on Van Ness Avenue. In September 2013, the Board of Supervisors, acting as the San Francisco County Transportation Authority Commission, unanimously approved the Van Ness Bus Rapid Transit Project, the core of the Van Ness Improvement Project.
Today, the Van Ness Avenue corridor serves as a vital connector of neighborhoods and a regional link for travel between Marin, San Francisco and San Mateo Counties. Van Ness Avenue is one of the busiest north-south corridors in the city, serving over 16,000 Muni customers daily on the 47 Van Ness, 49 Mission/Van Ness and 90 San Bruno Owl bus routes as well as Golden Gate Transit customers. It is part of the California State Highway System and of US Route 101, a primary artery that connects Interstate Highways 280 and 80 with the Golden Gate Bridge.