Veterans Day Parade: November 6, 2022
Service Affected
Accessibility
Parking
Driving
Transit
Weekend Traffic and Transit Advisory
The Veterans Day Parade will begin at 11 a.m. in the North Beach neighborhood. Parade formation will begin at 9 a.m. Streets will be closed and Muni will reroute around the event. Read below for more information.
Street Closures
Parade Formation, 9 a.m.
North Point, between Powell and The Embarcadero
Parade Route, 11 a.m.
From The Embarcadero & North Point, north on The Embarcadero, west on Jefferson to Aquatic Park.
Muni Reroutes
Some Muni routes will switchback--changing direction before reaching the end of the line--while others will reroute. Service will return to normal after streets are clear.
Note: Sign up for Muni service alerts via email and/or text through our Email and Text Subscriptions page.
Route & Direction
Service Changes & Missed Stops
Alternate Stop Locations
F Market & Wharves
toward Fisherman's Wharf
(Streetcars)

Streetcar will only run on Market Street.
A bus will substitute service on The Embarcadero. The bus will reroute onto Bay Street.
Transfer between bus and streetcar at The Ferry Building.
Temporary terminal at Beach & Mason.

N/A

F Market & Wharves
toward Fisherman's Wharf
(Bus Shuttles)

Beach & Mason (temporary terminal - board for service toward the Castro only)

8 Bayshore
toward Fisherman's Wharf

N/A

8 Bayshore
toward City College

North Point, between Mason and Taylor (north side of North Point - temporary terminal)

28 19th Avenue
toward Fisherman's Wharf

N/A

28 19th Avenue
toward Daly City BART

North Point & Mason (west side of Mason - temporary terminal)

39 Coit
toward Fisherman's Wharf

N/A

39 Coit
toward Coit Tower

Mason & North Point (west side of Mason - temporary terminal)
Reroute Map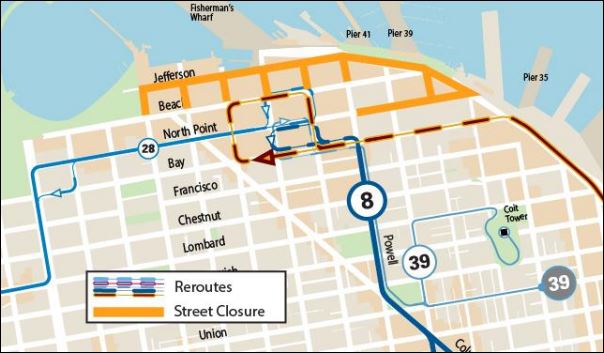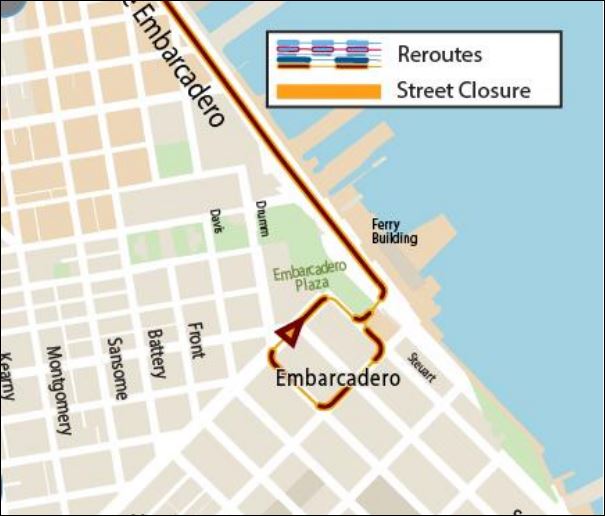 Contact
Call 311 within San Francisco; TTY 415.701.2323