16th Street Muni and Safety Improvements On the Way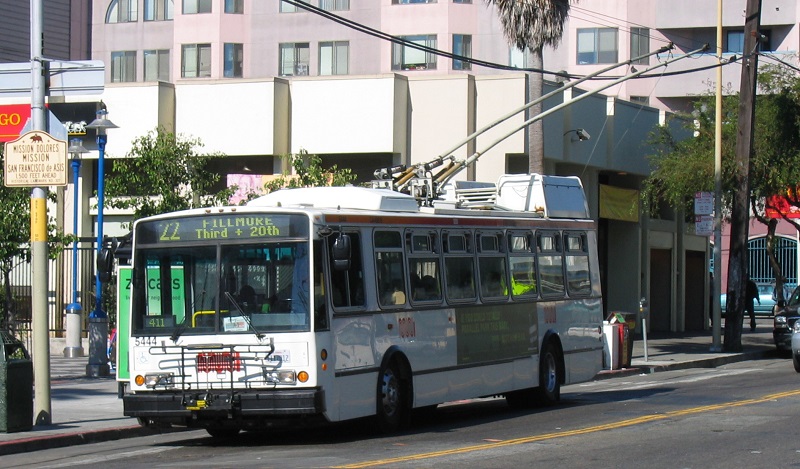 Get ready for upgrades on 16th Street starting this year under the 22 Fillmore Transit Priority Project, part of Muni Forward. As we wrote last year, the project will bring improvements to make two miles of 16th safer while making Muni service on the 22 faster and more reliable. Amenities will include transit-only lanes, sidewalk extensions, transit boarding islands, accessible pedestrian signals, as well as trees and landscaping.
While the project will bring its most significant changes to the 22 route by 2020, 16th is getting initial improvements in the coming months. Work has already begun to add painted safety zones on the street and finish moving bike lanes from 16th to 17th Street.
Improvements Coming Later This Summer
Left-turn restrictions will be added on eastbound 16th Street at Alabama, Florida and Bryant streets to help reduce collisions and congestion.
A one-block bike lane gap will be closed on 17th Street, between Kansas and Rhode Island streets. This will complete the bike lane's move off of 16th over to 17th, between Kansas and Mississippi streets, to help accommodate transit improvements on 16th.
Improvements Coming This Fall
Two closely-spaced stops on the 22 will be removed on 16th at Vermont Street (westbound) and San Bruno Avenue (eastbound) to improve efficiency and reduce travel time.
Transit-only lanes will be added on 16th between 3rd Street and Potrero Avenue in both directions. These lanes will not be painted red until 2020, when the full project is constructed. Additional left-turn restrictions will be added at to help keep traffic moving.
These safety changes are needed because 16th Street is a High-Injury Corridor – one of the 12 percent of streets where over 70 percent of San Francisco's severe traffic collisions occur. As part of the city's Vision Zero goal to end traffic deaths by 2024, these streets have been prioritized for safety enhancements.
2018 – 2020
To better serve growing building developments in Mission Bay like new hospitals, housing and the future Warriors Arena, the 22 route will be shifted north from its current location in the Dogpatch neighborhood. This change was developed through outreach and research into how to support this growing part of the city.
After infrastructure upgrades are made in 2020, the 22 route will shift continue along 16th and serve the current 55 16th Street route. We plan to design a new bus route that would continue to serve Potrero Hill and Dogpatch, so if you want to take opportunities to give feedback and help shape it, be sure to sign up for updates about the project.
Major construction on new infrastructure will kick off in spring 2018 and continue for about two years. To better leverage time and public money, construction will be coordinated to coincide with work to replace underground utilities and other aging infrastructure. We will continue to update the public about any traffic changes in advance as the work progresses.
Once the upgrades are completed, 16th Street and the 22 Fillmore will be serve better than ever as key transportation connectors for the city.
Check out the 22 Fillmore Transit Priority Project page to learn more and sign up for project updates.