22 Fillmore Moves to Mission Bay, Makes Way for the 55 Dogpatch
Starting Saturday, January 23, the eastern section of the 22 Fillmore will shift its route to begin serving Mission Bay. Utilizing the new transit and street amenities along 16th Street, the 22 Fillmore will travel east from the Mission to 3rd Street to serve medical facilities and the growing residential and commercial areas in the Mission Bay neighborhood. In addition to increasing service to the Mission Bay neighborhood, this move will provide an improved east-west connector from the Mission neighborhood to Mission Bay, increasing transit access to jobs and healthcare services. This 5+ mile bus route serves nearly 18,000 daily customers from the Marina through the Mission and soon to Mission Bay, improving Muni service to all the neighborhoods in between.
Start of the 55 Dogpatch
Moving the eastern segment of the 22 Fillmore to Mission Bay provided an opportunity to work with the communities of Potrero Hill and the Dogpatch to find ways to improve transportation in their neighborhoods. Beginning with an initial assessment of transportation options and potential future development in the area, SFMTA worked to find what type of transit service would best serve these neighborhoods. After a few years of research and extensive outreach, the community-informed 55 Dogpatch was born as a new Muni route to maintain and enhance transit connections between 16th St Mission BART, Potrero Hill and the Dogpatch. Service on the 55 Dogpatch will also begin on Saturday, January 23.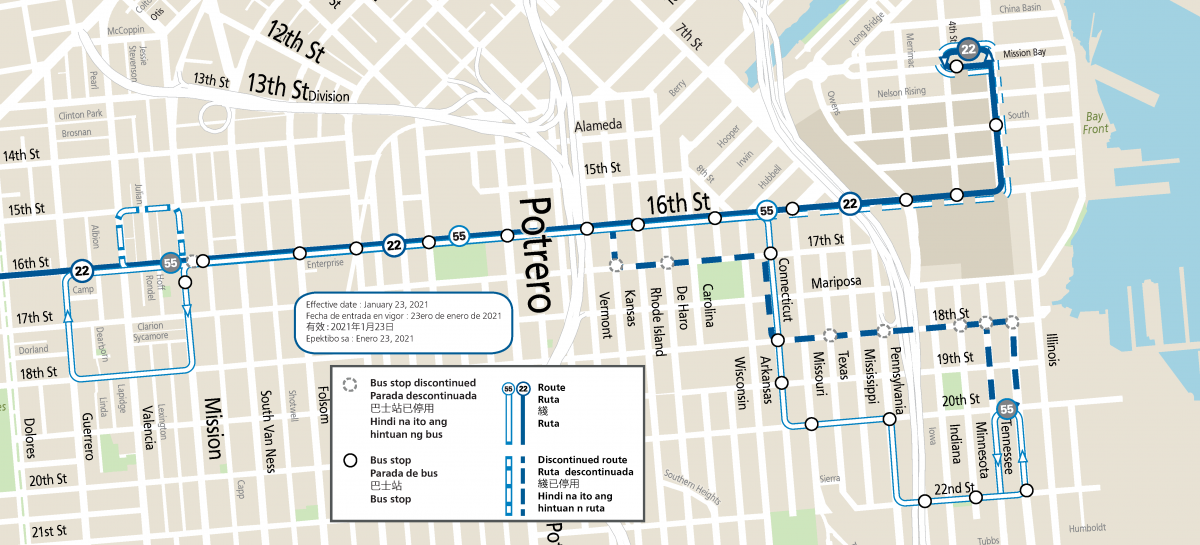 Map of new 22 Fillmore and 55 Dogpatch service effective 1/23/21. 
These adjustments to Muni service comes after the completion of the first phase of the multi-agency 16th Street Improvement Project from Potrero Avenue to 3rd Street that includes new signalized intersections, new transit islands and transit bulbs for safer and more efficient bus boarding, new pedestrian bulbs to reduce crossing distances for people walking, new ADA ramps at each intersection, new street lights to illuminate the streets, 50 new trees along 16th street, curb-to curb paving and new sewer and water pipes. The completion of this phase means a safer and overall more pleasant experience for the community, Muni customers and people walking. This project made community-informed improvements to address the needs of current and future residents and is part of Muni Forward, an initiative to create a safe, reliable and comfortable experience on and off transit.
Additional information about all service changes that are planned to begin on Saturday, January 23 can be found on our blog.