4th of July Weekend: Fireworks, Jazz, and Giants Baseball
Holiday Service Schedule and Enforcement Reminder:
This Monday, the 4th of July, Muni will operate on a Sunday schedule.
Also on Monday, seven-day street sweeping and parking meters (including those meters on Port of San Francisco property) will be enforced. Residential permit, Monday through Friday street sweeping, and commuter tow away will not be enforced. For complete details visit the holiday enforcement schedule webpage.
Events: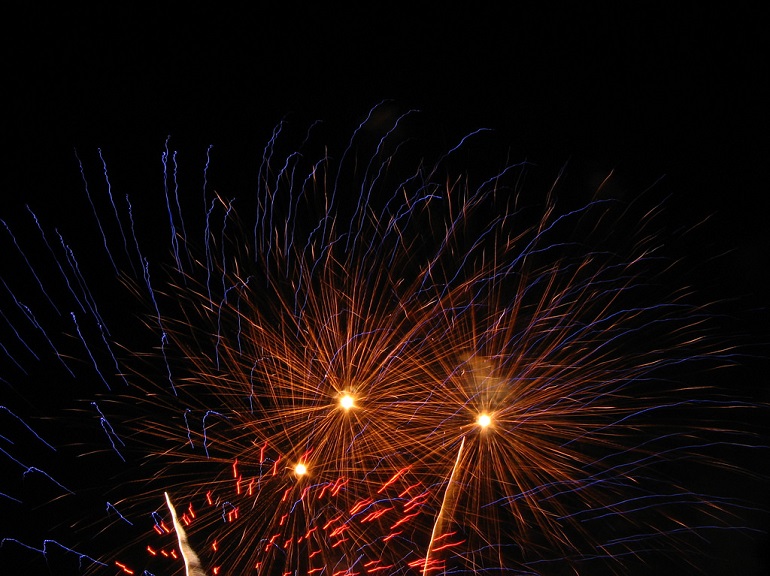 Independence Day fireworks on July 4, 2007. Photo credit: Darren Kumasawa/Flickr.
Whether you find yourself humming along to John Philip Sousa's "The Stars and Stripes Forever" or snapping your fingers and nodding your head to the innovative jazz sounds of luminaries such as Thelonious Monk or John Coltrane, music will be an instrumental part of this weekend's activities courtesy of the Fillmore Jazz Festival and our national birthday bash. On Monday, the Giants begin their last home stand before the All-Star break with games against the Colorado Rockies and Arizona Diamondbacks.
Fillmore Jazz Festival
Saturday and Sunday, 10 a.m. to 6 p.m.
Fillmore District
In what has become an Independence Day weekend tradition, the 32nd annual Fillmore Jazz Festival will welcome an estimated 100,000 plus visitors for the West Coast's largest free jazz festival. Encompassing 12 blocks of the city's historic Fillmore District, visitors will be treated to multiple music stages showcasing the range and diversity of jazz. In addition to the great music, there will be booths with art and crafts as well as gourmet food.
Due to street closures and increased pedestrian traffic, it is recommended that you use public transit. The 1 California, 2 Clement, 3 Jackson, 10 Townsend, 22 Fillmore, 24 Divisadero, 31 Balboa, 38 Geary and 38R Geary Rapid routes will get you close to all the music.
Muni service note: the 3 Jackson, 22 Fillmore and 24 Divisadero will have re-routes.
4th of July Fireworks
Monday, 9:30 p.m.
The Embarcadero
Join 200,000 of your closest friends along the city's famed waterfront to celebrate America's 240th birthday. With synchronized music blaring, watch as the night skies over the bay are painted with a dazzling display of red, white and blue pyrotechnics. Don't forget, even though it is summer, nights along The Embarcadero can be chilly so dress warm.
Don't scramble for your fare at the last minute! You can purchase your fare in advance either through the use of our MuniMobile app or at the Ferry Building where SFMTA staff will be on site selling transfers from 2:30 to 8:30 p.m.
Due to street closures and an influx of pedestrian traffic, Muni service may be your best option to see the fireworks show. See below for some service details.
Muni service note:
Pre-event bus shuttle service will begin at 2 p.m.:

Fisherman's Wharf to Ferry Building, 4th and King streets to Ferry Plaza, and Grove and Hyde streets to Van Ness Avenue and Chestnut Street

Post-event bus shuttle service will run from 10 to 11:30 p.m.:

The Embarcadero at Polk Street to the Ferry Building and Caltrain Station, Polk and Francisco streets to Civic Center

The 8 Bayshore, 19 Polk, 30 Stockton, 39 Coit, 47 Van Ness and 49 Van Ness/Mission will have re-routes.
Bus shuttles will provide F Market service all day.
Bus shuttles will provide cable car service on the Powell Hyde Line at 5 p.m., on the Powell Mason Line at 6 p.m., and on the California Line at 8 p.m.
There will be additional Muni Metro subway service between West Portal and Embarcadero stations.
There will be additional bus service on the 25 Treasure Island and 28 19th Avenue routes.
On Tap for next weekend: Sunday Streets: Tenderloin and Giants baseball
"On Tap" gives you a heads up about the big events in town and what Muni routes and lines will get you to the party. Look for this feature to be posted usually on Wednesdays for a look ahead to the weekend. Check out our Weekend Traffic & Transit Advisory for more details.