APEC is Coming to SF! What You Need to Know to Get Around
Wednesday, October 18, 2023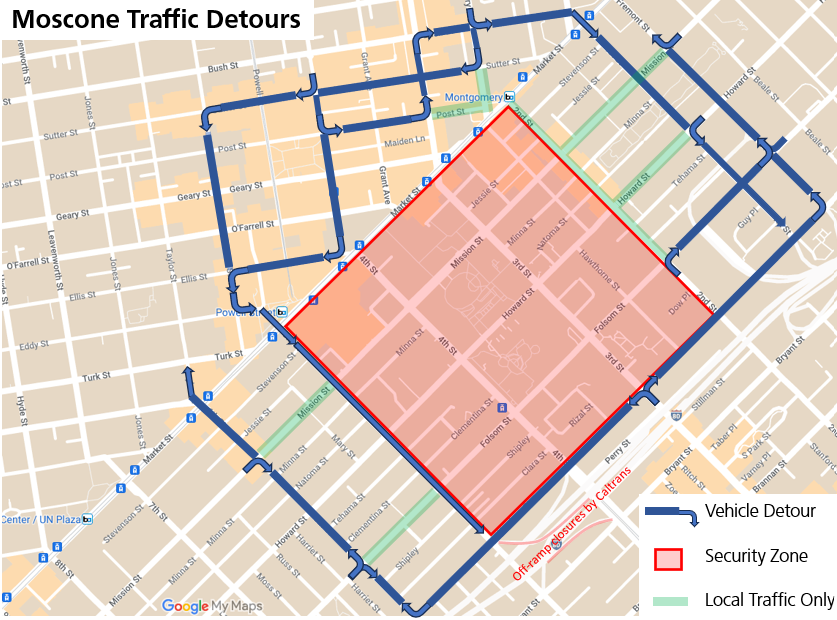 Map of the main security zone around the APEC conference at Moscone Center, with vehicle detours. Security zones have been set and are managed by the United States Secret Service. Only conference attendees and those who live or work inside this zone will be allowed to enter following security screening procedures.
San Francisco is proud to host the Asia-Pacific Economic Cooperation (APEC) conference in November, one of the largest gatherings of global leaders in San Francisco. This is an exciting opportunity for San Francisco to shine on the world stage. Most APEC activities will take place in the South of Market and Nob Hill neighborhoods. Due to the scale of the gathering, APEC may have some impacts on travel in other areas of San Francisco as well. The bulk of the travel and transit impacts will take place from Nov. 14-19.
More than 20,000 people are expected to attend this historic conference, including heads of state and dignitaries from over 20 member economies in Asia, the Pacific, North America and South America. Visit the APEC website (APEC2023SF.org) for further information about the conference.
For security, areas around conference events and activities will be closed to vehicle, transit, and bicycle through-traffic. People will be allowed into security zones to access their homes, work and shop with appropriate screening.
Street Impacts
Streets and freeway ramps in SoMa will be closed from Tuesday, Nov. 14 - Sunday, Nov. 19. These closures will result in significant traffic impacts.
Visitors and residents — whether driving or taking Muni or SF Paratransit — should expect congestion downtown, traffic delays, transit reroutes and potential crowding on Muni during the APEC conference and any additional conference-related events or activities. Additional events and activities may arise with little notice and may impact Muni and SF Paratransit routes, as well as traffic and pedestrian access.
Additional APEC-related events will take place in multiple locations. Some events require a temporary security zone that will restrict traffic and may require Muni reroutes. We will make information available as events are announced.
Please note that predictions and third-party navigation apps may not display information properly during this period. We advise Muni customers and anyone traveling through the city to allow ample extra time for travel and be prepared for possible delays.
We understand that these changes will present some challenges and we appreciate your support and patience as San Francisco hosts one of the world's premier global leadership events.
For the most up to date information in real-time, subscribe to our Muni SMS and/or email alerts. For free language assistance, please call 3-1-1 within San Francisco or 415-701-2311 outside of San Francisco. For TTY, press "7".
Muni Impacts
For additional details on transportation impacts visit our main APEC page (SFMTA.com/APEC).
The following lines will be impacted:
T Third Muni Metro

T Third Bus

1 California outbound

5 Fulton Owl

8 Bayshore, 8AX Bayshore Express A and 8BX Bayshore Express B

12 Folsom inbound

14 Mission and 14R Mission Rapid

15 Bayview Hunter's Point Express

30 Stockton

45 Union-Stockton

91 Owl

714 BART Early Morning Shuttle

California Cable Car

Powell/Mason Cable Car

Powell/Hyde Cable Car

18 46th Avenue (single day reroute)

F Market and Wharves (single day reroute)
The 30 Stockton and 45 Union-Stockton will only operate north of Market Street and continue to serve connections from Union Square to Chinatown, Fort Mason, The Marina and the Presidio.
Temporary KT Ingleside-Third substituting T Third service
T Third and K Ingleside Muni Metro stops from Balboa Park to Embarcadero to Sunnydale will be served by a temporary KT Ingleside-Third Muni Metro from Nov. 14 - 19. This includes Embarcadero at Folsom and Brannan, and King at 2nd and 4th streets. Customers should look for train head signs that indicate the K Ingleside westbound, T Third eastbound or KT Ingleside-Third.
There will be no Muni Metro service provided to 4th & Brannan or Yerba Buena-Moscone Stations.
A Muni Metro shuttle train will operate every five minutes between Chinatown-Rose Pak Station and Union Square-Market Street Station to maintain access to Chinatown and areas north of downtown. Transfer at the Powell Street Station to Union Square-Market Street Station access the temporary shuttle.
For further information, maps and more visit our APEC information page (SFMTA.com/APEC).