Apply Now for Free Muni for Seniors and People with Disabilities
The application process is now open for Free Muni for Seniors or People with Disabilities. We started accepting applications in January. Two weeks later, we've received approximately 20,000 applications. This initial response is overwhelming and encouraging. The goal of the program is to help those who are most dependent upon Muni, and we're eager to reach as many people as possible. The free service starts March 1.
To make sure we reach the more than 27,000 estimated to qualify, we're focusing on one-to-one meetings, where folks can sign up and get their questions answered. In addition to getting the word out with signs and banners on Muni buses and in Muni Metro stations and reaching out to local and Chinese and Spanish language media, we're conducting presentations at senior centers and disabled community centers.
We reached out to 150 different organizations last month, offering staff presentations on the program. If you would like SFMTA staff to give one of these presentations to your group, please contact Matt West, SFMTA Accessible Services, by email at matthew.west@sfmta.com or by phone at 415.701.4439.
Are you interested or do you know someone who should apply? We've outlined below the basic details to get you started.
How to Apply for Free Muni for Seniors & People with Disabilities
Qualifications
To qualify for Free Muni for Seniors or People with Disabilities, you must meet all of the following qualifications:
San Francisco resident
A senior (65+) or a person with a qualified disability (19-64)
Meet the income requirements, which are based on household size and making the Bay Area median income. For example, a household of two would need to make no more than $77,700.
You can find more details on the Free Muni page.
Please note that the Free Muni application process takes three to four weeks. You'll receive a response in the mail letting you know whether or not you qualify. It's best to apply as soon as possible to take advantage of the benefit.
Application Process
There are a few different scenarios under which folks might want to apply. We've listed those below with the best way to apply.
Free Muni applications are available online or for pickup at the SFMTA Customer Service Center at 11 South Van Ness, San Francisco, CA 94103.
The applications will also be available citywide at SFPD stations.
1) Senior or person with disabilities with a Senior Clipper card or Regional Transit Connection (RTC card for disabled riders)
If you fall into this category, you have three options for submitting your application:
Apply online using the online application
Call 311 for assistance in filling out the online form
Mail in a paper application (PDF) to: 11 South Van Ness Avenue, San Francisco, CA 94103

Applications available on the website: Free Muni
2) Senior without a Clipper card
If this describes you, you will need to submit a copy of a document that proves your age along with your aplication.
Mail in a paper application (PDF) with a copy of a proof of age document

Eligible proof of age documents can be any government issued identification, such as birth certificate, passport, Alien Registration/Permanent Resident Card or driver's license. 
3) Person with Disabilities without an RTC Card
If this describes your situation, please see the good folks in our RTC office on Van Ness Avenue. They can walk you through the application process for an RTC card. You'll need one of those before applying for Free Muni.
Visit the SFMTA RTC Discount ID Office to apply for a card.
After receiving your RTC card, apply for Free Muni either in person (at the RTC office or at the SFMTA Customer Service Center) or online.
Free Muni for seniors and people with disabilities is an expansion of the Free Muni for Youth program which began in 2014.
Other Fare Options
If you need a heavily discounted fare but do not qualify for this program, you may be interested in the Muni Lifeline Pass, which offers a 50 percent discount off of our standard adult monthly pass.
If you need a discounted senior Clipper card, you can apply at several locations throughout town. This is the best way to make sure you get your correct senior discount for cash fares or monthly passes on transit throughout the Bay Area.
For more information on Free Muni, visit the Free Muni page or contact 311.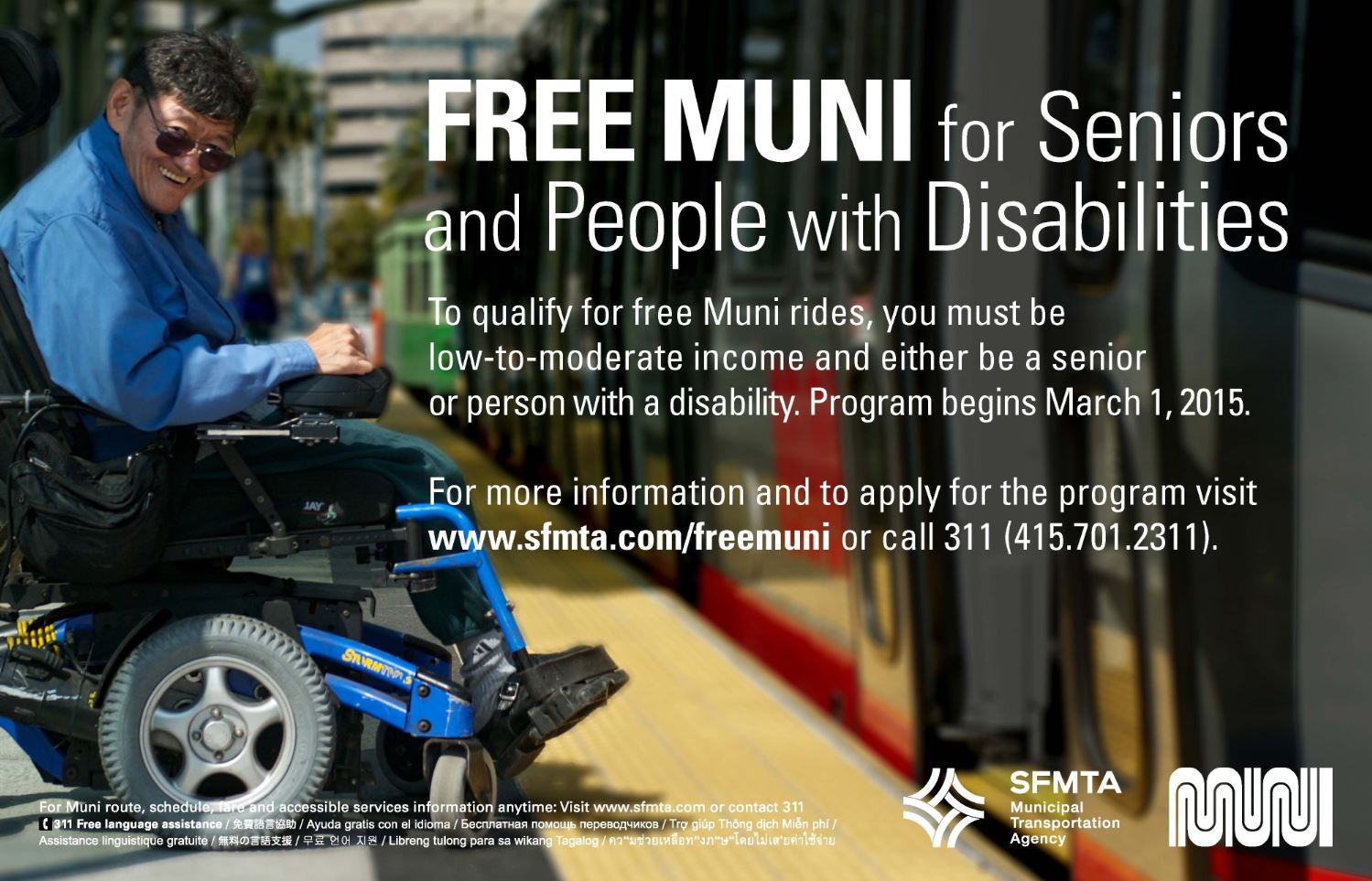 Look for these banners and signs throughout the Muni system, featuring former SFMTA Director and community leader, Bruce Oka.