April 2022 Service Change Details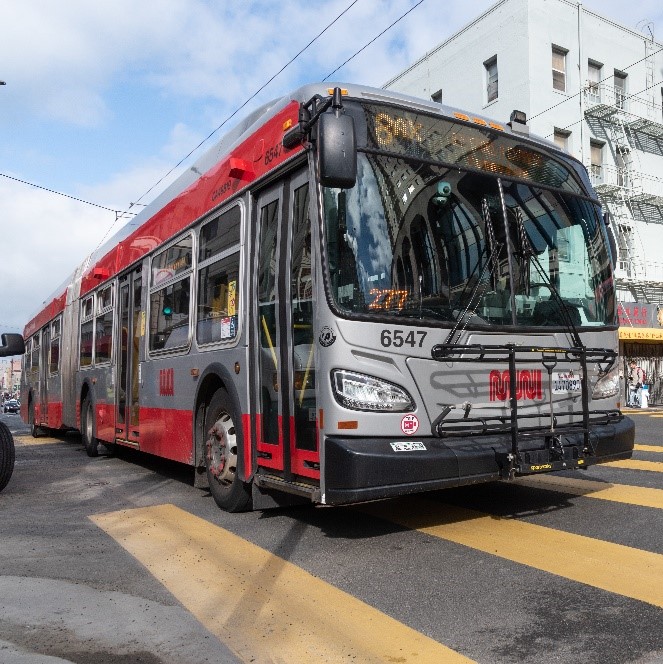 The SFMTA is restoring the 8AX Bayshore Express and 8BX Bayshore Express buses on weekdays mornings and evenings, starting April 18, 2022, to provide quicker trips from Visitacion Valley to downtown and stronger connections between Visitacion Valley, Outer Mission, Ingleside, City College and Chinatown. Additional Muni service changes, beginning Saturday, April 16, 2022, include:
Extending the 56 Rutland to provide a more direct connection to Burton High School

Supplementing the 30 Stockton, with additional buses on a 30 Stockton "short" route to reduce crowding and wait times from about 7 a.m. to 4 p.m. on weekdays and about 8 a.m. to 5 p.m. on weekends

Changing the frequency of the 9R San Bruno Rapid from 10 to 12 minutes
To make schedules more reliable and reduce wait times and crowding, we are working to keep service and operator staffing levels more closely aligned going forward. This means we will only run service we know we have the staff to fill.
These April service changes mark the second phase of implementation of the 2022 Muni Service Network plan.
In summer we expect to bring back additional routes that have been temporarily suspended since 2020 like the 2 Sutter (previously the 2 Clement), 10 Townsend and 21 Hayes, and modify existing routes like the 23 Monterey and 57 Parkmerced. See 2022 Muni Service Network for information. We will provide a more detailed description of the schedule as soon as it's available.
Public feedback helped us prioritize bringing back routes and connections many communities rely on. Read more about what we heard from the public and how we incorporated feedback into the 2022 service plan.
What is keeping SFMTA from restoring more Muni service?
We want to restore Muni service as soon as possible. The key obstacle to restoring more Muni service is staff availability. Since fall 2021 the SFMTA has been hiring and training new cohorts of Muni operators to fill our staffing needs, and we continue to restore service at the pace of hiring.
We were short-staffed going into the pandemic and had to pause all hiring for 18 months. During that time some operators and key operations staff also left or retired, and more staff than usual have had to take time off to care for themselves or family members and loved ones impacted by the pandemic. We are also facing more retirements than previously anticipated.
Our hiring and training staff were also impacted and had to repeatedly postpone hiring and training activities. As a result of these and the related impacts of the Omicron surge, we've been bringing on new operators slower than we hoped, but we are still working to fill staffing gaps as quickly as possible.
We are committed to restoring pre-pandemic Muni service and are seeking new resources to help us restore, increase and improve service in 2023.
What do I need to know about riding Muni and COVID-19?
We're excited to welcome you back to Muni, where the health of SFMTA employees and customers is a top priority. Since COVID-19 is primarily spread through the air, we understand the importance good air ventilation for protecting people's health. The Muni fleet HVAC systems turn the air over once every minute. Fresh air is constantly being pulled in from the outside, and the air inside trains and buses is continuously filtered and recirculated. In addition, physical distancing is no longer required on Muni. On-vehicle capacity limits were officially lifted in June 2021.
When you ride Muni, there's a high probability the person sitting next to you is vaccinated: 87% of San Francisco residents aged 5 and above are fully vaccinated. 68% of residents who are eligible for boosters (anyone age 12 and above) are boosted. Those are some of the highest vaccination rates in the U.S.
Even so, face masks are still required by federal law in Muni stations and vehicles, and Muni has a high mask compliance rate. Whenever the mask mandate on public transit is lifted, you can still wear a mask to protect yourself. One-way masking does work, especially when the mask is a surgical mask like the N95, KN95, KF94, FFP2, double mask or a cloth mask with a filter inside.
Looking Ahead
We expect to make our next round of service changes in the summer, when we continue implementing the approved 2022 Muni Service Network, restoring additional bus routes and increasing bus frequencies as we bring more operators onboard. Read more about the complete 2022 Muni Service Network plan.