Back to School in Style on a Fancy Long-Lost Streetcar
Thursday, August 13, 2015
With the school year starting next Monday for San Francisco Unified School District students, we're throwing back to the school days of yore when a fancy streetcar escorted school kids on journeys around the city.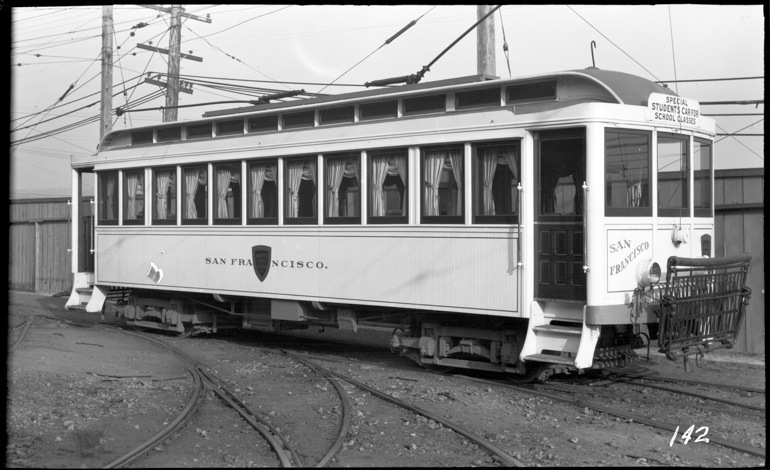 Special car San Francisco used for Student Passenger Service at Geneva Carhouse, October 1928
From the 1920s to the 1940s, the Market Street Railway Company offered "The San Francisco," this stylish former "sight-seeing" car, for transporting lucky schoolgoers on field trips. School groups could pick any destination accessible by a Market Street Railway streetcar line, including a trip down the peninsula on the 40-San Mateo Interurban Line (portions of which are now the Caltrain route). Another popular excursion was a visit to the streetcar repair shops in Balboa Park where skilled tradesmen built and rebuilt many of the company's street and cable cars.
While Muni doesn't have a special streetcar to take today's school kids on field trips, and we can't get you out of going back to class on Monday, the SFMTA certainly plays a crucial role in getting kids to and from school safely and reliably. We've completed multiple projects to keep kids safe as they walk near local schools as a partner in the Safe Routes to School movement. Additionally, we offer two excellent programs to help reduce the cost of getting to school by public transit: the Free Muni For Youth Program and Discounted Youth Fares. Not to mention that many SFUSD schools across town are served by Muni bus and rail lines that provide a safe and efficient way to get to and from class.
To learn more about San Francisco's history, check out our historic photo collections on the SFMTA Photo Archive website and follow us on Flickr, Twitter, Google+, and Instagram!