Bayview Community and SFMTA Receive National Planning Award
The SFMTA's efforts to improve transportation in Bayview-Hunters Point, one of San Francisco's traditionally African-American neighborhoods, have been recognized today by the American Planning Association (APA).  The SFMTA Bayview Community Based Transportation Project (Bayview CBTP) received the APA's 2021 Advancing Diversity & Social Change in Honor of Paul Davidoff National Planning Excellence Award. The virtual ceremony to present the award was held June 10, 2021.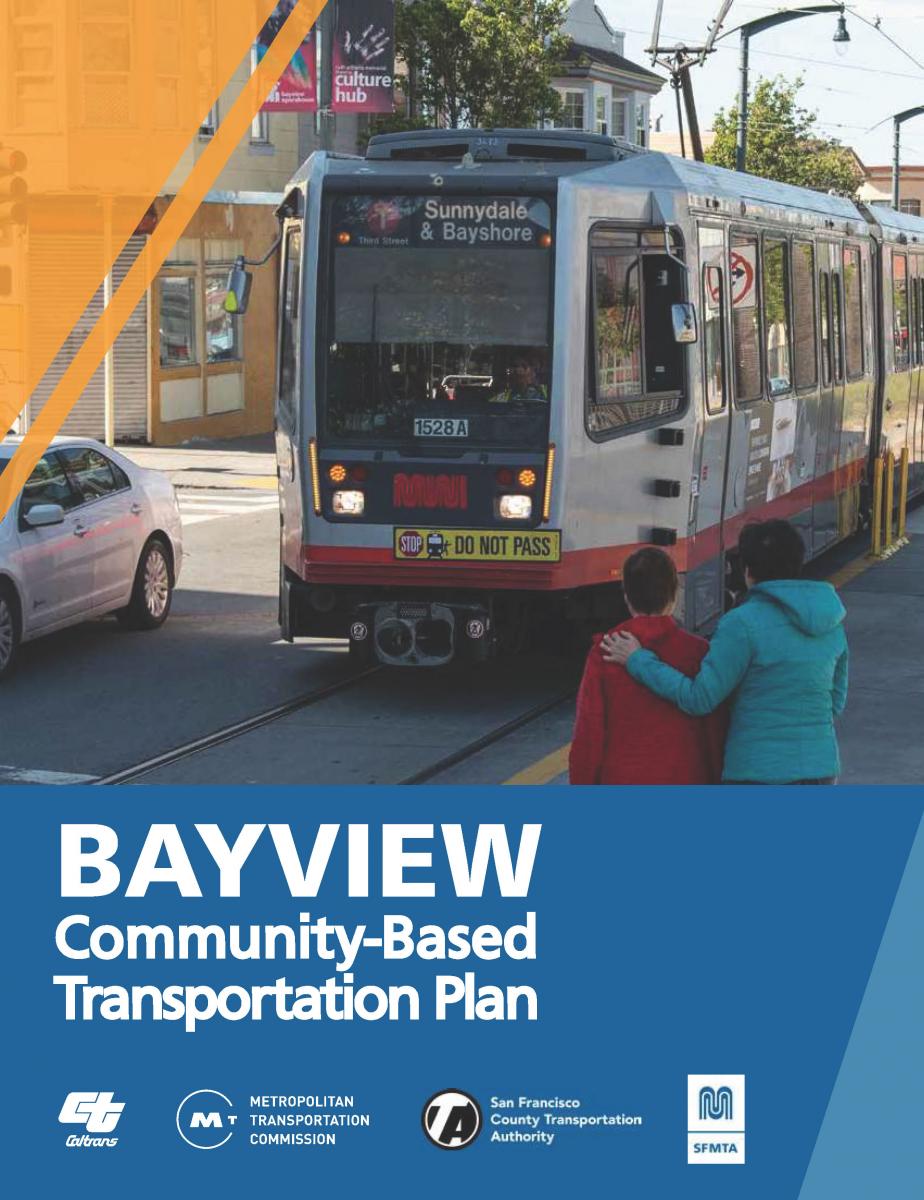 The Bayview CBTP gives voice to the needs of that culturally rich and resilient community which has faced a legacy of institutional and environmental racism. During a two-year open-ended planning process, the SFMTA partnered with five community-based organizations to develop a responsive and actionable plan that directly responds to the transportation needs, challenges, and values of Bayview's residents. 
Some of highlights from the plan:
Community-driven Partnerships

–

The SFMTA partnered with local organizations BMAGIC, Hunters Point Family, CYC, El Centro Bayview, and BAYCAT to prioritize including those hardest to reach and most vulnerable to transportation challenges.

Showing Respect and Building Trust

–

Through a series of 22 interviews with community leaders & elders, the SFMTA created a Statement of Intent. This serves as a promise to the public of accountability, trust & transparency, preserving community voice, and delivering effective projects in a community historically subject to long planning timelines and limited improvements.

Direct Public Outreach

–

The project team focused on meeting residents where they were, spending 295 hours speaking face-to-face with over 4,000 residents throughout a 14-month public outreach period.

Equity Index

-

A tool for mapping vulnerability to transportation challenges, with definitions and calibration supplied by Bayview residents. This ensured the plan benefits those whom the community believes to be most in need.

Youth Transportation Summit

–

The Girls2000 program worked with SFMTA staff to organize the summit for Bayview youth of color, attended by Supervisor Walton.

"Next Stop"

-

A must-watch short-four-minute-film produced, shot and edited by young women of color in the Bayview. Discussing transportation, safety and advocacy, the film ends with the call to action: Sound Off! Be Heard!

The SFMTA's First Participatory Budgeting (PB) Exercise

-

Led by a Community Steering Committee of 12 residents & community leaders, Bayview residents directly voted on how to spend $760,000 to improve transit and transit access in their community.

A Commitment of $3.61 Million

–

A transparently-developed set of priority projects based on the needs and lived experience of Bayview residents – with prioritization for funding based solely on resident input.
In the 16 months since the Bayview CBTP was adopted, the SFMTA has already delivered on many of our promises to the Bayview community, including:
Projects on the Ground

-

More than half of the Priority Projects identified in the Bayview CBTP will be implemented. This includes three Quick-Build projects. Hunters Point Blvd is in motion while Williams Avenue and Evans Avenue will soon be installed. For this last Quick-Build, the SFMTA partnered with local organizations and artists to paint murals on 2,100' of concrete k-rail barriers celebrating Black visibility and the wildlife along the bay shoreline.

The Return of the 15 Bus

–

Discontinued in 2007, Muni received an enormous amount of community feedback requesting the return of the 15 Third. In response,  we restored service on January 23, 2021. under the new name 15 Bayview Hunters Point Express.

Onboard Safety Presence

–

The top vote-getter in the Participatory Budgeting public ballot was to fund three new Transit Assistants from our MTAP program to ride lines in the Bayview, diffusing and deterring any conflicts and assisting bus operators as needed.. These Transit Assistants began service in November of 2020.
The SFMTA would like to thank District 10 Supervisors Malia Cohen and Shamann Walton, as well as our funding partners: Caltrans, who supplied the Sustainable Transportation Planning Grant that funded the Bayview CBTP; the San Francisco County Transportation Authority, which contributed about $3 million in half-cent transportation sales tax funds for the local match grant requirement and capital investments identified in the CBTP; and the Metropolitan Transportation Commission, which funded projects through Participatory Budgeting with a $600,000 grant from their Lifeline Transportation Program.
Over 50 years ago, APA's National Planning Awards program was established to recognize outstanding planning efforts that help lead communities forward to a stronger, more equitable, and sustainable future. Since 2014, five San Francisco organizations and/or projects have been awarded, with this year marking the first time that the SFTMA has!