Busy Weekend Ahead: St. Patrick's Day Tradition, Visitacion Valley Fair and Sunday Streets
Daylight Saving Reminder:
Don't forget to turn your clocks forward one hour this Sunday as Daylight Saving Time begins. It's a good chance to test your smoke detectors and replace their batteries if needed.
Transbay Terminal Construction Alert:
Now through Saturday, April 1: Construction work for the Transbay Terminal requires a closure of Beale Street between Mission and Howard streets. All routes terminating at Transbay Terminal will have minor re-routes.
Events
Take advantage of the dry weather this weekend and enjoy the parades, music, food and fun in the downtown, Visitacion Valley and Mission District areas.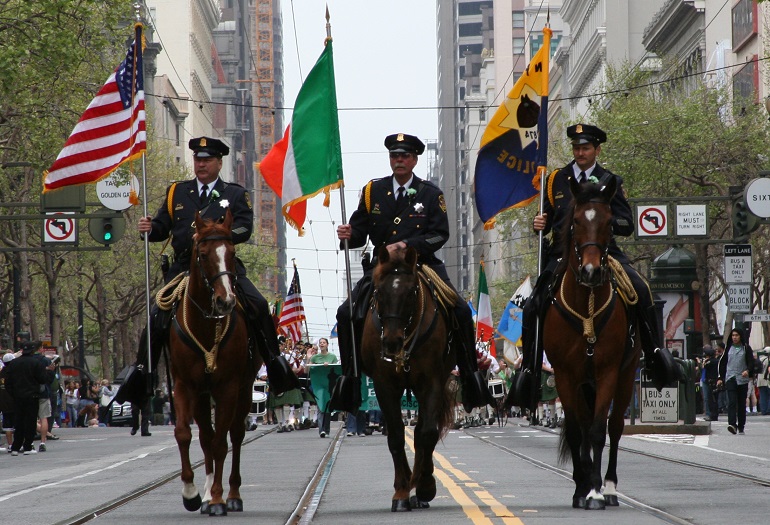 Members of the San Francisco Police Department's Mounted Unit at the start of the St. Patrick's Day Parade on March 17, 2007. Photo credit: Sam Soneja/Flickr.
St. Patrick's Day Parade and Festival
Saturday, 11:30 a.m.
Downtown & Civic Center
Gathering along 2nd Street between Market and Brannan streets, the 166th annual St. Patrick's Day Parade along Market Street kicks off a day of celebration, education and culture that is the largest such event west of the Mississippi River.
Culminating at the Civic Center and U.N. Plaza, the parade is followed by a festival that will feature live performances and entertainment, arts and crafts exhibits, rides for children, food, and more meant to showcase Irish culture in a family friendly environment.
Due to street closures and heavy pedestrian activity, traffic in the Civic Center and downtown areas will be heavy. Parade watchers can help ease congestion by taking BART or any Muni Metro line to any downtown station.
Muni service note, the F Market,  2 Clement, 5 Fulton, 6 Haight-Parnassus, 7 Haight-Noriega, 8 Bayshore, 9 San Bruno, 10 Townsend, 12 Folsom-Pacific, 19 Polk, 21 Hayes, 27 Bryant, 30 Stockton, 31 Balboa, 38 Geary, 38R Geary Rapid and 45 Union-Stockton routes will be affected by the parade as early as 10 a.m.
Ruth Jackson Family Day
Saturday, 9 a.m. to 5 p.m.
Visitacion Valley
Now in its 19th year, the Visitacion Valley Family Day at Hertz Playground is a community event full of fun and entertainment, featuring a parade, car show, performances, a raffle and much more.
The parade will start at Santos Street and Velasco Avenue, proceed north along Santos onto Sunnydale Avenue and culminate on Hahn Street at Visitacion Avenue.
Due to street closures and more people on the street, please consider using public transit. The 8 Bayshore, 9 San Bruno and 56 Rutland routes will get you close to the festivities.
Muni service note: The 8 Bayshore, 9 San Bruno and 56 Rutland routes will have re-routes.
Sunday Streets
Sunday, 11 a.m. to 4 p.m.
Mission District
Kick off the new season of Sunday Streets this Sunday in the heart of the Mission District. Enjoy the fun as you walk, run, bike and scoot on car-free Valencia Street from Duboce Avenue to 26th Street. Local merchants and numerous free activities will be set up along the route.
Traffic will be allowed to cross Valencia Street at:  
14th Street
16th Street
18th Street
24th Street
26th Street
Duboce Avenue
Muni service note: The 12 Folsom-Pacific, 27 Bryant and 55 16th Street routes will have reroutes.
Van Ness Construction Impacts
Update: As of this week, lanes on Van Ness from Lombard to Market, and South Van Ness from Market to Mission have been reduced from three to two.
All left turn lanes on Van Ness Avenue have been removed with the exceptions of those at Broadway (southbound), Lombard Street (northbound) and temporarily at Hayes Street (northbound).
Van Ness traffic lanes have been reduced from three to two on these segments:
Northbound from Post to Filbert Street
Southbound from Filbert to Washington Street
For complete details on these changes, please our Van Ness Improvement Project page.
Temporary J Church and K Ingleside Service Changes Reminder:
Due to Balboa Park Station Area and Plaza Improvement construction work, there are now temporary stop changes in effect for the J Church and K Ingleside lines at Balboa Park Station. These stop changes will be in place through the end of April. For details go to sfmta.com/greenlightrail.
"On Tap" gives you a heads up about the big events in town and what Muni routes and lines will get you to the party. Look for this feature to be posted usually on Wednesdays for a look ahead to the weekend. Check out our Weekend Traffic & Transit Advisory for more details.