Busy Weekend On Tap: No Reservations Needed!
Wednesday, September 7, 2016
9/11 Anniversary:
This Sunday will mark the 15th anniversary of the events of September 11, 2001. This will be a day of tributes, reflection, and rememberance. If you are interested in following official commemoration events or looking for ways to get involved in your own community please visit the 9/11 Memorial Museum for information.
Temporary J Church and K Ingleside Service Changes Reminder:
Due to Balboa Park Station Area and Plaza Improvement construction work, there are now temporary stop changes in effect for the J Church and K Ingleside lines at Balboa Park Station. These stop changes will be in place through the end of the year. For details, please read our Sept. 1 blog post.
Events:
For many, Labor Day signals the unofficial end of summer, but that does not mean the end of busy weekends — and this Saturday and Sunday are no exception.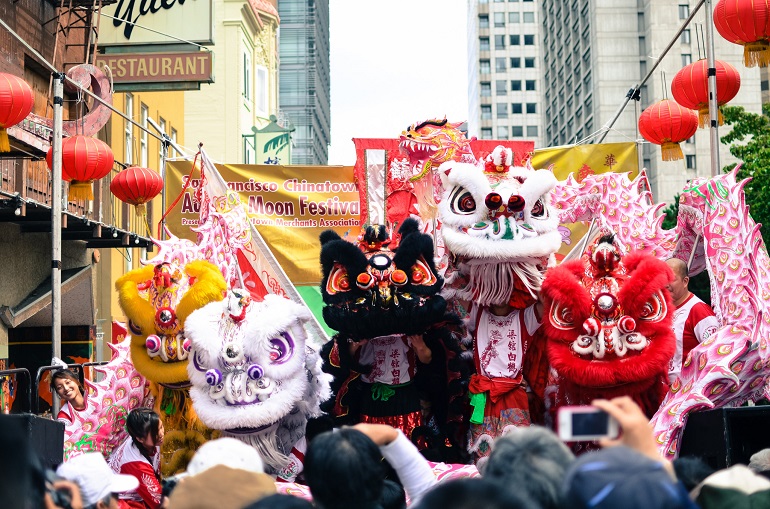 Lion dancers performing at the Chinatown Autumn Moon Festival on September 23, 2012. Photo credit: Jonathan Chen/Flickr.
If you're looking for some sweet tooth satisfaction, then Fisherman's Wharf is the place to be for two days of chocolate heaven at the Ghirardelli Chocolate Festival (the 19 Polk will have a re-route). If you're feeling a little guilty about your chocolate consumption, you can burn some calories Sunday morning while raising money for charity at the Giant Race in either a 5K, a 10K or a half marathon race. If chocolate and running don't suit your mood, head over to Inner Sunset Sundays on Irving Street between 9th and 10th avenues for a neighborhood flea market and merchant hop.
Chinatown Autumn Moon Festival
Saturday and Sunday, 11 a.m. to 6 p.m.
Chinatown
Even though the official start of fall is still two weeks out, the Chinatown Autumn Moon Festival is looking to get a jump start on the season. The festival begins on Saturday with the grand parade beginning at California and Grant at 11 a.m. This year's festival activities will include digital games and interactive competitions on the latest tech devices, fashion shows, cooking demos, and the ever popular dog costume contest! The Autumn Moon festival concludes on Sunday with an appearance by the festival's famous dragon at 5 p.m.
Expect heavy traffic in and around Chinatown due to street closures and large crowds.
Take a ride on Muni and get to Chinatown courtesy of the 1 California, 8 Bayshore, 30 Stockton, 45 Union/Stockton routes as well as the California Cable Car Line.
Muni service note: The 10 Townsend and 12 Folsom-Pacific will have re-routes. Other routes in the area may experience minor delays due to an increase in ridership.
Sunday Streets
Sunday, 11 a.m. to 4 p.m.
Western Addition
Comprised of a number of sub-districts including Japantown, the Fillmore and Alamo Square, Western Addition has a lot to see. This edition of Sunday Streets, which runs from the Panhandle to the edge of Japantown, will give you the opportunity to take in a lot of the neighborhood. Whether they are heavily visited sites like the painted ladies, the Kubuki or Alamo Square park or a new shop, treat yourself this Sunday to a nice, leisurely walk through Western Addition for these and other hidden gems tucked along the event path.
Due to street closures and large crowds of event-goers, biking and public transportation might be your best options. The 5 Fulton, 21 Hayes, 22 Fillmore, 24 Divisadero, 31 Balboa, 38 Geary, and 38R Geary Rapid routes will get you there.
Muni service note: The 22 Fillmore will have re-routes in both directions.
Regional Transportation Reminder:
The next weekend BART closure between Daly City and Glen Park stations is scheduled for September 17 and 18. This project runs until October 16. Muni will be providing free shuttle service and extra service on the J Church, 14R Mission Rapid, and 49 Van Ness/Mission. For details, check out our July 18 blog post.
On Tap for next weekend: Giants baseball, Oracle Openworld, Walk to End Alzheimer's, Roadworks Steamroller Printing Festival, and Hayes Valley Urban Air Market
"On Tap" gives you a heads up about the big events in town and what Muni routes and lines will get you to the party. Look for this feature to be posted usually on Wednesdays for a look ahead to the weekend. Check out our Weekend Traffic & Transit Advisory for more details.