Celebrating a Century of Muni Bus Service: 1917-2017
Thursday, August 31, 2017
On Sept. 1, 1917, Muni launched its first bus route, the 1 Park. Once the route was changed three days later, it supplemented service on the A Geary streetcar line to connect the Inner Richmond and the Inner Sunset via a path through Golden Gate Park that's still served in part by the 44 O'Shaughnessy today.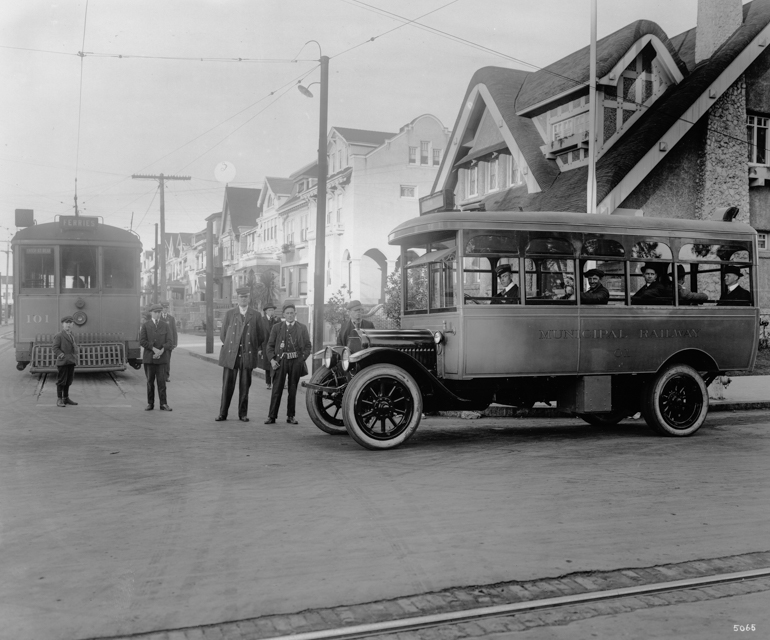 Motor Coach 01, running on Muni's first bus route, the 1 Park, picks up passengers at the terminal of the A Geary streetcar line at 10th Avenue and Fulton Street in 1917. This route ran through Golden Gate Park past the de Young Museum to 9th Avenue and Judah Street in the Inner Sunset.
Muni was the first major transit operator in San Francisco to venture into bus service. This relatively new mode of transportation provided a way to quickly expand transit service without the need to make massive investments in new rail infrastructure for streetcars. Buses were also capable of serving areas where rail was not practical due to the difficulty of the terrain.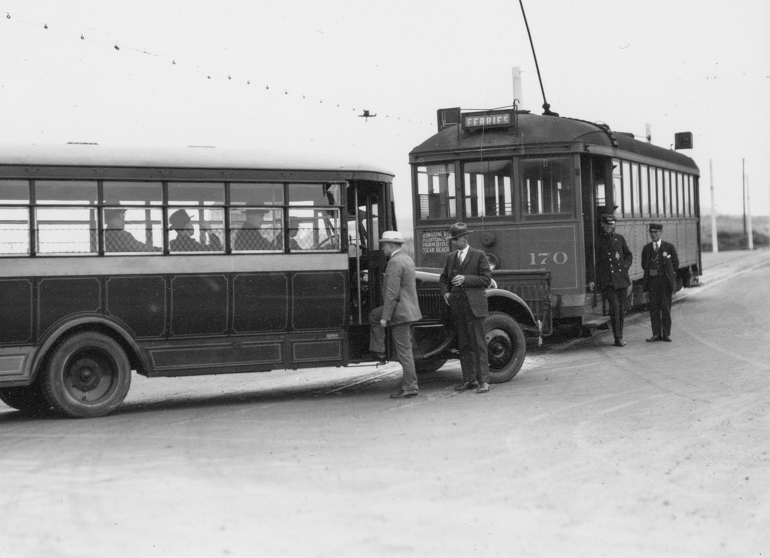 Passengers board a Muni bus at the end of the L Taraval Line in the sparsely populated Outer Sunset District in 1925.
By the end of the 1920s, buses became an essential companion to Muni's rail network, which had expanded with the opening of the K Ingleside, L Taraval and N Judah lines. During construction on some of these lines, bus routes acted as precursors to rail service and later as "feeder" routes that connected residents further afield to the new streetcar lines.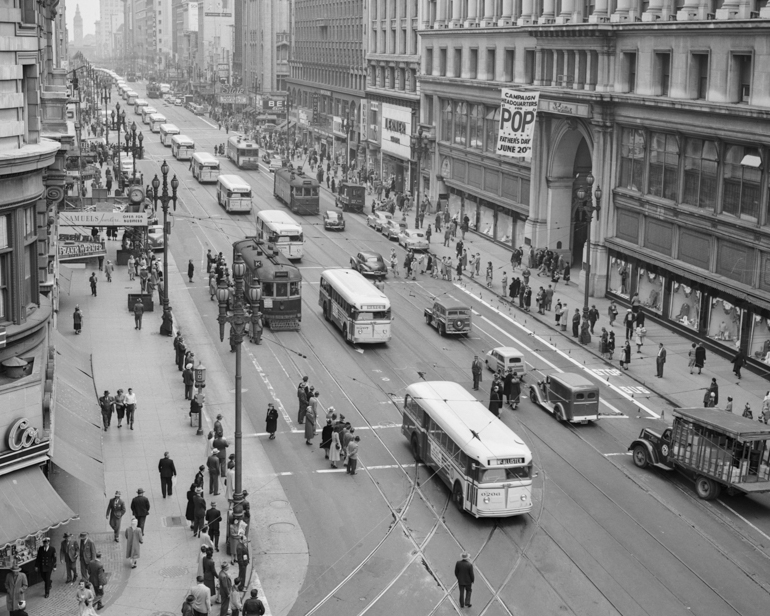 In 1948, Muni showcased its new fleet of 209 buses manufactured by the White Motor Company with a parade down Market Street to the Civic Center.
In the years following World War II, pressures from decreasing ridership and rising operating costs led Muni to replace all but five of its streetcar lines with bus routes.
While buses cost more to maintain and have a shorter lifespan than streetcars, they're cheaper to purchase and operate. They were seen as the solution to an aging rail system in desperate need of rehabilitation and Muni ordered hundreds of them over a roughly 10-year period. Today, Muni routes like the 14 Mission, 22 Fillmore and 33 Ashbury are all descendants of former streetcar lines.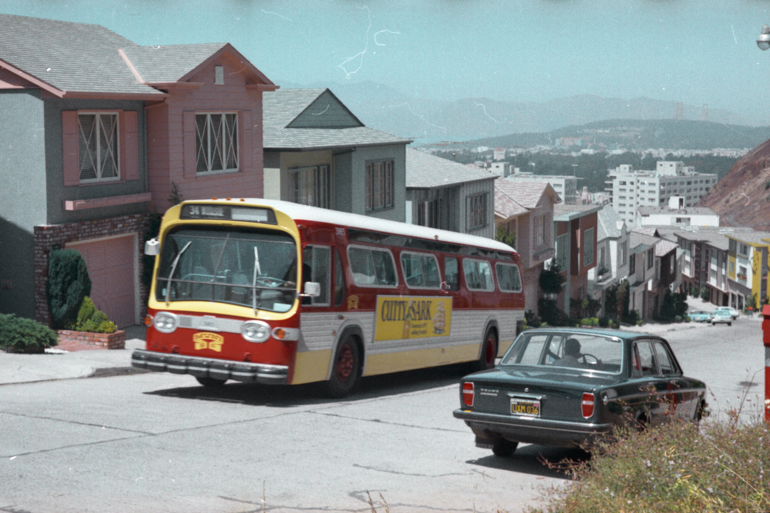 A new Muni General Motors coach on the now-defunct 34 Woodside route climbs Warren Drive in the Twin Peaks area in August 1969.
Starting in 1968, Muni launched a campaign to refresh its look with a new color scheme and logo, new operator uniforms, and a new fleet of buses from the General Motors Company (nicknamed "Jimmies"). By the end of the 1970s, Muni purchased another round of buses from AM General, a subsidiary of the American Motors Corporation (AMC). These buses, which had a boxier body shell, were nicknamed "Gremlins" after AMC's popular model of compact car.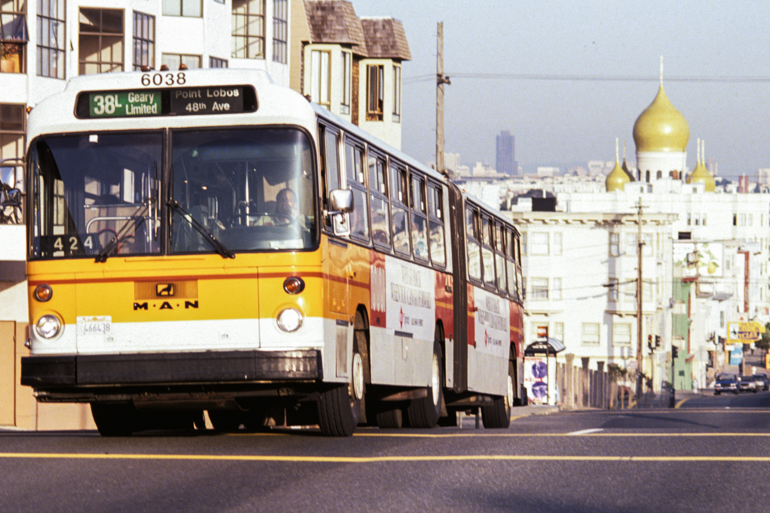 A new "articulated" bus on the 38L Geary Limited route (today, the 38R Geary Rapid) on Geary Boulevard near 31st Avenue in the 1980s. These longer buses expanded rider capacity on Muni's busiest routes.
Through the 1980s and '90s, Muni revamped the system yet again with service changes and fleet upgrades. After feedback from riders, Muni planners consolidated some routes into longer crosstown routes for better transit connections between neighborhoods. And for the first time, longer "articulated" buses hit the streets to add capacity and provide accessibility for people with wheelchairs.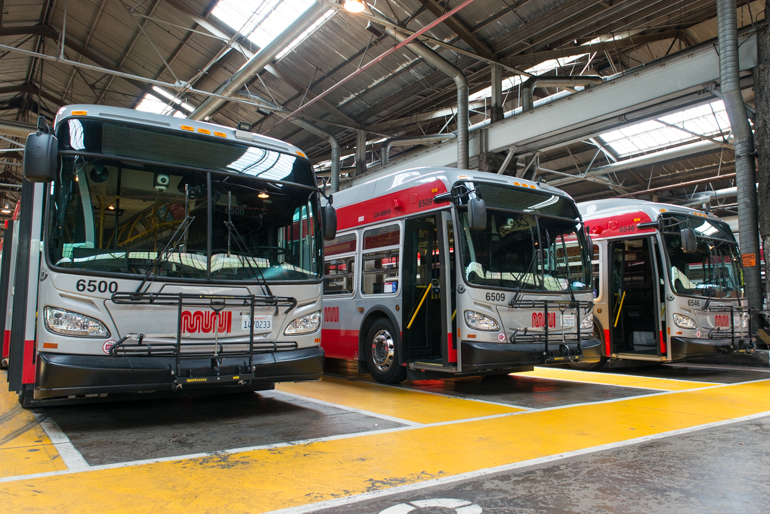 Three new Muni buses await their runs inside a bus garage in 2016. These coaches are part of a fleet upgrade and expansion to better serve San Francisco's transit needs.
Today, buses provide the bulk of Muni service, and we continue to roll out new buses produced by New Flyer, Inc. that are revitalizing the system. These vehicles are more reliable and accessible than Muni's previous coaches, and with hybrid-electric engines that run on 100 percent renewable biodiesel, they're San Francisco's most environmentally friendly buses ever. Along with the rest of Muni's electric trolley buses, light rail vehicles, historic streetcars and cable cars powered by hydroelectricity, they make Muni's fleet one of the greenest in the nation.
Join us in celebrating this history at Muni Heritage Weekend next weekend on Sept. 9 and 10, where you can see and ride historic Muni buses, and enjoy a special exhibit from the SFMTA Photo Archive. And in case you missed it, check out our previous post on the history of the 100-year-old J Church Line. To catch more photos from Muni's past, follow us on Instagram and Twitter.