Tuesday, October 14, 2014
For this week's edition of "Information Gladly Given," we bring you some exciting news out of the Central Subway Project. The tunnel contract is near completion!  Big Alma and Mom Chung, the two tunnel boring machines (TBMs) tasked with excavating and constructing the Central Subway northbound and southbound tunnels have done their job in just under a year. Although their tunneling work was completed when our big announcement was made in June, it took three months to take the TBMs apart and free them from the ground. The tunnels they dug are approximately 8,300 feet long and range in depth from approximately 40 to 120 feet. The tunnel machines were churning ground at an average pace of 40 feet per day. Both machines have now been extracted and will be on their way to be reused in other cities around the world.
You may have not taken notice of all this action since most of the work took place below ground. A TBM consists of a rotating cutterhead within a cylindrical steel shell that is pushed forward along the path of the tunnel while excavating the ground through the cutterhead. The steel shell supports the loose excavated ground until the final tunnel lining is built behind the shield. The Central Subway blog has some great videos of the tunnel work, especially this one that takes you inside the action. 
The Central Subway Project will extend the T Third Line from the 4th Street Caltrain Station to Chinatown providing a direct, rapid transit link from the Bayshore and Mission Bay areas to SoMa, Union Square and downtown. Four new stations, already under construction, will be built along the 1.7-mile Central Subway:
4th and Brannan Station at 4th and Brannan streets (street level)
Yerba Buena/Moscone Station at 4th and Folsom streets (subway)
Union Square/Market Street Station on Stockton Street at Union Square (subway)
Chinatown Station at Stockton and Washington streets (subway)
In the next month, all eyes will be on 4th Street between Bryant and Harrison streets where the only visible tunneling activity will occur. Crews will be working diligently to build the tunnel portal, where future trains will enter and exit the subway. The Central Subway is expected to be open in 2019.
Until then, keep up with the latest (and most detailed) project updates on the always informative Central Subway Project blog, or give them a Like or Follow.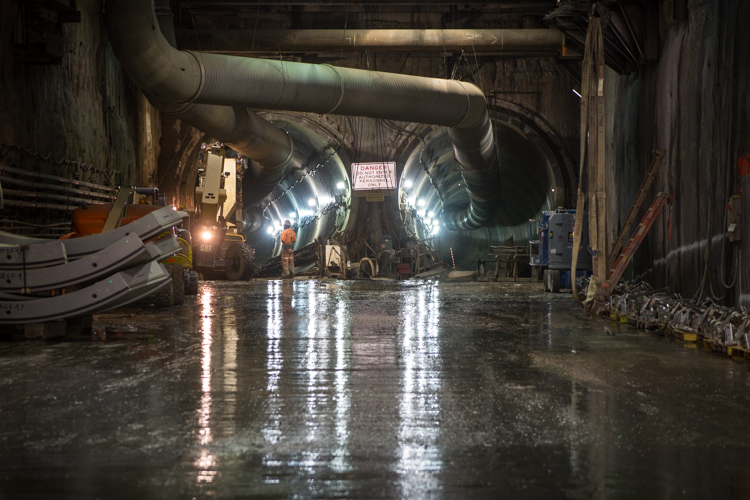 Entrances for both Central Subway tunnels at the 4th Street launch box, Aug. 14, 2014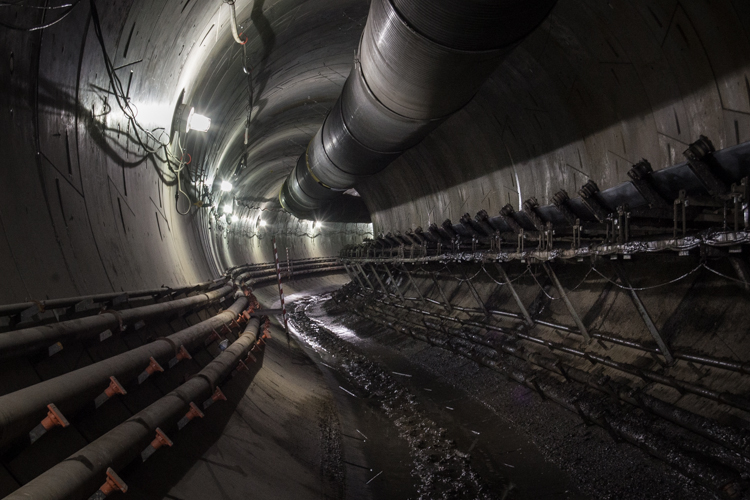 S-curve in the northbound Central Subway tunnel, April 5, 2014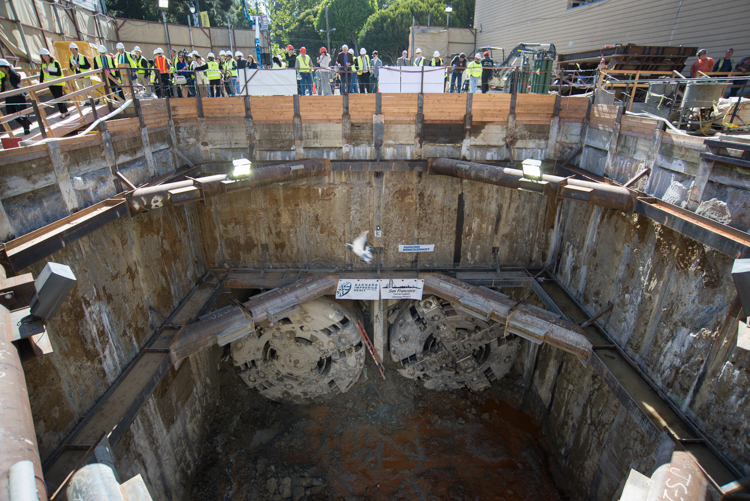 TBMs, Big Alma and Mom Chung, reach their destination in the retrieval shaft located on the site of the former Pagoda Theater in North Beach. June 16, 2014

Mom Chung's trailing gear, which helped transport excavated soil, being extracted from the North Beach retrieval shaft. Sept. 25, 2014