Come Learn About Future Plans for Potrero Yard
The SFMTA recently launched the Building Progress Program with the intent to upgrade all of our old facilities across San Francisco. Part of these upgrades includes facility improvements for Muni, traffic enforcement and systems maintenance to better serve our riders and to keep the City moving. The Potrero Yard is the first site scheduled for improvement within the program.
As part of the planning effort to rebuild Potrero Yard, one of Muni's oldest facilities, the SFMTA is hosting an afternoon at Franklin Square Park (2500 17th Street). The event will include guided tours of Potrero Yard to get an inside look of the facility. We will also have food and activities for all ages as we engage with neighbors and community members about the future of Potrero Yard. 
Event Details
This family-friendly event will be held on Saturday, August 10, 12 p.m. to 3 p.m. at Franklin Square Park, on the 17th Street side facing Potrero Yard and will be free and open to the public!
Tours begin at 12:30 p.m. and the last tour is at 2:30 p.m. Scheduled Spanish language tours will be led at 1 p.m. and 2 p.m. We can also make reasonable accommodations for people with disabilities. All tour attendees must wear closed-toe shoes.
See for yourself the work that goes into keeping Muni service running and what's in store for the new facility.
Current Potrero Yard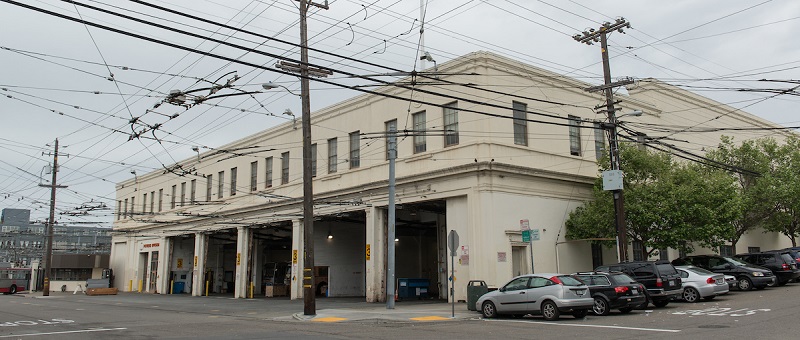 Potrero Yard was built in 1915 and sits on 4.4 acres between Bryant and 17th streets, near the Mission, Potrero Hill and South of Market neighborhoods. The two-story facility originally operated as a one-floor streetcar facility and has since expanded to hold 158 40-foot and 60-foot trolley buses.
In between service shifts, buses are cleaned, repaired and prepared for their next day.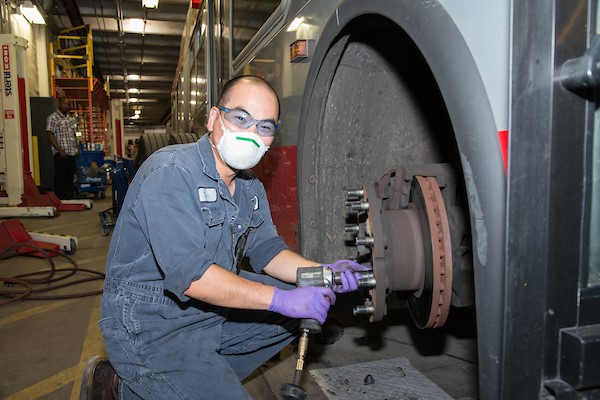 Yet, age is catching up with the site. Major improvements are needed to ensure we maintain our fleet of buses as efficiently as possible and we can accommodate our new all-electric buses that will be delivered in the next eight years. Furthermore, a simple building renovation cannot solve the significant earthquake resiliency and facility expansion needs of the yard. So, we are looking to completely rebuild Potrero Yard.
The Proposed Facility
The new three-story facility will be state-of-the-art and will allow the SFMTA to keep buses on the road longer between fixes. As a result, we will improve service for our 102,000 daily customers who rely on the six bus routes (5 Fulton, 5R Fulton Rapid, 6 Haight-Parnassus, 14 Mission, 22 Fillmore and 30 Stockton) that run out of the yard.
The modern yard will store 213 buses - an increase of 35 percent. In addition, the facility will:
Accomodate our battery-powered electric buses

Support street operations activity

Centralize and modernize Muni operator training
We hope you can attend next month's event. However, if you are unable to attend there are additional ways to stay engaged.
Learn more about the project and subscribe to updates.
We are also seeking three additional members (SFMTA/Muni representative (i.e. Operator or Mechanic), Small Business within 0.5 Miles representative and a Member-At-Large) for our Potrero Yard Neighborhood Working Group.
For more information, please email us or call us at 415.646.2223.