Early '70s Muni Photos Hit the Web
Here in the SFMTA Photo Archive, we're making good progress on preserving and sharing the rich transit history we hold in our historic photo collections. This week we bring you some highlights from 1970-73, which have recently been published online. Adding these latest images brings our total online collections to 70 consecutive years of transit photos from 1903-1973! 

Cable Car 520 (today's #20), decorated for the 100th anniversary of cable car service, pauses in Union Square during the Cable Car Bell Ringing Competition on August 6, 1973.
A handful of major Muni events took place in the early '70s. One of the most notable was the 100th anniversary of San Francisco's Cable Car service in 1973. This important centennial was celebrated with everything from a fashion show and costume party at the Cable Car Barn to a parade of exquisitely decorated cable cars on the Powell Street lines.

Mayor Joseph Alioto speaks to a crowd of neighborhood residents at a ceremony celebrating the return of Muni service to Mission Street on June 27, 1970.
In 1970, Mission District residents celebrated the return of 14 Mission bus service to Mission Street following the completion of BART construction along the corridor. Marking the day was a parade of buses, speeches by Muni and city officials, and a public tour of the soon to be completed 24th Street BART Station.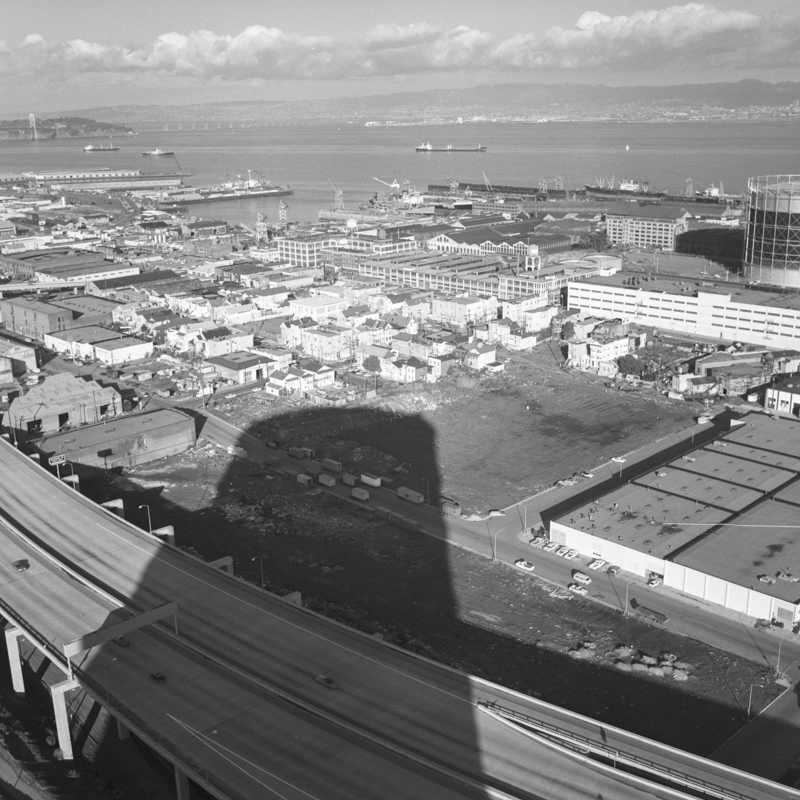 An overhead view the future home of Muni's Woods Division, taken from a storage tank on Pennsylvania Avenue near 23rd Street in 1971.
Beyond the public events, Muni started work on one of the most important projects it undertook in many years-- construction of the future Woods Motor Coach Facility and Cable Car Carpentry Shop. These facilities were built on two large lots in the Dogpatch neighborhood that were once occupied by the Tubbs Cordage Company. In just a handful of years, these lots were transformed into Muni's largest and most advanced operations, heavy repair, and maintenance facility. Today, Woods Division remains as a crucial part of our fleet maintenance program.
Check out more historic photos from 1903-1973 on SFMTA Photo website.