Easter Sunday: Sunrise Service, Union Street Celebration, and Big Wheelin'
Wednesday, March 23, 2016
Construction Alert:
Sunset Tunnel construction continues this Friday beginning at 8 p.m. and will run until 3:30 a.m. Monday. During tunnel work, bus shuttles will provide N Judah Line service between Duboce Avenue and Church Street and Ocean Beach.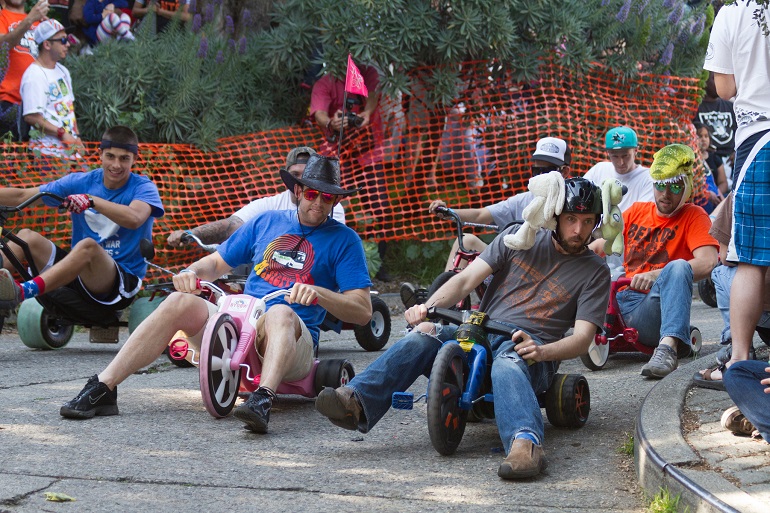 Participants rounding the course for the Bring Your Own Big Wheel race on April 20, 2014. Photo credit: Bhautlk Joshl/Flickr.
Events:
Easter Sunday is a special time of year for many. This year, events in the city will provide you with a number of activities throughout the day ranging from an early morning solemn service on Mount Davidson to a more secular celebration along Union Street and plain over-the-top silliness down a crooked street in Potrero Hill.
Easter Sunrise
Sunday, 7 a.m.
Mount Davidson
A tradition now in its 94th year, the Easter Sunrise service on Mount Davidson is a non-denominational celebration on the city's highest peak. Recognized as America's largest cross, the 103-foot-tall monument will be illuminated with spotlights throughout Saturday evening leading up to the Sunday morning service.
If you're planning on attending, remember to dress warm and wear comfortable walking shoes. You can take the 43 Masonic and 44 O'Shughnessy routes to Forest Hill Station and transfer to the 36 Teresita Route for service to Mount Davidson.
Muni service note: There will be supplemental service on the 36 Teresita Route beginning at 5:30 a.m. from the Forest Hill Station to the park entrance at Myra and Dalewood ways until 7:30am. Following the service, the supplemental buses will provide service back to Forest Hill Station.
Union Street Spring Celebration
Sunday, 10 a.m. to 5 p.m.
Union Street between Gough and Fillmore streets
An enjoyable event for the family, the 25th Annual Spring Celebration features the best of the neighborhood's shops and eateries. The kids will be ecstatic with pony rides, a petting zoo, bouncy houses, a climbing wall and more. The celebration includes an Easter Parade at 2 p.m. which will feature roller-blading cows, self-propelled mini-floats, and classic cars. It's a must-see family experience.
Enjoy the day and avoid the hassle of looking for parking by taking Muni. Service on the 22 Fillmore, 24 Divisadero, 28 19th Avenue, 30 Stockton, 43 Masonic, 45 Union/Stockton, 47 Van Ness, and 49 Mission/Van Ness routes will get you close to the festivities.
Muni service note: Due to increased ridership some of these routes may have minor delays. The 45 Union/Stockton Route will be re-routed.
Bring Your Own Big Wheel
Sunday, 4 p.m.
Potrero Hill
Round out Easter Sunday with an exhilarating trek down what is arguably the crookedest street in San Francisco. Whether you go solo or with a group, dress up as your favorite superhero or not, the Bring Your Own Big Wheel is great time to be had. All you have to do is dust off that multi-colored, tri-wheel relic from your childhood and squeeze yourself back into the seat.
Due to expected large crowds, parking in Potrero Hill will be limited. Use the 19 Polk Route to get you close to the starting gate.
Muni Service note: service of the 19 Polk may experience minor delays due to a possible increase in ridership.
Winter Storm Information:
The Department of Emergency Management has prepared a Comprehensive Guide to Everything El Niño in order to prepare and assist people on what to know and what to be aware of during the storms. We've been preparing for months and know you'll want to plan your trip before you head out into inclement weather. Sign up for Muni Alerts to get real-time service updates on your most used Muni routes and lines.
On Tap for next weekend: Giants Baseball, Rock 'n' Roll Half Marathon
"On Tap" gives you a heads up about the weekend's big events and which Muni routes will get you there. Look for this feature on Wednesdays.