The Ferry Building: At the Heart of the Action Then and Now
Thursday, January 21, 2016
As an icon of San Francisco's dynamic waterfront, the Ferry Building has been at the center of the action in the City by the Bay since its construction in 1875. Now, the Ferry Building and surrounding plaza is one of the cultural cores of the city: a place to shop, snack, stroll, catch a beautiful bay view, even ice skate or check out a free railway history museum.
Notably, one of the celebratory events for Super Bowl 50 — Super Bowl City — will take place in and around Justin Herman Plaza across from the Ferry Building, January 30 to February 7. But, at the turn of the century, most folks in the Bay Area would have thought of the Ferry Building not as a cultural center but rather as a very, very busy transit hub.
Seen above (left), the more utilitarian 1875 incarnation of the Ferry Building was replaced in the 1890s with the tall-towered version known and loved today (right). The modern version, sporting long, low arcades topped with the landmark clock tower opened to its first ferry arrival on July 13, 1898.
The well constructed structure survived the 1906 quake and was defended from the post-earthquake fires by naval fireboats. Ferries departing from its terminals provided crucial escape routes for San Franciscans fleeing the ruined city.
Prior to the construction of the trans-bay bridges in the late 1930s, the Ferry Building's busy transit complex was a meeting point for ferries from destinations including Berkeley, Tiburon, Alameda, Oakland and Vallejo; for streetcars arriving down the main Market; and for pedestrians — who had a raised and protected walkway, visible on the left side of the image below.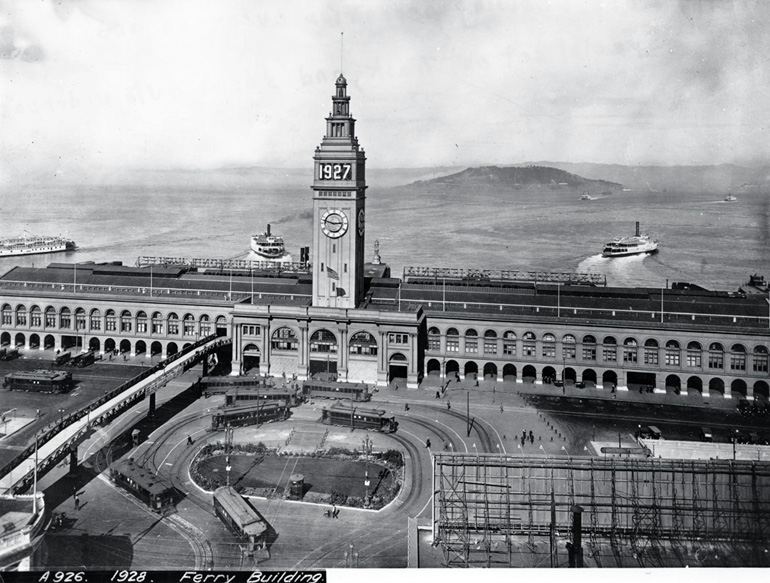 Like many beloved landmarks, the Ferry Building suffered a diminished presence before it emerged with the status of waterfront icon. From 1958 to 1991, the San Francisco waterfront was walled off behind the notoriously monstrous elevated Embarcadero Freeway.
Many images of this era can be seen in the Historical Photograph Collection of the SF Public Library, including this 1959 photograph, as well as this one from 1959, and this 1991 image of freeway demolition after the Loma Prieta earthquake.
For more images of historic San Francisco, there is always more to explore from the SFMTA Photo Archive on Flickr, Twitter, Google+, and Instagram.