A Festival Weekend: North Beach and Juneteenth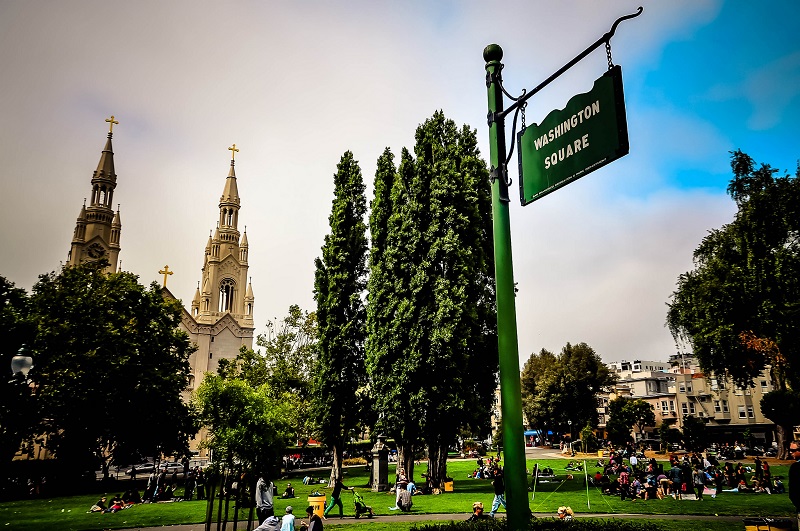 Enjoy all North Beach has to offer this weekend, including beautiful Washington Square Park, during the North Beach Festival. Photo: Spiros Vathis/Flickr
Juneteenth Festival
Saturday, 11 am to 6 pm
Fillmore District
Fillmore Street is famous for its shops and restaurants and this Saturday it will be even more lively during the 56th annual Juneteenth Festival, celebrating the abolition of slavery in the United States. The festival features live music from multiple genres, a car show, job fair, fashion show, children's events and a parade that begins at 11 AM. The festival takes place on Fillmore Street between Post and Turk streets.
---
How to Get There on Muni: Get to the festival on the 2 Clement, 3 Jackson, 5 Fulton, 22 Fillmore, 31 Balboa, 38 Geary or the 38R Geary Rapid routes.
Muni Service Notes: The 22 Fillmore will have a reroute while the 5, 31, 38 and 38R may see increased ridership and some minor delays in the area of the festival.
North Beach Festival
Saturday and Sunday, 10 am to 6 pm
North Beach
Widely considered to be one of the nation's original outdoor festivals, the North Beach Festival returns for its 64th year this weekend. Bounded on three sides by Columbus Avenue, Filbert Street and Grant Avenue, the festival takes place in the heart of the North Beach neighborhood and will feature over 125 booths for arts and crafts, gourmet food, two live music stages, beer and wine gardens and much more. A rain or shine event (with shine being the prominent forecast for the entire weekend!) the North Beach Festival is fun for all ages.
How to Get There on Muni: Get to the fun via the 8 Bayshore, 10 Townsend, 12 Folsom/Pacific, 30 Stockton, 39 Coit or the 45 Union/Stockton routes.
Muni Service Notes: The 8 Bayshore will have a reroute while the other routes may see increased ridership and some minor delays in the vicinity of the festival.
Reminder of Weekend Closures
Early Closures of Twin Peaks Tunnel: Preparatory work inside the Twin Peaks Tunnel ahead of the summer closure wraps up this weekend between Castro and West Portal, which will close at 11 p.m. on both Friday and Saturday. Regular Metro service will resume at 9 a.m. on both Saturday and Sunday. During the nightly closures Nextbus predictions for the K, T, L, and M lines will not be available. The summer closure of the Twin Peaks Tunnel is scheduled to begin on June 25.
Muni Service Changes
Starting this Monday, June 18, the latest round of Muni Forward service changes go into effect on the 1AX/BX, 8AX/BX, 9R, N Judah and T Third. Also starting on Monday, the 5, 5R, 7, 38 and 38R will begin service to the new Salesforce Transit Center Bus Plaza.
"On Tap" gives you a heads up about the big events in town and what Muni routes and lines will get you to the party. Look for this feature to be posted usually on Wednesdays for a look ahead to the weekend. Check out our Weekend Traffic & Transit Advisory for more details.