Flashing Back to the Original BART Construction
Thursday, September 3, 2015
With BART shutting down service between San Francisco and the East Bay over Labor Day weekend and several other large event and construction shutdowns planned, we think it's a perfect time to dust off some of our original BART construction photos from 1968-70 when BART built tunnels under Market Street.
There's no getting around it—the BART shutdown and the closure of 4th and King streets for Muni Metro construction will be inconvenient this weekend, impacting Muni service and causing traffic delays. But the work is critical to ensure a safe, reliable trip for the thousands of people who rely on BART to travel to and from the East Bay and to lay essential groundwork for the Central Subway.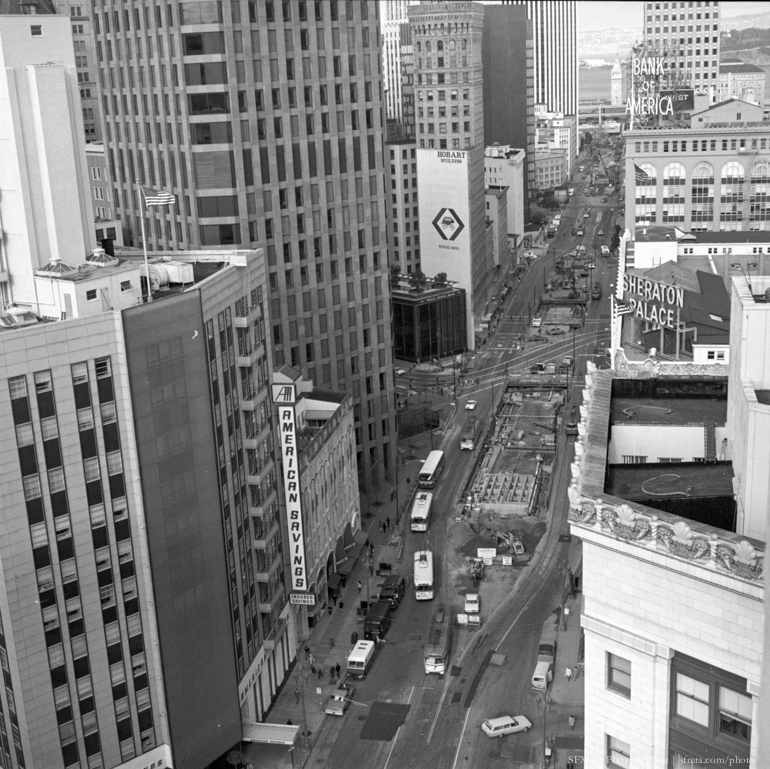 Construction of Montgomery Street Station from 703 Market Street | March 2, 1970
BART was built using various construction techniques and unfortunately for San Franciscans of the '70s, the "cut-and-cover" method was used to construct the joint BART/Muni Metro stations down Market Street. This meant that Market Street was literally cut open the width and depth of the stations, creating a chaos of construction—a far cry from the simple BART tunnel closure you'll see this weekend. In many places, Market was turned into a plank road with temporary streetcar tracks, travel lanes and crosswalks placed atop the massive holes where stations were being built.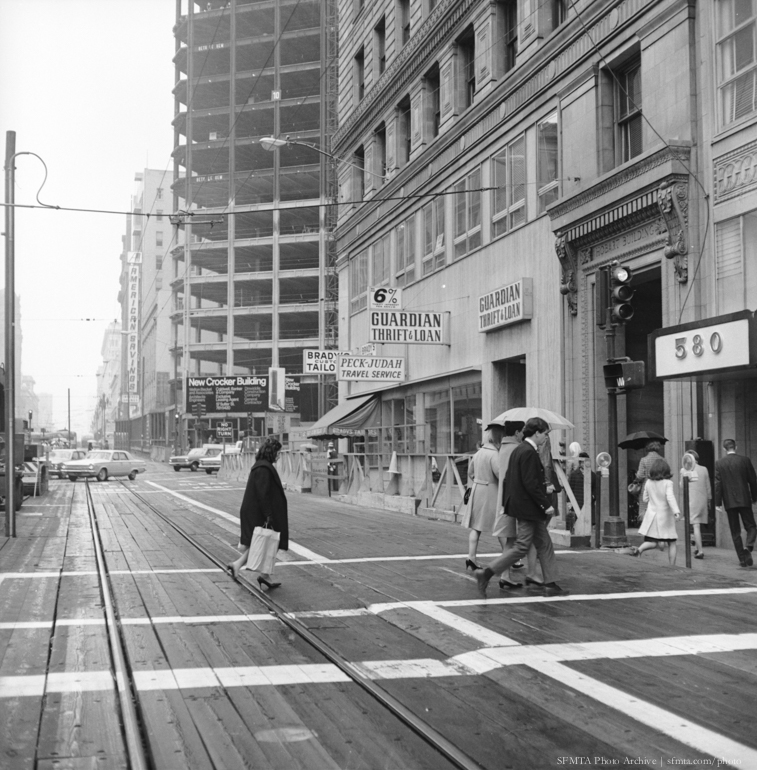 People walking across a wooden Market Street during BART construction | March 25, 1968
People in cars, buses and streetcars, heavy construction equipment, and pedestrians all shared the diced-up roadway, enduring the growing pains to give the Bay Area a much-needed rail transport network. While big disruptions like this may be frustrating and inconvenient, they're absolutely necessary to ensure that our public transportation systems, which serve everyone, are kept in tip-top shape and improved to work better.
Muni, BART, AC Transit, and San Francisco Bay Ferry are all working together to provide extra support for travelers this weekend.  As always, be sure to check the most recent service updates and plan ahead to allow extra travel time if you're crossing the Bay or travelling in downtown San Francisco this weekend. Check out more historic photos like these on the SFMTA Photo Archive website and follow us on Flickr, Twitter, Google+, and Instagram!