Holiday Schedules & Reflections
Monday, December 21, 2015
As we close 2015, we at Moving SF are grateful for your readership and comments (keep them coming!). This year brought many challenges and opportunities for transportation in SF, such as bicycle improvements, a federal transportation bill and multiple rounds of Muni service changes. We strive to help you get the information you need to be involved and to make your voice heard.
Over the next two weeks, we will be taking a bit of a breather, publishing on a lighter schedule.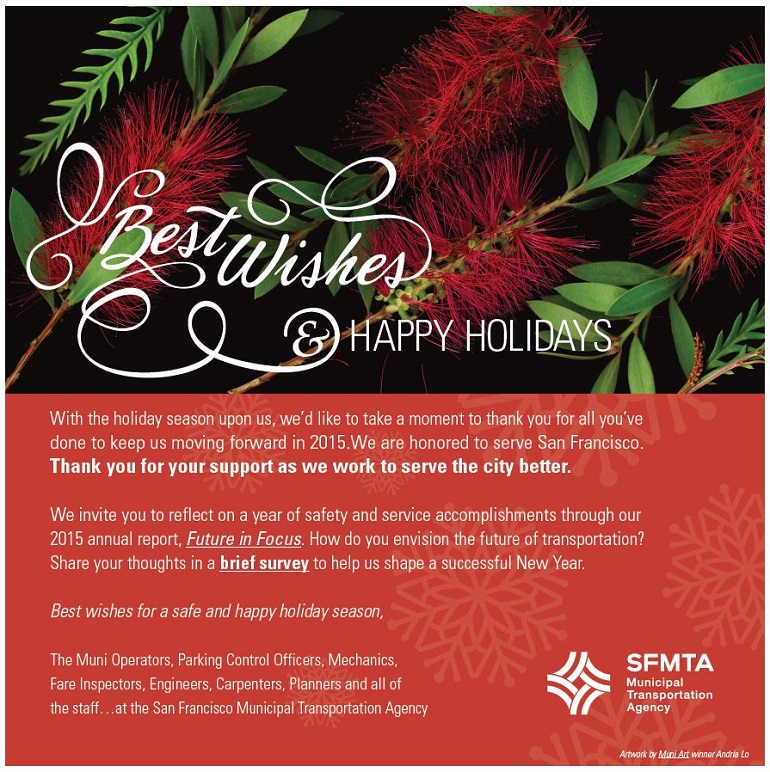 The SFMTA 2015 holiday greeting asks your feedback on the agency's annual report. 
We aren't the only ones. Muni will also adjust its schedule around the Christmas and New Year holidays. Adjusting for reduced ridership during the next two weeks, Muni service will operate on a Sunday schedule on Christmas Day and New Year's Day. In addition, there will be no express service, including Richmond Express routes, NX Judah, 41 Union, and 88 BART Shuttle, on either day or on Monday, Dec. 28 - Thursday, Dec. 31. The 8 Bayshore, 8AX Bayshore Express and 8BX Bayshore Express will operate on a reduced schedule Dec. 28 – 31. 
Christmas and New Year's days are two of the three days of the year when meters are not enforced. (The third is Thanksgiving Day, in case you're curious.) For further information on the holiday parking enforcement schedule, please check the SFMTA holiday parking enforcement page and the Port of San Francisco website.
Don't forget, Muni wants to be your New Year's Eve designated driver. Starting at 8 p.m., Thursday, Dec. 31, Muni will be free to get you to or from your NYE revelry. Also, the early subway closure has been canceled for that night to make sure partygoers have lots of options to get home safely.
Please be sure to check out our holiday shopping and safety release from last month — it's got lots of good tips to ensure your holidays are festive and fun!
As we reflect on this year's accomplishments and review the challenges ahead, we invite you to learn more in our 2015 annual report, Future in Focus. We also want to know how you envision the future of transportation. Share your thoughts in a brief survey to help us shape a successful New Year.