Initial Walking and Biking Upgrades Coming to The Embarcadero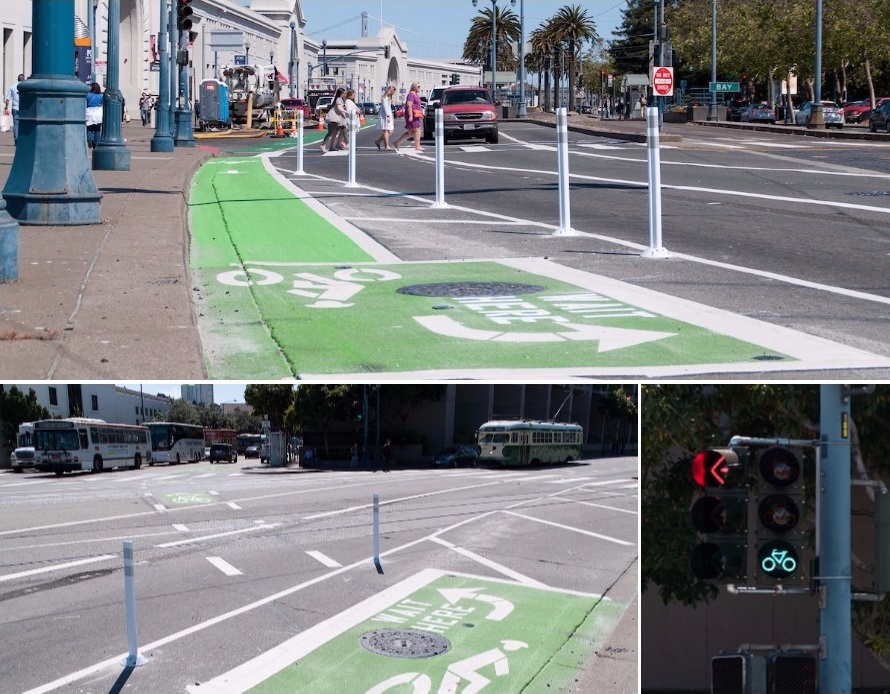 This week at The Embarcadero and North Point Street, we installed a new bicycle traffic signal and waiting area for left turns.
As we reimagine The Embarcadero as a better place to walk and bike along San Francisco's picturesque waterfront, we're installing a few initial upgrades this summer and measuring their impact.
The latest improvements came this week at The Embarcadero and North Point Street, where there's a new bicycle traffic signal and green-colored road markings to make left turns easier for people on bikes.
These kinds of small-scale upgrades add up to make streets safer, more comfortable and more intuitive for everyone to use. As we work with the community to develop a larger vision in the Embarcadero Enhancement Project, we wanted to make relatively quick, low-cost improvements that don't have to wait.
Here are the walking and biking improvements in store for The Embarcadero this summer – and those already in place.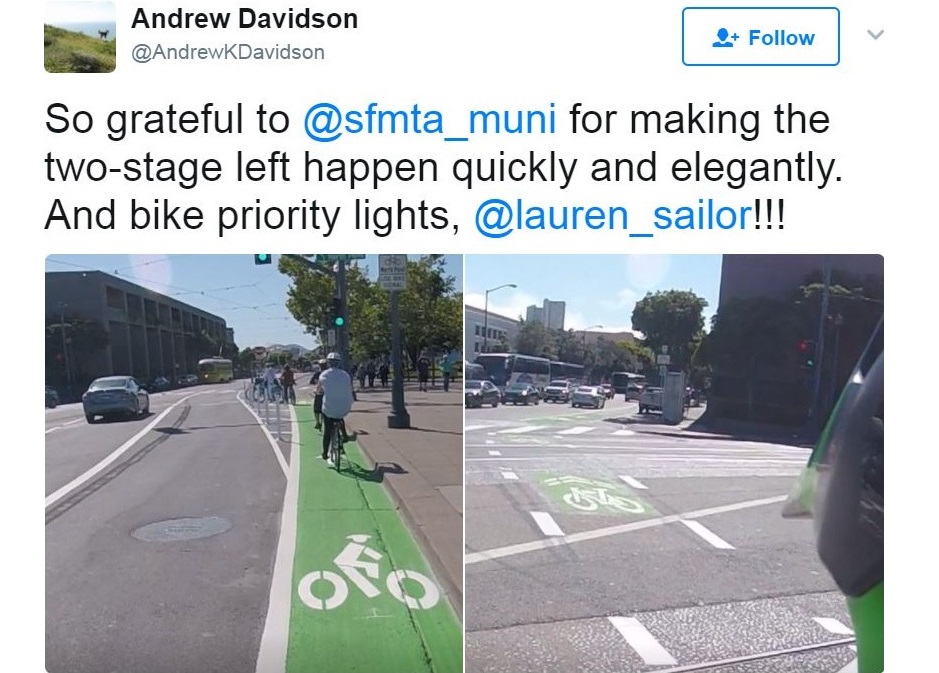 At least one bike commuter is enjoying the new left-turn bicycle traffic signal. Image: Andrew Davidson/Twitter
A Bicycle Traffic Signal and Marked Areas for Easier Left Turns
As mentioned, this week we installed upgrades to make it safer and easier for people on bikes to turn left from northbound Embarcadero onto North Point. No longer do they have to leave the bike lane, merge left across traffic lanes and ride with vehicles – an uncomfortable (and even daunting) maneuver for most folks.
Thanks to a new bicycle traffic signal and a dedicated "waiting" area highlighted in green, people on bikes can now make the left turn more like they would on foot: First cross the intersection in one direction, turn their bike to the left, and wait in the marked area for the bicycle signal to turn green before crossing in the other direction.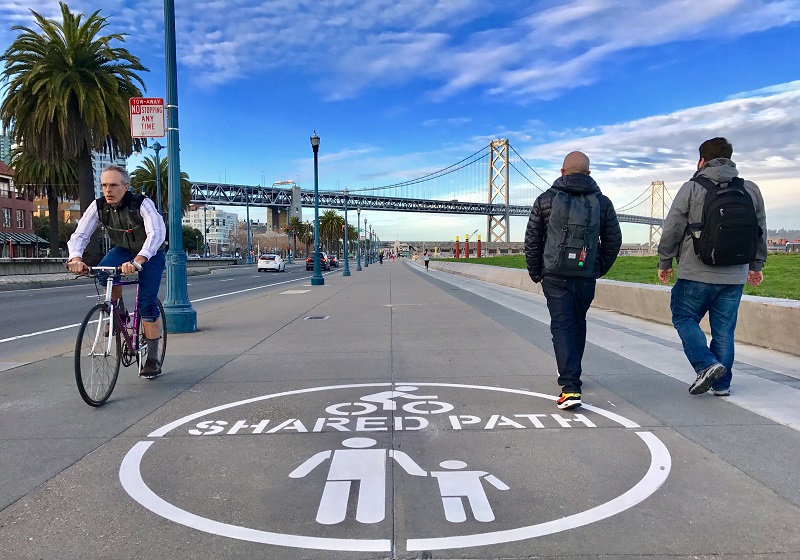 Share the Promenade: Markings to Remind People to Bike Courteously
The Embarcadero Promenade is a shared path on the waterfront side of the street where people can walk, bike, jog and skate. While it's generally peaceful, we've heard from folks walking that sharing the space isn't always as comfortable as it could be.
In February, we installed large stenciled markings on the promenade pavement to remind people to be mindful of one another – especially for people biking to ride slowly and carefully around people on foot. The messages on the markings vary between "shared pathway," "yield to pedestrians" and "ride slow."
More Embarcadero Safety Improvements Coming This Summer
Here are other biking and walking upgrades coming to The Embarcadero in the next couple of months:
The Embarcadero and King Street, between Broadway and 2nd Street
"Stop" line road markings will be moved further ahead of crosswalks to help ensure that when drivers stop at red lights, they give plenty of room to people crossing.
Traffic signals will be retimed at some intersections to provide a head start for people crossing on foot.
Bike lanes will be painted green to make people bicycling more visible and discourage double parking.
A bike lane will be added to fill in a gap on the block of southbound Embarcadero from Mission to Howard Street.
The bike lane on the block of The Embarcadero northbound between Folsom to Howard Street will run to the left of parked cars at all hours. During rush hours, the bike lane will no longer run along the curb, and curbside parking will be allowed.
This work will start on The Embarcadero at Broadway and move south towards 2nd Street.

On southbound Embarcadero at Battery Street, the bike lane and right-turn lane will be widened.
The Embarcadero, southbound at Battery Street
In response to requests, traffic lanes will be re-striped to give a bit more breathing room for everyone traveling southbound on The Embarcadero where it intersects with Battery Street.
The right-turn lane and bike lane will be widened (the other traffic lanes will be moved slightly to the left), and we'll add green-painted bike markings to highlight the bike lane in the intersection.
Using Video and Public Feedback to Evaluate Improvements
As part of our ongoing efforts to help identify the best practices for street design, we're studying the impact of these changes using video footage of traffic behaviors (before and after). We're looking at how well the changes encourage people to make safer maneuvers, how they affect speeds, and how many people ride in the bike lanes and on the Embarcadero Promenade. Later this year, we'll share our findings to get feedback from neighbors and other stakeholders.
Down the road, keep an eye out for updates on the Embarcadero Enhancement Project, our more comprehensive look at how to redesign The Embarcadero to make it work more safely and efficiently for everyone.