Irish Eyes Will Be Smiling
Wednesday, March 11, 2015
Will you be among the throngs on the streets this weekend, painting the town green and hollering Erin Go Bragh?
The parade and festival at Civic Center and downtown will be at the center of festivities all through this weekend and continuing on Tuesday, March 17.
If you are not "Gaelic-ly" inclined, there are plenty of fun, San Francisco-y options such as the Visitacion Valley Family Day & Parade on Saturday and Sunday's Off the Grid in the Presidio.
 
St. Patrick's Day Parade & Festival
Saturday, 11:30 a.m.
Downtown/Civic Center
On a day when everyone claims to be Irish, bagpipes will be blaring up Market Street as San Francisco welcomes the 164th annual St. Patrick's Day Parade. The West Coast's largest Irish-themed event will bring thousands of spectators from all parts to celebrate an event and culture deeply rooted in city history.
The St. Patrick's Day Festival will be situated in the Civic Center/U.N. Plaza for activities before, during and after the parade. Celebrate a bit of Irish history and culture with music, food, arts and crafts and more. Be sure to bring the littles ones by the petting zoo and saddle them up for a pony ride.
Due to street closures and heavy pedestrian activity, traffic around the downtown area will be heavy. Parade watchers can help ease congestion by using the Muni Metro Subway to any downtown station.
Muni service note: 2 Clement, 5 Fulton, 6 Parnassus, 8X Bayshore Express, 9 San Bruno, 10 Townsend, 12 Folsom/Pacific, 19 Polk,  21 Hayes, 27 Bryant, 30 Stockton, 31 Balboa, 38 Geary, 38L Geary Limited, 45 Union/Stockton, 71 Haight/Noriega and F Market will be affected.
 
Green Fest Block Party
Sunday, 11 a.m. to 4 p.m.
Outer Sunset
The St. Paddy's Day festivities continue with the city's newest tradition: the Green Fest Block Party at the United Irish Cultural Center. Head on out to Sloat Boulevard and 45th Avenue to catch great Irish bands, food and drinks. Plus there will be face painting and jumpy castles for the kids.
Due to street closures, pedestrian and vehicle traffic in the area may be a little heavier. If you're looking to leave the car at home you can take the 18 46th Avenue and 23 Monterey routes or the L Taraval Line.
Muni service note: The 18 46th Avenue and 23 Monterey routes may see delays near 45th Avenue.
 
"On Tap" gives you a heads up about the big events in town and what Muni routes and lines will get you to the party. Look for this feature to be posted usually on Wednesdays for a look ahead to the weekend.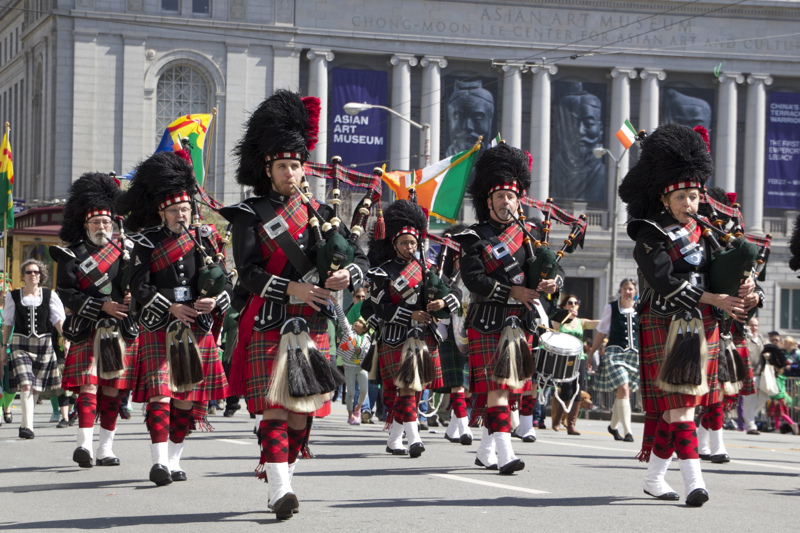 Stewart Tartan Pipe and Drums in Civic Center during St. Patrick's Day Parade, March 16, 2013. Photo Credit: David Gallagher, Flickr