Kezar Stadium: San Francisco's Pro Football Roots
Thursday, January 28, 2016
With all the hubbub and work going on around the upcoming "big game," we decided to take a look back to the comparably modest roots of pro football in San Francisco — Kezar Stadium.
If you're in town for the Super Bowl 50 festivities next week, why not take an easy bus or train ride to Golden Gate Park to see the historic stadium for yourself? Muni's 7/7R buses through the Haight-Ashbury neighborhood leave from Market and Front streets until February 12 and go right to the stadium. Or hop on the N Judah train in our subway under Market Street for a short, two-block walk to the stadium from Carl and Stanyan.
Surprisingly enough, we found a night shot of Kezar from 1949 amidst our thousands of transportation photographs. Just to note, this shot was taken to document the newly installed floodlights (aren't they bright?). PUC/Muni Head Photographer Marshall Moxom was not in the business of photographing football teams for the city.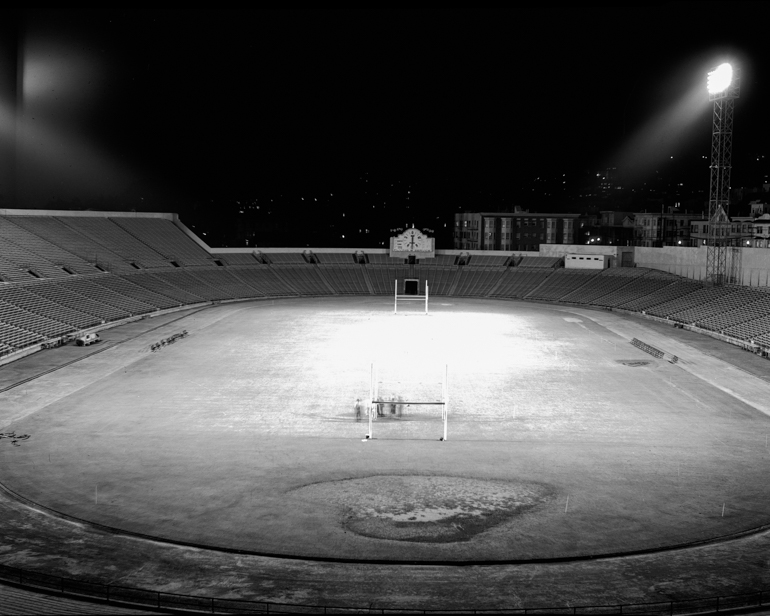 Night View of Kezar Stadium After Installation of Floodlights | August 19, 1949
Kezar Stadium was designed and built by famous San Francisco architect Willis Polk and opened in 1925 after just one year of construction. We dug up some freshly uploaded shots of the construction of the stadium from one of our favorite history organizations, Western Neighborhoods Project.
Two decades later, Kezar became the first home of the San Francisco 49ers in 1946. With nearly 60,000 seats and access via several public transit lines, the neighborhood stadium served the team and many other major games and events well. The Niners remained at Kezar for 24 years before moving on to bigger digs at Candlestick Park in 1970. While times have changed and the city's big football team no longer calls the north end of the penninsula home, San Franciscans can wax nostalgic with this gallery of SF stadiums past and present posted last year by the Chronicle.
So if you're gearing up to visit to all the festivities taking place in downtown San Francisco, take a look at the SFMTA's transportation "playbook" to ensure seamless travel to and fro. And remember, just as public transit was the best way to get to Kezar, public transit, legal taxis, and biking will be your best option for getting downtown.
For more photos from San Francisco's past, follow us on Flickr, Twitter, HistoryPin, and Instagram and check out the SFMTA Photo Archive website.