Kirkland Bus Division in Fisherman's Wharf Gets Beautified With Muni History
Muni's Kirkland bus division has a storied history with the Fisherman's Wharf district. Located near Pier 39, Kirkland is one of San Francisco's smallest and oldest bus yards — but also one of the most visible.
To add to the rich history of the area, we recently added banners along the fence around the yard that display a timeline of Muni's history and photographs from our historic archive. To see the images in order, follow the timeline along the block of Powell Street from Beach to North Point Street.

A new banner along the Kirkland bus yard at Powell and Beach streets features a timeline of Muni history.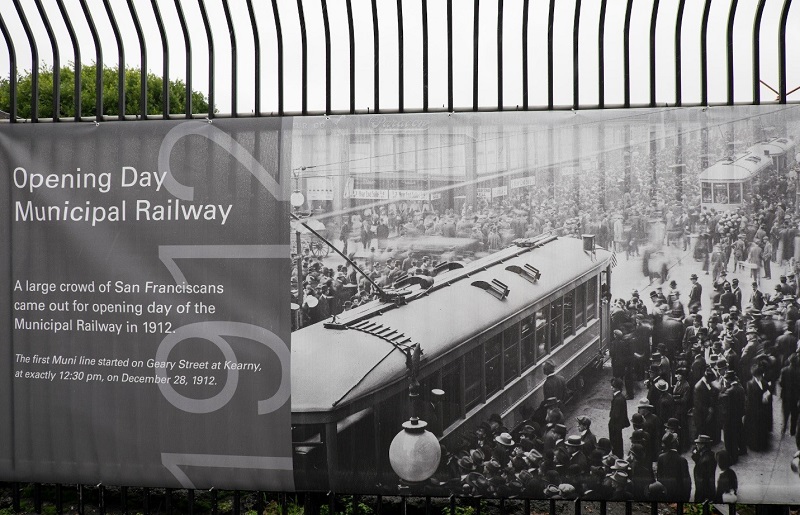 The start of the timeline of Muni's history.
This project was created as a way to beautify the streets around the bus yard with an attractive design that educates visitors and the community about Muni's past and its place in Fisherman's Wharf.
Fisherman's Wharf receives nearly 12 million visitors per year and is home to more than 180 active fishing vessels and 22 seafood distribution companies ― the largest concentration on the West Coast. To reach it, take one of our historic Muni streetcars (on the E Embarcadero or F Market & Wharves lines) or one of the cable car lines that run from Powell and Market streets to either Bay and Taylor streets or Hyde and Beach streets.

Muni's new trains.
We've received a lot of positive feedback from the community, and similar efforts are in the works to add such signs at other locations — stay tuned.
For more information on the project and visiting the Wharf, check out VisitFishermansWharf.com. You can also see more pictures in the SFMTA Photo Archive.