This Labor Day Weekend: Celebrate America's Pastime With Three Ball Games
Wednesday, August 30, 2017
Those not headed out to Burning Man can enjoy this Labor Day weekend by catching a Giants game (or three) at the ballpark.
Labor Day: Muni Service and Parking Enforcement
Muni Service: This Monday, Labor Day, Muni will operate on a Sunday schedule. The 76X Marin Headlands Express will be in service.
Parking Restrictions Enforced: Seven-day street sweeping restrictions and parking meters (including those meters on Port of San Francisco property) will be enforced.
Parking Restrictions Not Enforced: Restrictions for residential parking permit areas, Monday through Friday street sweeping and rush-hour tow-away zones will not be enforced. For more details, visit the holiday enforcement schedule webpage.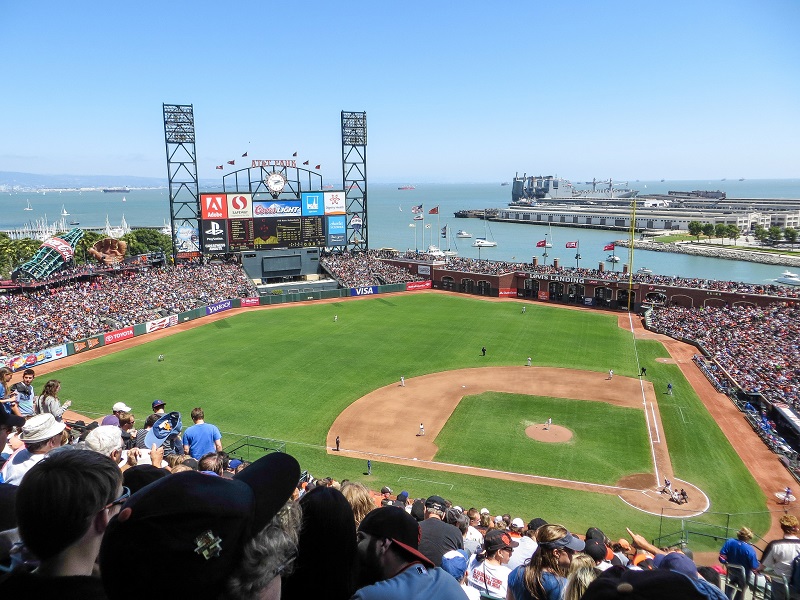 Fans take in a Giants ball game at AT&T Park on a beautiful summer day in 2013. Photo: Don Debold/Flickr
SF Giants Baseball
Friday to Sunday, various times
AT&T Park
The Giants take on the St. Louis Cardinals for a three-game home series this weekend. Friday's first pitch is scheduled for 7:15 p.m., and Saturday and Sunday's day games start at 1:05 p.m. At Sunday's game, the first 20,000 fans through the gates will receive a free Giants-themed miniature cable car replica.
How To Get There on Muni: The E Embarcadero, K Ingleside / T Third and N Judah lines as well as the 8 Bayshore, 10 Townsend, 30 Stockton, 45 Union/Stockton and 47 Van Ness routes will take you close to the ballpark.
Muni Service Note: The E, K/T, N, 8, 10, 30, 45 and 47 may see delays and crowding due to increased ridership.
Heads-Up: N Judah Bus Substitutions
For five weekends starting in September, N Judah rail service will be substituted by bus shuttles between Ocean Beach and Duboce & Church for construction on the Inner Sunset Streetscape Improvement Project. N trains will continue to run in the Muni Metro Subway to Caltrain during these times. For details, check out our service alert page.
Reminder: J Church Stop Changes at Balboa Park
Due to construction for the Balboa Park Station Area and Plaza Improvement Project, the J Church Line will continue to serve alternate stops on San Jose Avenue until the fall.
For details, please visit our Green Light Rail Center Track Replacement Project page.
"On Tap" gives you a heads up about the big events in town and what Muni routes and lines will get you to the party. Look for this feature to be posted usually on Wednesdays for a look ahead to the weekend. Check out our Weekend Traffic & Transit Advisory for more details.