Labor Day Weekend: Dancing in the Fillmore, Cats Take Over Dolores Park and SF Giants Baseball
Wednesday, August 29, 2018
Labor Day Service Reminder: Monday, September 3rd is Labor Day and Muni will operate a Sunday schedule at all divisions for that day.
Check out our Holiday Parking Enforcement Schedule for information regarding parking meters, permits and general parking enforcement policy for Labor Day.
Events: Kick off the Labor Day weekend with some salsa dancing in the Fillmore, head over to Dolores Park with your feline friend for First Caturday, take in a Giants game as they take on the New York Mets, or simply grill up your favorite meats or veggies and have a backyard party with friends. No matter what you opt for, there's rarely a bad way to spend a long holiday weekend. Read more about our featured events below.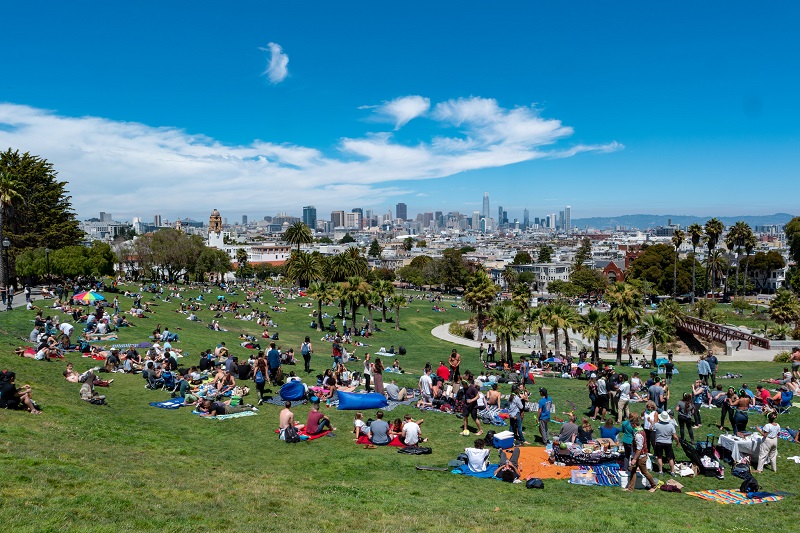 Imagine all of these people are cats. Then imagine you are there with all those cats this weekend. That basically sums up Caturdays at Dolores Park. (Photo: Paul.Wasneski/Flickr)
Salsa Festival in the Fillmore
Friday and Saturday, 6 to 10 PM
Fillmore
Dance the night away this Friday and Saturday in the Fillmore when the 9th annual Salsa Festival returns to the Fillmore Center Plaza on Fillmore and O'Farrell streets. This free event is open to the public and fun for all ages. There will be dance instruction in salsa, bachata and merengue for the first hour each night where even first-time dancers can learn the basics to enjoy the evening. If dancing isn't your forte but you still enjoy the spectacle, there's plenty of enjoyment to be had as a spectator of the dance area while taking in the live music experience.
---
How to Get There on Muni: Dance enthusiasts may take the 22 Fillmore, 31 Balboa, 38 Geary or 38R Geary Rapid routes to near the event.
Muni Service Notes: There are no planned service changes for this event. Increased ridership is possible on routes to and from the event and minor delays may be possible due to increased pedestrian activity in the area of the event.
First Caturdays at Dolores Park
Saturday, 1:30 to 4:30 PM
Dolores Park
Sure, cats may seem to revel in lounging around inside our homes, but deep inside they all yearn for some wide open, outdoor space in which to lounge. Whether your cat is a leash-walker, a stroller baby or simply too shy to leave their pet carrier, this monthly event on the first Saturday of the month gives your kitty a chance to take in some fresh air, new sights and sounds, and the opportunity to mingle and make some new friends. 
How to Get There on Muni: Feline fans should utilize the J Church Muni Metro Line or the 33 Ashbury/18th Street Route to Dolores Park.
Muni Service Note: There are no planned service changes for this event. Increased ridership is possible on routes to and from the event and more cat sightings are also likely.
"On Tap" gives you a heads up about the big events in town and what Muni routes and lines will get you to the party. Look for this feature to be posted usually on Thursdays for a look ahead to the weekend. Check out our Weekend Traffic & Transit Advisory for more details.