Last Chance - 2022 Muni Service Network Survey Closes October 1, 2021
Wednesday, September 29, 2021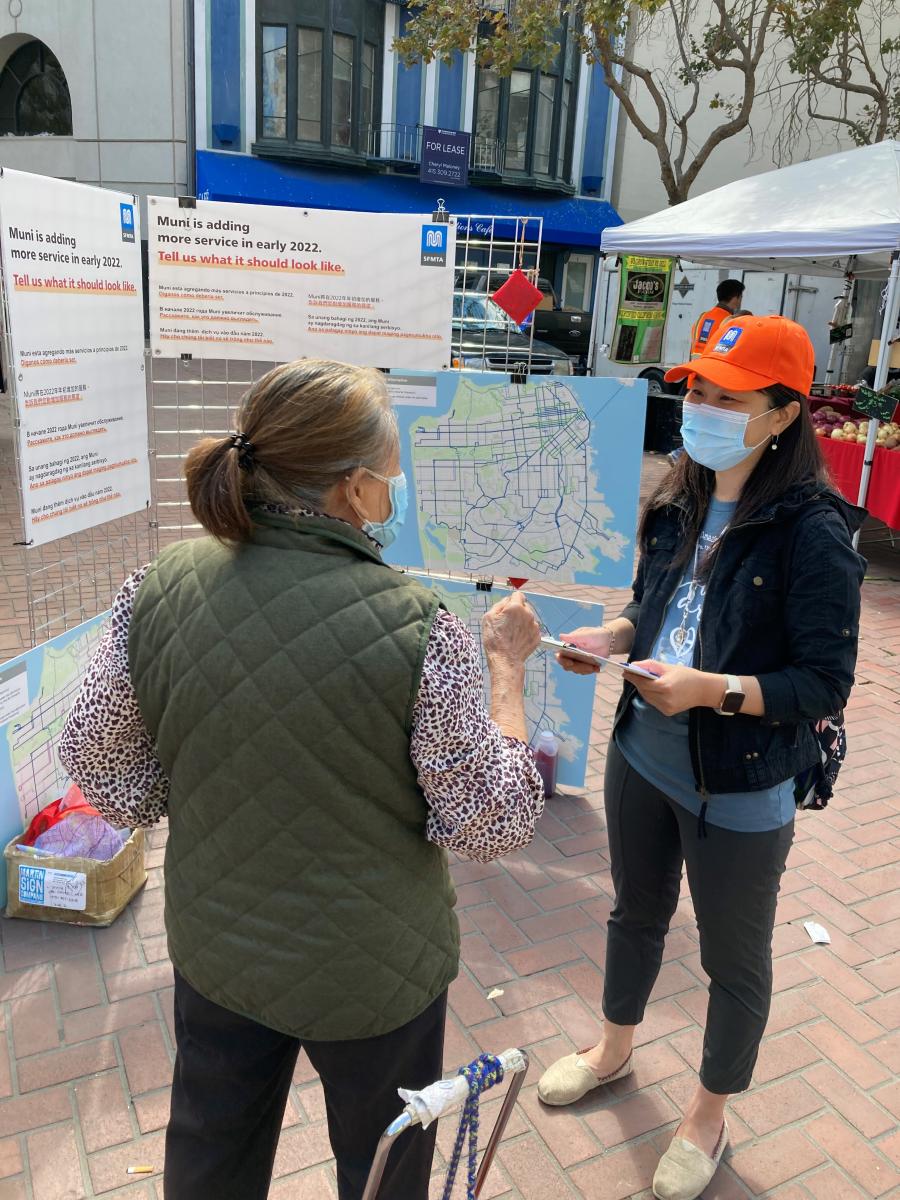 SFMTA staff talks with customer about 2022 Muni service options at farmer's market pop-up event.
The SFMTA recently introduced three options for increasing Muni service in early 2022. We launched efforts to get community input on them, including a brief survey that closes Friday, October 1. If you haven't taken the survey yet, there are still a few days left! You can find the survey link on on our 2022 Muni Service Network webpage.
We've received more than 4,000 survey responses so far and a few hundred calls to our hotline and feedback to our TellMuni@SFMTA.com email. You can also provide feedback on the shortened J Church route and changes to the 23 Monterey, 57 Parkmerced, 35 Eureka and 48 Quintara/24th Street by contacting TellMuni@SFMTA.com or 415.646.2005.
All three alternatives to increase Muni bus service in early 2022 have the same amount of total bus service – they're just arranged differently. The "Familiar" alternative uses available resources to bring back the seven all-day Muni bus lines that have yet to restored since the pandemic began. The "Frequent" alternative instead uses the available resources to reduce wait times and crowding on Muni's highest ridership lines (and does not restore those seven all-day bus lines). The "Hybrid" alternative aims to balance more routes and more frequency.
We've talked with over 30 stakeholder groups, a couple hundred attendees at our virtual meetings and several hundred more community members at tabling events and pop-ups in neighborhoods throughout the city.
Once our survey closes this Friday, our transit planners will use the input, paired with data that shows which lines are being used most and where ridership is highest, to develop a single proposal for increasing Muni service in early 2022. The proposal is expected to be ready in mid-October. We will also share details about how the survey results and other public feedback influenced the proposal.
After we release our proposal for early 2022 Muni service additions and changes, we will seek public feedback and refine the proposal in October and November. You will also have a chance to give input at upcoming open houses and office hours, by contacting TellMuni@SFMTA.com or 415.646.2005 and by taking our proposal survey in October.
The proposal for Muni service in early 2022 will be brought to the SFMTA Board for its consideration in December.