J Church Transfer Improvements
Project Introduction
Not included in this project is any decision about the J Church surface route
, in effect since December 2020. For background about the surface route, and to provide feedback, please visit the
J Church Surface Route page
.
Improving J Church Service
The J Church, which was suspended along with all other Muni Metro lines at the beginning of the COVID-19 pandemic, returned on December 19, 2020 as a surface-only route. As rail service was restored following its temporary suspension, the J Church was chosen to remain out of the Muni Metro subway because of surface-level route constraints which limit the line to one car trains. By turning back the J Church before it enters the subway we ensure that two-car trains are able to maximize the capacity of our subway system. In addition, traveling a shorter surface route saves travel time for the J Church, allowing for increased frequency and capacity.
To assist Muni customers transferring between the J Church and Market Street transportation we implemented temporary transfer improvements on Church Street from 15th Street to Duboce Avenue. These allow passengers to travel from Balboa Park to the Church Street platform just south of Duboce Avenue. At that location, trains then reverse out of the platform, cross over to the west side of Church Street, and then proceed on the return trip to Noe Valley. These temporary emergency changes were authorized by the SFMTA Board in June of 2020, following outreach to the community and to local merchants on the corridor.
Local traffic on both the 100 block and 200 block of Church Street has remained open at all times for delivery services, commercial loading, resident access and other vehicles. Through traffic was prohibited on Church Street southbound (and initially northbound) across Market Street. The northbound travel lane on Church Street across Market Street was re-opened in July 2021 after its closure was no longer needed as a part of the citywide Shared Spaces program.
Accessibility and Safety Improvements 
The platform on the east side of Church Street south of Duboce Avenue now serves as the final inbound stop for the temporary J Church surface-only route. To support this:
(1) a new temporary accessible platform was added to the boarding island on Church Street south of Duboce Avenue next to Safeway
(2) a new temporary boarding zone and accessible platform were added on Church Street south of Market to serve as an outbound stop (replacing the stop north of Market Street, which is not wheelchair-accessible)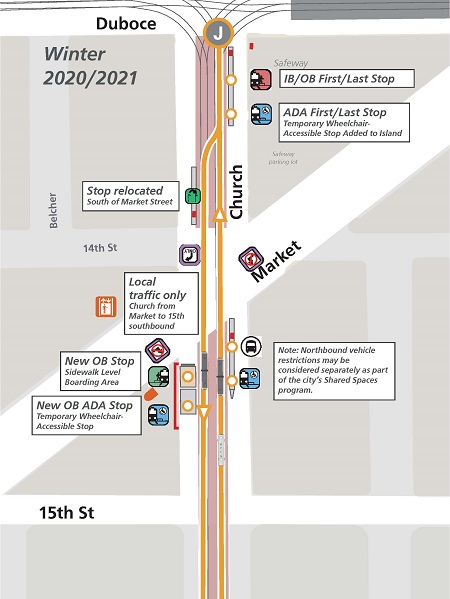 Safety and accessibility highlights 
Initial Community Meeting and Public Comment
The J Transfer Improvements project held a public hearing in July 2020. A recording of that meeting is available on this web page. All comments were reviewed by project staff and entered into the public record. These changes were then authorized by order of the City Traffic Engineer and reviewed at the SFMTA Board of Directors Meeting on September 15th, 2020. 
The implementation of this project was modified from our initial plan, based on feedback we received from the public.  
Long-term Planning
Since its inception, community-based organizations, merchants, stakeholders and neighbors have been involved in shaping the design of the new transfer point. Based on public feedback and ongoing, on-the-ground data monitoring of the transfer zone changes, we have made adjustments to our operations in order to meet the needs of the community and Muni customers.
The transit zone was authorized under the Mayor's emergency order and is subject to removal once it is lifted unless a permanent design is presented for public input and further official approvals. 
Once the subway re-opened in May 2021, we began evaluating the design and operation of this temporary emergency project. We conducted a public survey about the accessibility changes, which ran from July 6-August 15, 2021, in addition to reaching out to merchants in the project area. We also analyzed travel time data and other performance metrics. Both the qualitative and quantitative data we collected in the summer of 2021 will be used to inform our proposal for a permanent design, which will be presented to the public in Fall 2021.  
We want your feedback
If you would like to stay informed of upcoming plans, please sign up to receive project updates. You may also provide feedback by contacting us the information listed below
Bus Routes and Rail Lines