Look Out for Bigger, Three-Slotted Bike Racks on Muni Buses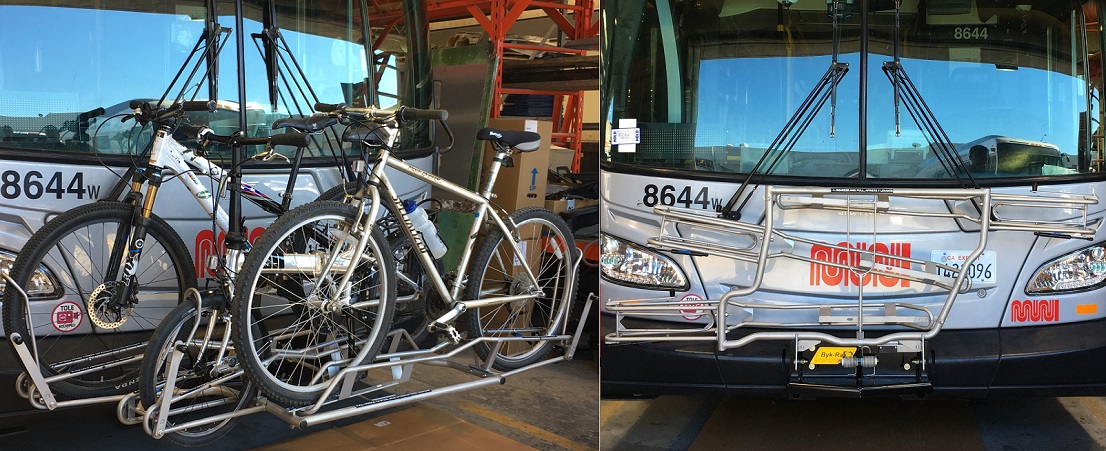 During a two-month trial, two Muni buses will carry these bigger bike racks that can hold a third bicycle.
Combining bikes and Muni is a popular, efficient way to get around – especially if you're traveling longer distances or up one of San Francisco's notoriously steep hills. It's so popular, in fact, that once your bus arrives, both slots on its bike rack might be full at times.
Starting today, we're testing out a new, bigger type of bike rack that can hold a third bicycle on the front of a Muni bus. For the next two months, two test buses will carry these three-slotted bike racks on five Muni routes that see a lot of bike-toting passengers: the 7 Haight/Noriega, 25 Treasure Island, 29 Sunset, 44 O'Shaughnessy and 48 Quintara/24th Street.
If the trial is a success, we may install more of these racks to replace the two-slotted bike racks attached to the front of every Muni bus.
If this all sounds familiar, it's because we conducted a similar trial in 2015 using a different model of three-slotted bike racks. The new model, manufactured by BykRak, meets the state's size requirements for standard-length (40-foot) buses. We're also pursuing state approval to potentially install them on our longer (60-foot) buses.
How to Use Three-Slotted Bike Racks on a Muni Bus
If you spot one of these three-slotted bike racks on a Muni bus, using them is mostly the same as using our two-slotted racks. Here are the steps.
Lower the rack: If the rack is folded up, pull the handle at the top of the rack to release and lower it.
Place your bike in a rack slot: The front wheel should face the direction indicated on the slot.
Secure the front wheel: Crank the handle below until the securement covers the top of the wheel.
To remove your bike and fold the rack up when it's empty, simply follow these directions in reverse. When lifting the empty rack to fold it up, make sure to push it towards the bus until it clicks in place.
There are two main differences from the two-slotted bike racks:
New securement for the bike wheel: The bike's front wheel is secured by cranking a handle instead of pulling a spring bar.
Bikes face different directions: Bikes placed in the two slots closest to the bus should face the same direction (left, if you're facing the bus). The third bike should face the opposite direction (right). Don't worry – the correct directions are indicated on each slot.