Muni Art Finalists Announced - Vote for Your Favorites
Now's your chance to vote for the next generation of art you want to see on Muni.
The top ten finalists for Muni Art 2017 have been announced. Five winning local artists will have their work displayed inside 100 Muni buses next year. This collaboration will bring San Francisco's picturesque scenes inside our buses, enhancing the trips for Muni riders citywide. You can view examples of the ten artists' work and vote for your favorites until Aug. 29.

Art from one of last year's winners. Photo: SF Beautiful
The ten finalists for Muni Art 2017 are:
Marianne Bland
Counterpoint Studio (Peter Tonningsen and Lisa Levine)
DrawBridge: An Arts Program for Homeless Children
Amos Goldbaum
Ryan Hungerford
Todd Kurnat
Luis Pinto
Lillian Shanahan
Monica Tiulescu
Jon Wessel
These exceptional Bay Area artists, whose designs captured the theme of "San Francisco Neighborhoods," earned the chance to have their designs featured on the interior of Muni buses. The artist who receives the most public votes will also be awarded $2,000. The other four will be awarded $1,250. Now, it's up to you to select which five will be the winners.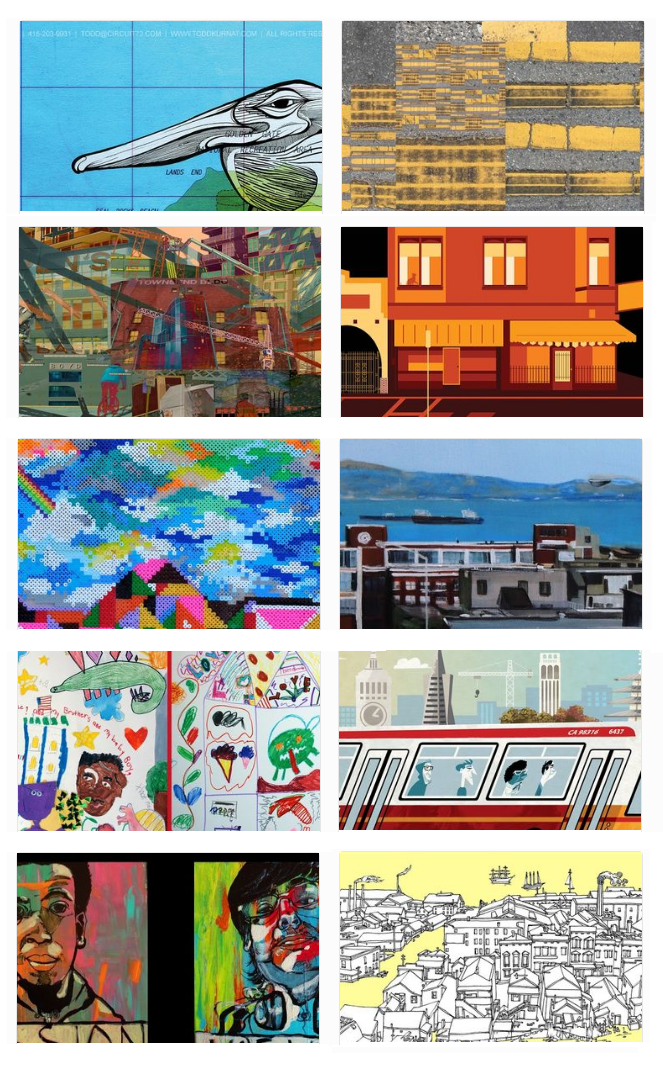 Check out the finalists' work at sfbeautiful.org/muniart.
The finalists were handpicked out of more than 60 applicants by a jury comprised of members of the Bay Area arts community. The selection was based on quality of concept, expression of theme, diversity and the likelihood that the artist will be able to deliver the required eight panels of original work by Oct. 14.
Muni Art, now in its second year, is a partnership between the SFMTA and San Francisco Beautiful that promotes local artists by transforming Muni buses into rolling art galleries. This year, twice as many buses will be graced by the program.
With new Muni buses on the streets – and more on the way – we're providing local artists access to these unique public spaces as a canvas, while engaging the community and beautifying our city.
Muni Art is funded in part by the Community Challenge Grant program, which fosters neighborhood beautification projects throughout San Francisco.
This year, San Francisco Beautiful is working with us to offer an additional sponsorship opportunity. Details are available at sfbeautiful.org/muniart.
Do your part and vote for art! The poll closes Monday, Aug. 29 at 6 p.m.