Muni Heritage Weekend Brings History Alive
Tuesday, September 19, 2023
Take a ride back in time and explore transit history at Muni Heritage Weekend this Saturday and Sunday, September 23-24 from 10 a.m. to 4 p.m. This years' festivities combine free rides on heritage buses and streetcars, with special cable car service and activities to celebrate the 150th Anniversary of the cable cars. The action will come together in the plaza across from the San Francisco Railway Museum on Steuart Street between Market and Mission Streets. 
Vintage Bus Rides 
Pulling out for the weekend will be several vintage trolleys and motor buses that will run on two new, never-before offered excursion loops. Trolley coach buffs will get a chance to ride on three different buses running a special Cable Car 150th Anniversary commemoration route over Nob Hill. This route follows in the footsteps of San Francisco's very first cable car line from 1873. 
Four motor buses from 20 to 85 years old will drive along the stunning Embarcadero to 4th and Townsend Streets. On Saturday, this route will allow Muni Heritage attendees to check out the latest in locomotive technology as Caltrain unveils its brand new all-electric train.  RSVP is required to tour the train, so be sure to sign up! 
Rare Historic Streetcars 
Rolling out on the rail side will be favorites like the Boat Car and Muni's Streetcar 1, as well as cars from around the world. Special heritage streetcars will run a loop along the Embarcadero from Don Chee Way to Pier 39 and back, giving riders plenty of opportunity to take in the views and fresh air.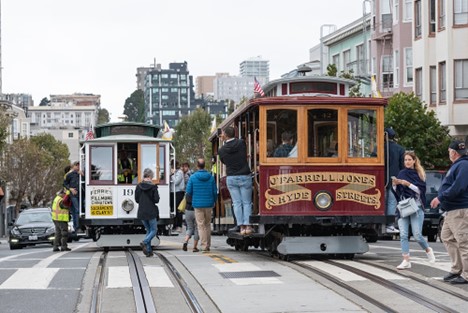 One-of-a-Kind Cable Cars 
In celebration of the 150th Anniversary of our cable cars, event attendees will have the opportunity to ride two unique cars on the California Street line. Not seen in regular service, O'Farrell, Jones & Hyde Cable Car 42 and Sacramento-Clay Cable Car 19 will be out on both Saturday and Sunday. Riders this year can purchase a specially discounted $5 all-day on-off pass for the California Line to experience these outstanding relics from our past.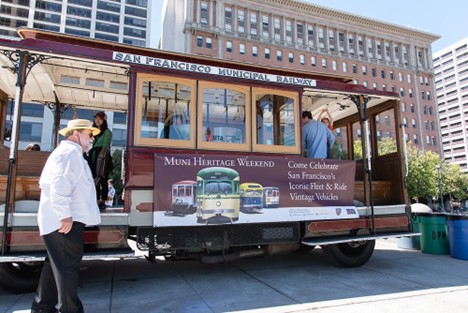 Activities and Displays 
If all that wasn't enough, the plaza at the museum will showcase more historic vehicles and host activities for kids of all ages. 
At the end of each day there will be a guided tour of the "Innovation to Icon: 150 Years of Cable Cars" exhibit at the San Francisco Public Library main branch. Those interested should plan to be in the plaza around 3:45pm for a trip down Market to the Library. 
Also on the docket for the weekend are two excellent walking tours led by SF City Guides on the cable cars.  These tours meet just a short cable car ride away from the Muni Heritage action at the top of Nob Hill. Tours are free but space is limited, so RSVP in advance. 
For more information, visit our Muni Heritage Weekend page (SFMTA.com/MuniHeritage)