Muni Heritage Weekend 2023
Saturday, September 23, 2023 - 10:00am

to

Sunday, September 24, 2023 - 4:00pm
77 Steuart Street, between Market Street and Mission Street
Muni Heritage Weekend - Join us for a Journey Through Time!
Event Details: September 23 - 24
Time: 10 a.m. - 4 p.m.
Location: San Francisco Railway Museum, 77 Steuart Street between Market Street and Mission Street
Welcome to the Muni Heritage Weekend, an event that invites you to experience the rich history of San Francisco's transit system! This year, we're excited to bring back this beloved tradition as a two-day show on September 23 and 24, from 10 a.m. to 4 p.m.
What to Expect: Step into the past for free rides aboard unique vintage transit vehicles rarely seen on the modern streets of San Francisco. The festivities will unfold near the San Francisco Railway Museum, conveniently located near the Ferry Building and Embarcadero Plaza.  All vintage buses and special excursion streetcars depart for round trip rides from the plaza directly across from the museum.
Highlights:
Enjoy rides on historic streetcars, buses, and cable cars.
Explore fascinating exhibits featuring stationary vintage vehicles on the outdoor plaza.
Kids coloring and games for all ages.
Gain free entry to the SF Railway Museum and discover the captivating history of San Francisco's transit or pick up a special transit souvenir.
Join a guided tour of the "Innovation to Icon: 150 Years of Cable Cars" exhibit at the Main Public Library. Details below.
Sign up in advance for a cable car walking tour hosted by SF City Guides.
Saturday only- see Caltrain's new electric train at the 4th and King Station from 10-2pm. RSVP required to tour train.
Muni Heritage Route Map
This year, trolley buses will follow a commemorative route for the 150th Anniversary of San Francisco's first cable car line in 1873.  Motor Buses will travel along the Embarcadero for stunning views of the Bay.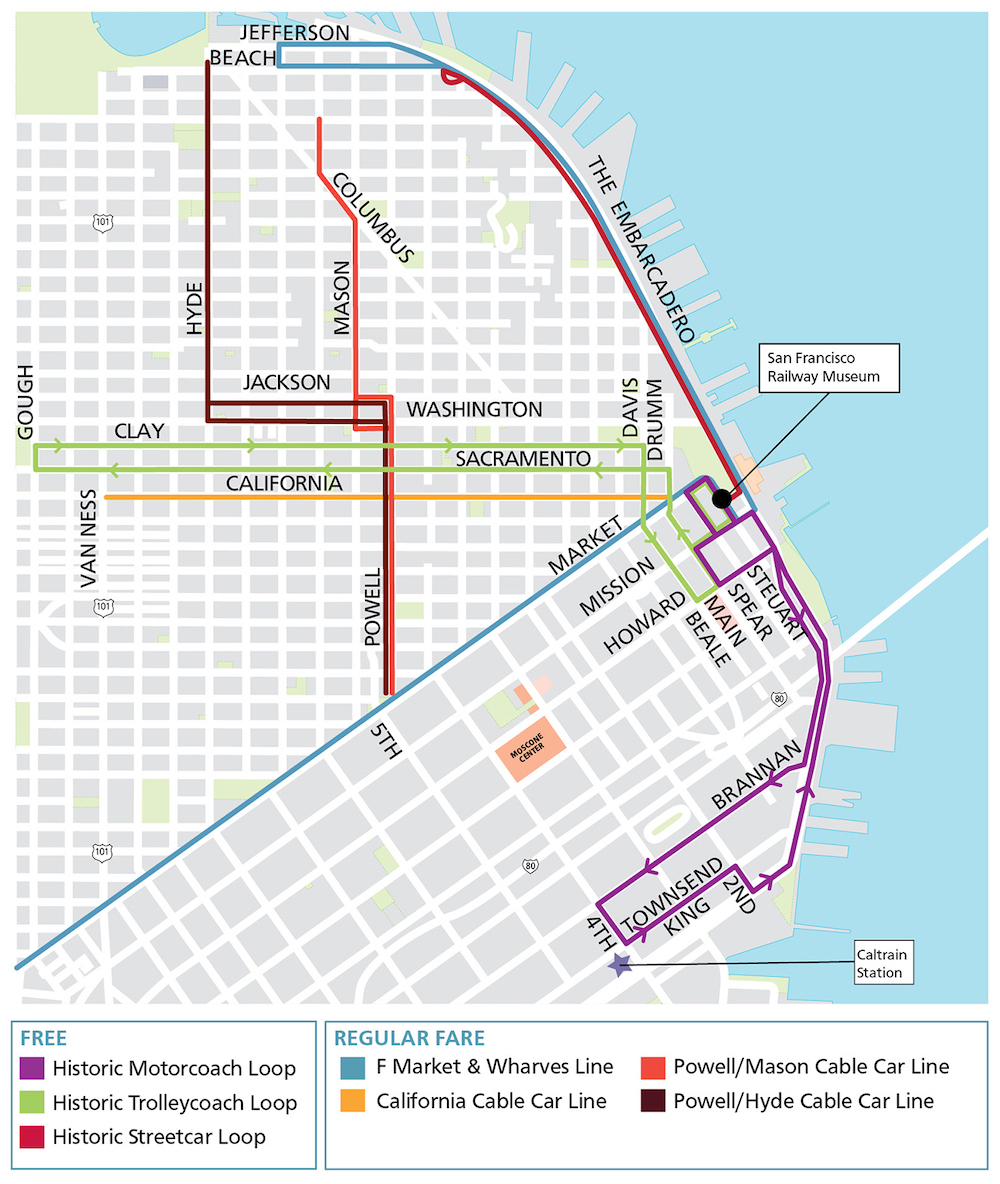 Celebrate 150 Years of Cable Cars
Join us in celebrating the remarkable legacy of cable cars from May through October. Step aboard the "Ghost" cable cars Sacramento-Clay "Big 19" and O'Farrell, Jones & Hyde 42, which once graced the city's streets and will be making a special appearance during Muni Heritage Weekend. Both cars will run on the California Street Line, boarding just one block away from the main event at California and Drumm Streets. For the best deal on cable car rides, purchase passes on MuniMobile.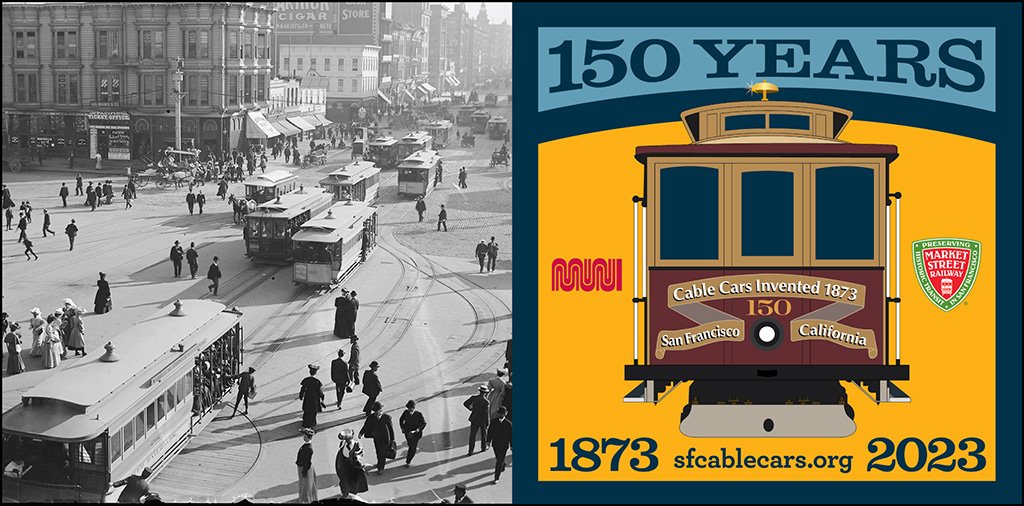 For an in-depth dive into cable car history, we're offering a special guided tour of the "Innovation to Icon: 150 Years of Cable Cars" exhibit at the San Francisco Public Library Main Branch. Those interested in the tour should meet near the bus boarding area on the plaza around 3:30pm. One of the vintage buses will take attendees on a one-way trip to the SFPL Main Branch on Larkin Street to view the exhibit inside the library.
Visit our dedicated website for more exciting events for 150 years of cable cars.
Plan Your Visit: Get ready for an unforgettable journey through time at the ninth annual Muni Heritage Weekend, brought to you by the SFMTA and our nonprofit partner, the Market Street Railway. We look forward to your arrival at the San Francisco Railway Museum at Steuart Street and Don Chee Way. Any Muni Metro line, the F Market and Wharves streetcars, 2 Clement, 5 Fulton, 6 Haight/Parnassus, 7 Haight/Noriega, 9 San Bruno, 14 Mission/14R Mission Rapid and 38 Geary/38R Geary Rapid routes will get you close to the event. For more Muni options, use our trip planner.
Don't miss this incredible opportunity to relive history and immerse yourself in the captivating world of San Francisco's transit heritage. We can't wait to welcome you!