Muni Service Changes Starting June 13
Beginning Saturday, June 13, the SFMTA will increase Muni service and frequency, add select routes into service and extend some current routes to continue to support essential trips. A key goal of these service increases is to support the community's economic recovery by providing more connections to neighborhood commercial districts as businesses begin to reopen. We are also adding more frequent service on targeted routes to help address crowding and improve onboard physical distancing.
These service changes will improve transit access through Chinatown, SoMa and the Excelsior neighborhoods, identified by the Muni's Service Equity Strategy as neighborhoods that rely on transit service the most based on the percentage of households with low incomes, private vehicle ownership and race and ethnicity demographics.
Although Muni continues to be for essential trips only, many people have no choice but to use transit to return to work or perform essential trips. We must do everything we can to protect our operators and these customers from risk. We are able to deliver these changes to Muni's COVID-19 Core Service Network through expanded staffing availability and enhanced bus cleaning programs. We also rolled out a successful training program to certify more of our available operators to operate 60-foot vehicles, allowing us to put more of these larger vehicles into service. We will continue to expand this program as operator availability increases.
Below are details of the service changes starting Saturday, June 13:
N Judah Bus
On weekdays, 60-foot buses will be replacing 40-foot buses for the N Judah Bus, allowing more room for passengers to maintain physical distance on board and reduce crowding.

Daily frequency will remain at 10 minutes or better.
5 Fulton
Service will be extended west to Ocean Beach to include the full route between Downtown and La Playa and will serve all local stops.

By extending service to include the full route, we are addressing a customer priority and providing connections to additional grocery stores and essential businesses in the Outer Richmond.

Daily frequency will remain at 10-20 minutes.
7 Noriega Community Shuttle
Service to a portion of the 7 Noriega line will return as a shortened, Community Shuttle route between Ocean Beach and Inner Sunset (Funston & Irving) in order to better connect Sunset residents to commercial districts on Noriega, grocery stores and other essential services.

The route will also

provide connections to the N Bus (transfer at Judah) and the 28 19th Avenue (transfer at Lincoln).

Daily frequency will be approximately every 20 minutes.
28 19th Avenue
Service will be extended north to California and 7th Avenue in order to provide connections to the 1 California and 38 Geary and establish a terminal location for operators.

Access to transfer points will help connect essential workers to UCSF, Kaiser and the California Pacific Medical Center.

Frequency will remain at approximately every 20 minutes, weekdays only.
30 Stockton
This route will be restored in full to expand service in Chinatown and SoMa and provide access to commercial districts in the Marina. This additional service will also help alleviate crowding and support physical distancing on the 8 Bayshore line.

The 30 Stockton is one of our customers' top priorities for expanded service.

Daily frequency will be every 10-20 minutes 

on 40-foot buses.
38 Geary
In response to customer feedback, the 38 Geary will begin using a modified route to Geary at 32nd Avenue instead of 48th Avenue at Point Lobos.

From approximately 6:00 a.m. to 9:00 p.m. daily, the outbound 38 Geary will go to Fort Miley Hospital. At Fort Miley, buses will drop off and pick up customers, but will only be dropping off customers between the hospital and the Geary at 32nd Avenue terminal. 

For daytime service between 6:00 a.m. to 9:00 p.m. to Downtown, please board the 38R Geary Rapid at inbound stops on Geary between 42nd and 33rd avenues. Board the 38 Geary at the Geary & 32nd Avenue terminal for local service.
43 Masonic
In response to feedback from Muni customers identifying the 43 Masonic as a priority, the 43 Masonic will provide a modified route between the Crocker-Amazon and Excelsior neighborhoods, and Masonic and Geary.

This route connects to hospitals, including UCSF, St. Mary's, Kaiser, California Pacific Medical Center and Laguna Honda, as well as grocery stores and other essential businesses.

Daily frequency will be every 10-20 minutes.
Improving Frequency
Weekday service frequencies will improve by 1-2 minutes on the following lines to help address crowding and allow for better physical distancing:




L Bus

T Bus

14R Mission Rapid

The L Owl service frequency will operate approximately every 20 minutes from 10:00 pm to 5:00 a.m., improving service frequency 10 minutes for both weekday and weekend service.
Service changes are responsive to operator, facilities and cleaning staff availability, ridership data and customer input. We are focused on serving areas and connecting customers to essential businesses that are high priorities for our customers.
Map of Core Service that will be in effect as of Saturday, June 13: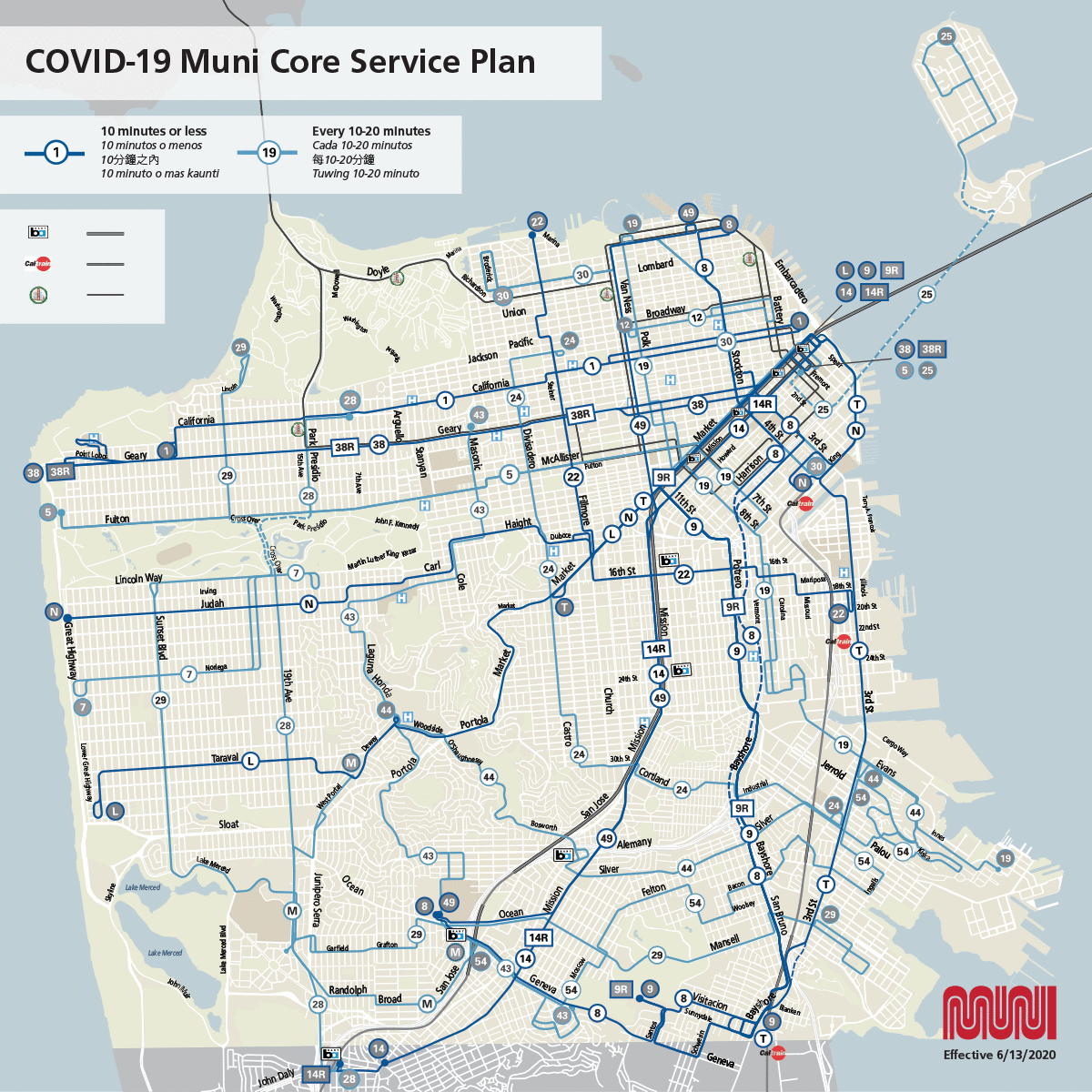 Access a larger map of service in effect June 13 that also displays regional transit connections and can be downloaded.
The modified COVID-19 Core Service Plan  supports essential trips that cannot be made in other ways. All San Franciscans are helping us maintain adequate space on buses for physical distancing by continuing to stay at home except for essential trips. If you need to make an essential trip, please use an alternate form of transportation whenever possible – walking, biking or driving – to save a seat on Muni for those who don't have other options.   By having buses arrive more frequently on routes experiencing higher passenger volumes and by running larger buses on the N Bus, we can provide customers more room to physically distance on Muni.
If you do need to travel on Muni, give yourself extra time. You may need to wait longer for a bus with available space and avoid riding buses that are half full or more for physical distancing.
Please continue to choose alternatives to Muni such as walking and bicycling whenever possible. When you must use Muni for your essential trips, please allow space to physically distance
Masks or face coverings are required on Muni. To avoid getting passed up, cover your nose and mouth with a mask or other facial covering and give the operator a friendly wave to be sure they see you. Remember, your trip may now include transfers and a longer walk, and your fare is good for two hours across multiple buses. 
Visit SFMTA.com/COVID-19 for the latest information about Muni routes in service or to explore alternate ways to get around the city.