Thursday, October 15, 2015
Next Wednesday, October 21, marks the 87th anniversary of the opening of the N Judah! Just in time for this anniversary we're sharing  some recently scanned photos of the massive celebration held to dedicate the line.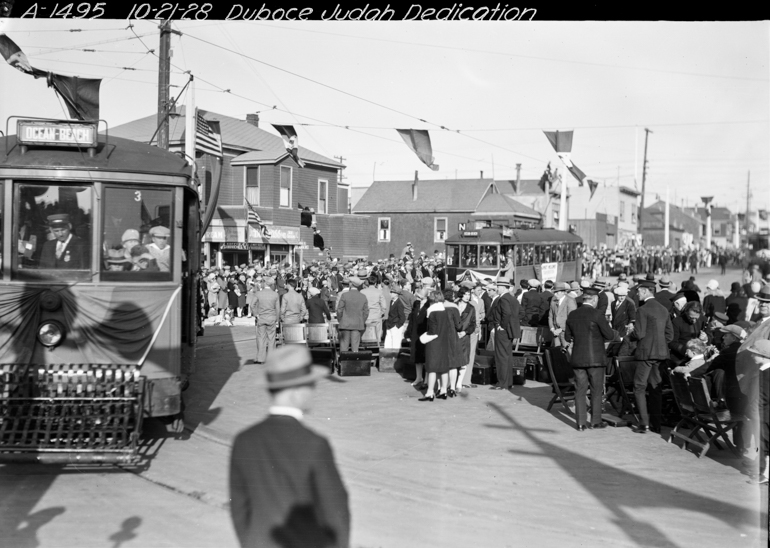 Crowd with N Line Streetcars for the Dedication of the N Judah Line | October 21, 1928
Proposed perhaps as early as 1906 and built between 1926 and 1928, the Sunset Tunnel and accompanying N Line was a boon to residents in the growing Sunset District, who were in desperate need of more public transit. Once completed, the tunnel and N Judah streetcar line was opened on Sunday, October 21, 1928 to crowds of thousands of people with a special streetcar parade led by then Mayor James ("Sunny Jim") Rolph.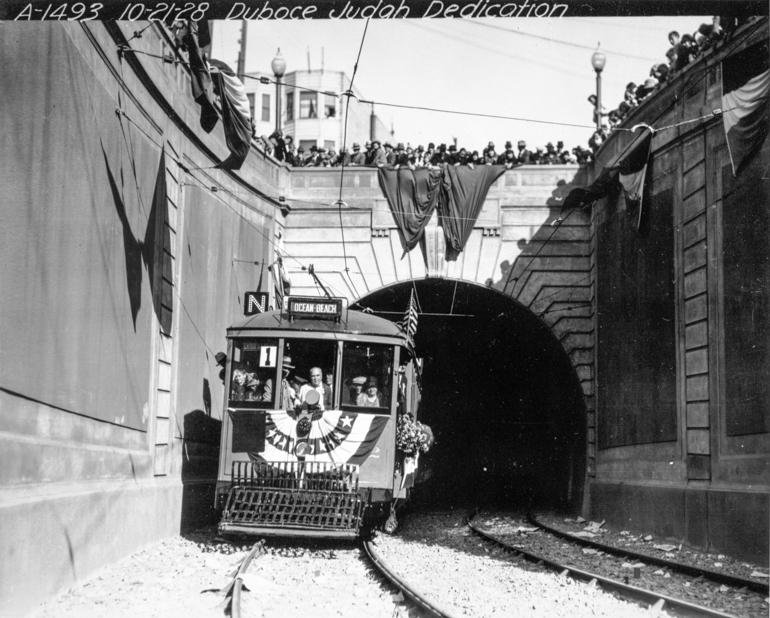 Mayor "Sunny Jim" Rolph Piloting Streetcar out of Sunset Tunnel on Opening Day | October 21, 1928
Mayor Rolph piloted a Muni streetcar on an hour and a half long tour from Duboce Ave to the Ferries and then back all the way to the end of the line on Judah and La Playa. Along the way, it's reported that the mayor stopped several times to address crowds along the way, posing for photos like this one taken at the western portal near Carl and Cole Streets.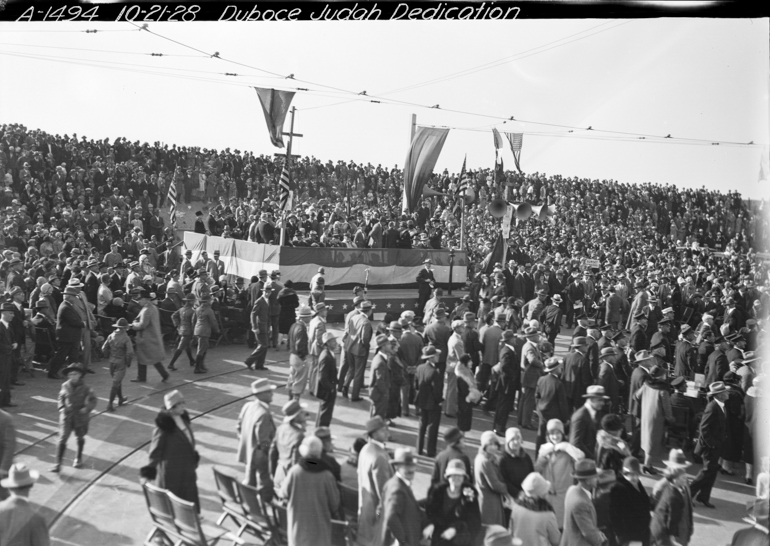 Crowd Surrounding Pavilion for the Dedication of the N Judah Line | October 21, 1928
The ride ended at a stage set up by the Pacific Ocean where city officials gave speeches and the Municipal Band and Municipal Railway band (yup, Muni had it's own band at that time!) played for the throngs. Even an airplane flow from the city's first public airport buzzed overhead dropping congratulatory leaflets on the crowd.
While Muni won't be partying like it's 1928 for the N's birthday this year, these photos, which are now scanned and preserved in cold storage are a birthday present of sorts. We hope you enjoy them as much as we do, despite the troubles the N has had this week. At 87 years old and countless trips to the beach and back, the N Judah is as vital to Sunset District residents as it was on day one and Muni is constantly working to anticipate and prevent problems and make improvements before they turn into delays, which are costly and frustrating to everyone involved.  So here's to many more years of service and millions of miles across San Francisco!
Be sure to check out more historic photos on our SFMTA Photo Archive website and watch for even more photo posts on Flickr, Twitter, HistoryPin, and Instagram!