A New Permit and Pilot Program for San Francisco's Scooters
At the tail end of March, three companies -- Bird, Lime and Spin -- unloaded hundreds of motorized scooters across San Francisco. Their seemingly overnight launch and now ubiquitous presence led to considerable community debate and media attention; all of which has been hard to miss.
The app-accessed scooters could be seen as either as a solution or a problem. On one hand, they can provide people with a convenient option to get around the city without contributing to congestion, even increasing access to public transit. On the other, illegal sidewalk riding and scooters scattered across our sidewalks can pose a threat to public safety and the accessibility of our shared spaces.
Regardless where you sit in the debate, I think we can all agree that San Francisco needs to make sense of this two-wheeled transportation situation.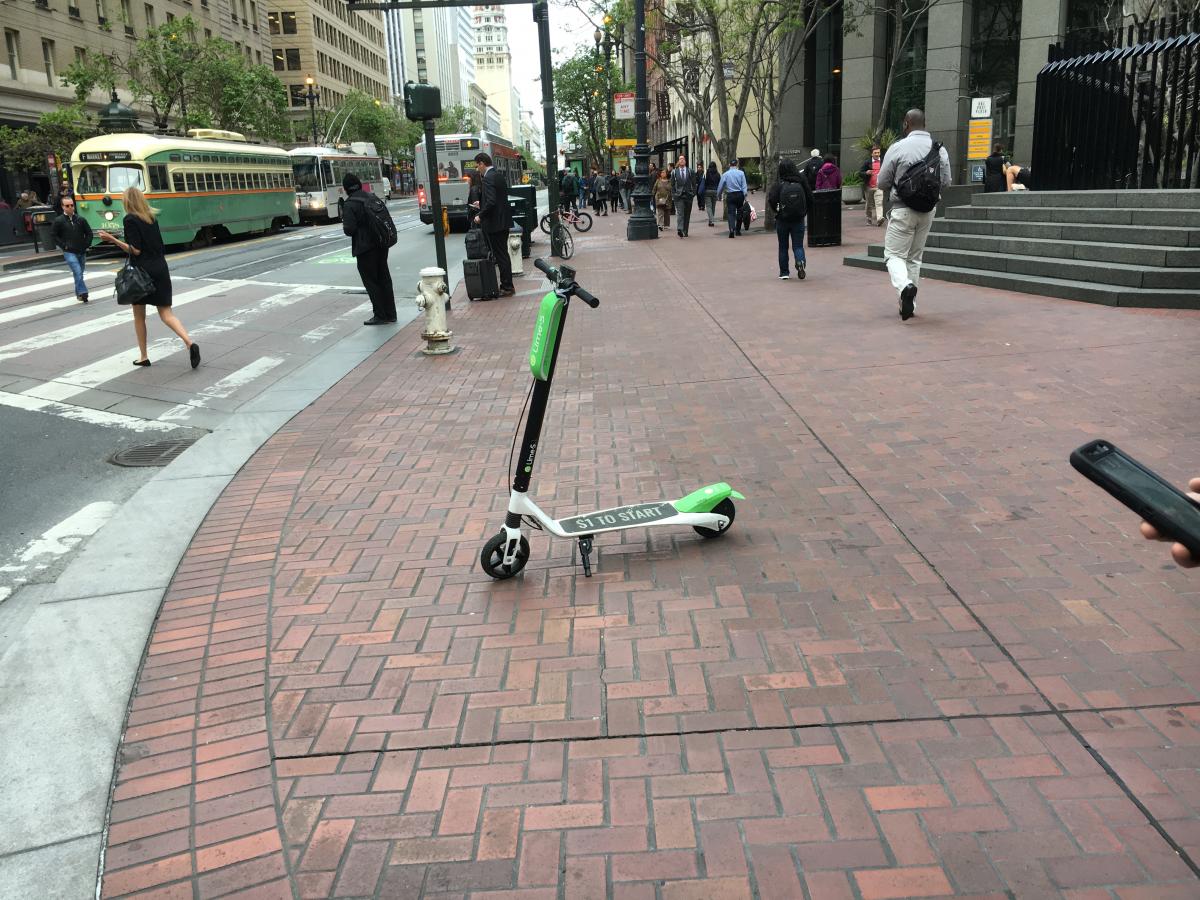 PROCEEDING THOUGHTFULLY
That's why today, the SFMTA's Board of Directors approved a new permit system and pilot program for shared, motorized scooters. The decision comes on the heels of an ordinance unanimously passed by Board of Supervisors on April 17, requiring that companies offering shared, motorized scooters have a permit from the SFMTA.
The SFMTA's new "Powered Scooter Share Permit Program" establishes a 12-month pilot program, which may grant up to five permits. For the first six months, a total of 1,250 scooters may be permitted. If the first six months go well, that total may increase to 2,500 in months seven through 12. The increase in permitted scooters would be tied directly to how well any permitted operators meet the standards we set out in their permits.
As part of their permit application, companies must demonstrate how they will minimize their impact on San Francisco's sidewalks, while maximizing their transparency to the public. Specifically, operators would need to provide user education, be insured, share trip data with the city, have a privacy policy that safeguards user information, offer a low-income plan, and submit a proposed service area plan for city approval. Operators will also need to have a plan in place to address sidewalk riding and sidewalk parking, which may include measures like locking scooters to bike racks.
Ensuring that their customers comply with the rules of road will be a critical element in both receiving a permit and operating as a permitted company. The SFMTA is looking to the companies themselves to develop robust user education so that their customers know how to properly ride and park the scooters.
The permit and pilot reflect the SFMTA's data-driven method to better understanding how new mobility services impact our city and communities. It's a model similar to approaches we have taken in the past, including using pilots and short-term permits to better understand the needs and impacts of new services such as on-street car sharing and electric moped sharing.
HOLDING COMPANIES TO HIGH STANDARDS IN THE PUBLIC INTEREST
The SFMTA sees the interest in providing more mobility options as a good thing. At the same time, we believe that any use of the public right-of-way should be in the public interest.
The new permit and pilot was built to prioritize public safety, build in equity and focus on accountability. The conditions that we're asking the companies to meet tie back to real challenges and the overall goals we aim to achieve. These include: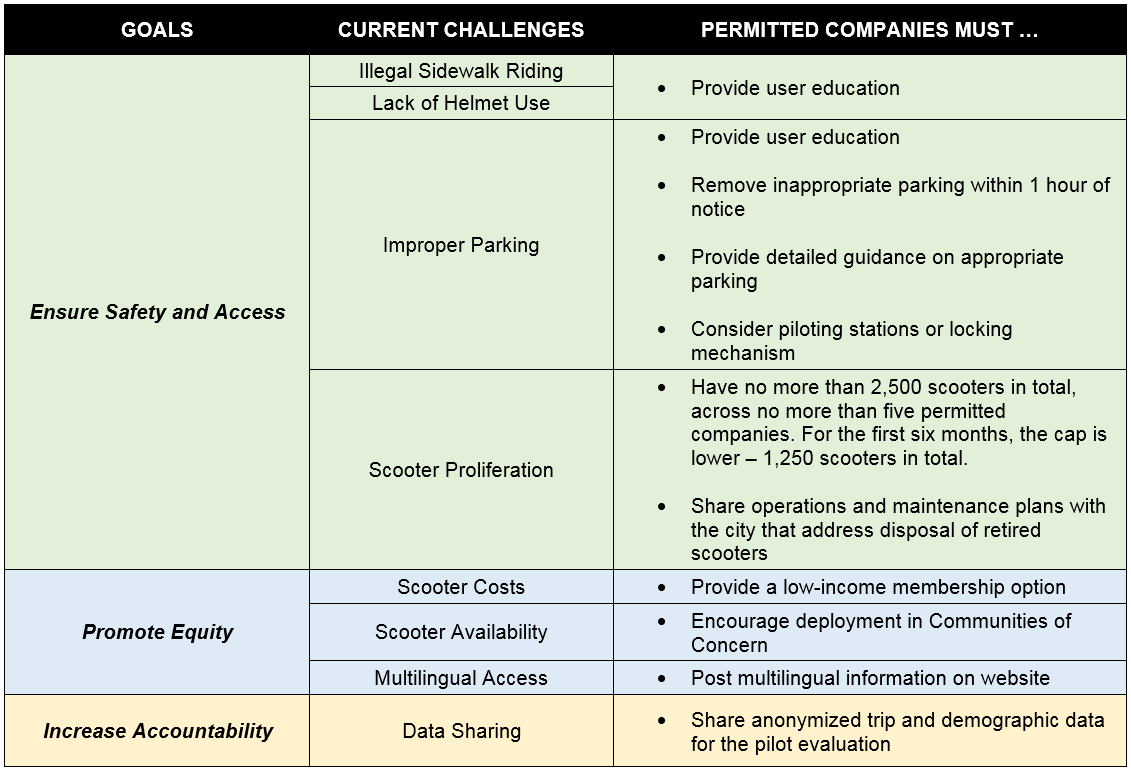 During the 12-month pilot, the SFMTA will evaluate how a shared scooter system works in San Francisco. We'll be assessing the pilot's effectiveness and company compliance through field observation, counts, citations issued, data received, complaints received and other measures.
The pilot's results will inform future policy recommendations and next steps. It's possible for the SFMTA to arrive at these recommendations before the 12-month mark, or make adjustments during the pilot.
ADMINISTERING A PROGRAM AT NO COST TO TAXPAYERS
Managing a new permit program and pilot will take time and resources.
To that end, the SFMTA is ensuring that our involvement does not come at the expense of taxpayers by recovering program costs through a $5,000 application fee and $25,000 annual permit fee, and creating a $10,000 endowment per company to cover city costs associated with property repair and maintenance.
To the extent that motorized scooter sharing helps make our transportation system safer, more equitable and more accessible, we support it.
---
Street Talk is an SFMTA blog series by Sustainable Streets Director Tom Maguire where he shares the agency's thinking on the big picture questions and concerns facing our streets today.
ABOUT TOM MAGUIRE
Tom Maguire is Director of the Sustainable Streets Division at the SFMTA, where he directs the agency's ambitious efforts to achieve Vision Zero and to create world-class streets for all San Franciscans. The 1,035 employees of Sustainable Streets operate, engineer, design, and plan the city's traffic, parking, pedestrian and bicycle infrastructure and provide transit security and parking enforcement.
Tom joined the SFMTA in October 2014 after serving as Assistant Commissioner at the New York City Department of Transportation, where he managed bus rapid transit, freight mobility, peak-rate parking, congestion pricing and sustainability, and resiliency programs. He has also worked for the engineering and design firm Arup. Tom holds a Master's degree in City and Regional Planning from UC Berkeley and a B.A. from Rutgers.